Valentines Day Rose Symbolism | How Many and What Color Do I Send?
Valentines Day is around the corner and you are considering sending flowers. We've all heard that specific rose colors have different meanings, but did you know that how many roses you send also conveys a meaning? If you combine these two meanings together it will have a bigger impact!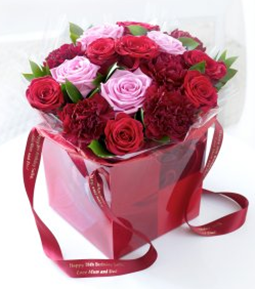 Here's a quick chart to help you make your decision:
1

A single rose symbolizes love at first sight. It can also be given in years to come to say, "I still love you."

2

When wanting to express mutual love and affection, two is your number.

3

Three roses is a traditional one month anniversary gift. This represents the couple and their shared love.

6

Six roses symbolizes infatuation. From school crush to mature passion… a surprise of six let's her know you're interested.

9

A bouquet of nine roses shows her "We'll be together forever."

10

Sending a bouquet of ten roses lets them know you think their love is perfection.

12

When wanting to convey "Be Mine"… a perfect dozen if your best bet.

13

Friends Forever… tell them you are their friend to the end with a bouquet of thirteen.

15

In the dog house? Sending a bouquet of fifteen roses lets them know you are sorry.

20

Twenty roses lets the recipient know that your feelings for them are truly sincere.

21

Want to express dedication and devotion? Send her twenty-one.

24

Two dozen roses shout "I'm Yours!"

25

Wanting to congratulate someone? Twenty-five sends congratulations.

36

Thirty-six, three dozen… tell her you are "Head over heels" with this bouquet.

40

To show her your love for her is genuine, send her forty roses.

50

Fifty or more roses shows her your love is limitless and knows no bounds.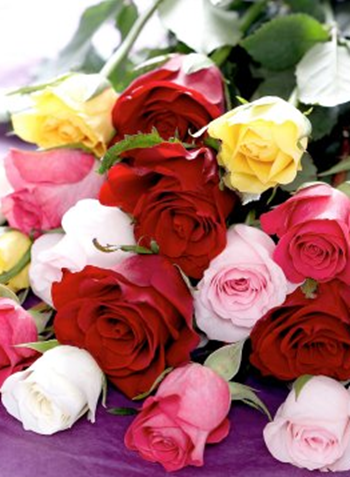 So you know how many to send, but what color?
Here is a quick, short and sweet glimpse of roses and their color meaning:
Red… the true symbol of romantic love and enduring passion. The red rose can also symbolize respect and the creative spirit of love.
 The white rose is often referred to as the bridal rose. It is the symbol of pure humility, purity, innocence and young love.
Yellow represents friendship, joy and caring. A bouquet of yellow roses would symbolize warmth, gladness and affection.
 The pink rose symbolizes gentility, femininity, elegance and refinement but also has different meaning depending on it's hue. If you are looking to convey gratitude and appreciate, a deep pink is your color. Pale shades of pink represent grace, gentleness, admiration and happiness.
 Orange is a warm, vibrant color that symbolizes desire and enthusiasm. Are you looking to express your admiration or attraction with an underlying message of passion and excitement? Orange is your color.
 Purple is a fantastic Valentine color as it is tied to enchantment, desire and even love at first site.
 So now you know a little more about the meaning behind how many flowers you are sending and the colors. Whether purchasing flowers to be delivered or headed to the florist, put a little more punch behind your floral purchase with these underlying meanings.