My #VacayGoneCrayCray Story | Share Yours to #WIN $10k CONTEST
This post brought to you by Choice Hotels. All opinions are my own.
Our family is really quite fortunate when it comes to "vacations gone awry" stories… we really only have one vacation that ended in the pooper.
It was in 2006. Yep, 8 years ago!
This was pre-Emma and pre-Ethan. I was actually around 5 months pregnant with Emma. We had decided to take one last camping trip (for awhile) before she was born.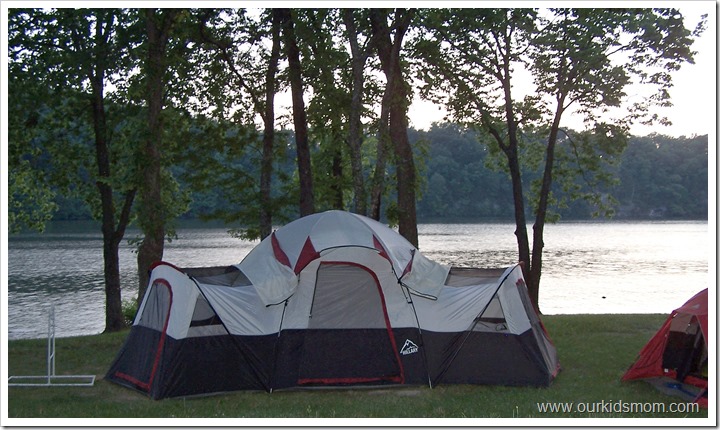 The trip down to Lake Ozark and setting up camp went seamless. We had fabulous weather ahead of us and many fun activities planned.
Besides the typical campout with s'mores, we had resident ducks visiting our site, we caught jars full of fire flies, we took the kids to check out the horses (which led to a horseback ride for the two kids and my husband) and we even rented a boat to go tubing.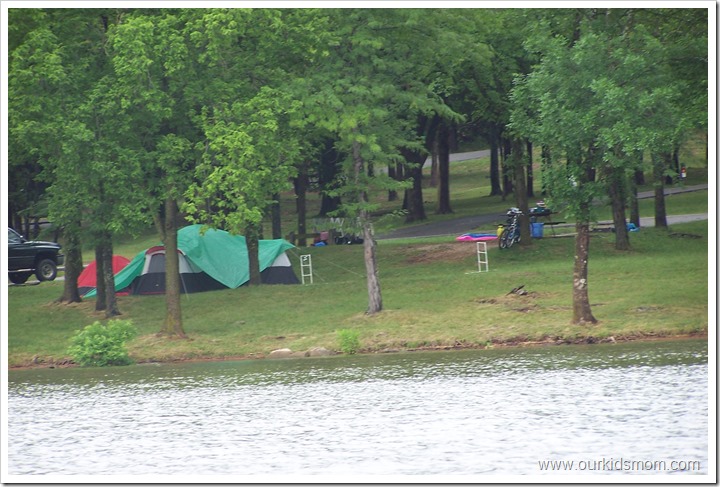 This is the view of our camp site from the water. We took this while we were on the lake having a fabulous time tubing.
Notice the green tarp over the tent?
We put that there as a precaution as we were warned that rain was headed our way. We figured our new tent could hold up to a little rain, right?
That is where our vacation took a turn.
We finished up our allotted time on the boat and headed back to the dock. As we were unloading I stepped one foot onto the dock at the same time someone else was getting out, too. Because their weight was no longer there the boat rose and I didn't lift my other foot high enough… which resulted in a face plant belly flop for me on the dock.
Here I am just around 5 months pregnant. We had lost a 2nd trimester baby before Emma and were slightly traumatized from that. I was at a point I could feel her move on occasion, but not all the time.
I was frightened. I wanted to go home where my trusty fetal heart monitor was. My fun was over.
We decided to head back to camp, settle me into a chair and feed me chocolate. Lots of chocolate so that maybe Emma would let me know she was ok.
It took quite a while, but I did feel one or two thumps, finally. Enough that I could sleep and wait for tomorrow (our planned end to our vacation) to get to my monitor.
We settled in for the night… all cozy, warm and dry.
THEN the rain hit. Buckets and buckets and buckets of rain. It was coming in sideways and there was nothing we could do about it. Our sleeping area was slowly flooding and this vacation was officially called. I think this was the quickest I had ever seen my family pack a car after a camping trip. Things were tossed, thrown, slammed and crammed in. We piled in the car… a bunch of stinky wet dogs at this point, and headed home.
A crappy end to a fun filled vacation. We try not to remember the last evening because the rest of the vacation was fabulous!

Travelers share vacation misadventures for chance to win grand prize of $10,000 trip redo
In celebration of its 75th anniversary, Choice Hotels International, one of the world's largest hotel companies, announced today the launch of #VacayGoneCrayCray, a summer contest that will award one lucky participant the $10,000 grand prize for a vacation do-over on a past trip gone drastically awry.
"Every traveler has a story about a vacation or business trip that didn't necessarily go according to plan," said Robert McDowell, senior vice president, marketing and distribution of Choice Hotels. "This summer and in honor of our 75th anniversary, we wanted to connect with our travelers in a fun and unexpected way. Through the #VacayGoneCrayCray contest, Choice Hotels can help turn those crazy misadventures back into positive memories."
YouTube sensations Rhett & Link have signed on to generate buzz surrounding the contest, and will select the best of the worst trip experiences to reenact on their Good Mythical Morning Show every Thursday for their millions of viewers. For consideration and to be eligible for the grand prize, participants are required to submit their most extreme vacation misadventures beginning June 30, 2014, via www.vacaygonecraycray.com or through the embedded video link on Rhett & Link's YouTube channel. The first vacation misadventure will be reenacted by Rhett & Link on Thursday, July 17, 2014.
The contest entry deadline is August 27, 2014 at 11:59 PM, EST, and the potential winner will be announced September 4, 2014.
For Official Rules, including prize descriptions, and how to enter, visit www.vacaygonecraycray.com
I'd love to hear your vacation gone awry story! Be sure to share it at www.vacaygonecraycray.com, too!