Have you been watching? This week has been chock full of US Olympic Swim Trials. The best of the best are going head to head for a spot on the US Olympic team. We were able to watch a couple of nights and of the four of us sitting on the couch watching… none of us could take our eyes off the races!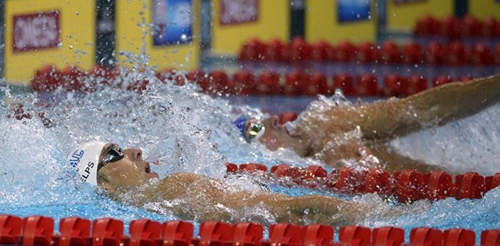 It's so hard to describe how watching a swim race makes you feel. To me, it's exhilarating, adrenaline pumping, emotional and just plane exciting to watch these men and women give it their all for their chance to go to London and compete against the worlds finest athletes. I consider myself a strong swimmer, but to see the strength, endurance and speed that they possess humbles you!
I spent some time on Twitter this week as well during one of the trials. Were you there? It's fun to see everyone's individual reactions to races. I can only imagine the Twitter stream for the Olympics!
Tell me I'm not the only one who cries at moments like this! #SwimTrials2012 #SwimToday >> treerootandtwig.com/2012/06/30/wat…

— Stacey Nerdin (@StaceyNerdin) June 30, 2012
So proud of @cullen_jones for making the team in the 100 free.He swam a great race.Only amazing things for him in #London2012 #SwimTrials12

— Amy Van Dyken-Rouen (@AmyVanDyken) June 30, 2012
I have a feeling #SwimTrials12 will be one of the greatest swimming showdowns, ever

— Swimmer Problems (@swimmerproblems) June 24, 2012
There's still time to catch some of these amazing races! Tonight at 8 PM EST the finals for the Men's 200 m Individual Medley will be airing race LIVE. Phelps and Lochte will once again go head to head. If you haven't seen them race… it's a must see. These two are speed demons and to see how far ahead of everyone else they were… simply amazing. It is sure to be a fantastic race!!
Don't forget to tune in on Sunday night and Monday night. One of the important races that night includes the Women's 50 m freestyle where 45 year old Dara Torres will attempt to make her sixth Olympic team. Will this be her year to finally get the gold?

 Twitter Party! 

The Motherhood and USA Swimming are throwing a Twitter party on Monday, July 2, at 7:30 p.m. ET so we can all cheer on Dara Torres in real time as she swims!!
If you're able to join at that time, we'd love to see you there! 
The party will last an hour, and we'll be giving away some prizes, talking about swimming and cheering on Dara throughout.  
The hashtag for the party will be #SwimToday.



Support the US Olympic Swimmers:

Follow and tweet using the #SwimToday hashtag
Disclaimer: This is a paid campaign through TheMotherhood. All opinions are 100% my own.