Thank you to Log Cabin for sponsoring my post about updated traditions in my household. To learn more about Log Cabin Syrups (which are all free of High Fructose Corn Syrup), breakfast for dinner, and other new ways to update traditions in your home, click here. I was selected for this sponsorship by the Clever Girls Collective, which endorses Blog With Integrity, as I do.
For years our family has had a Sunday tradition of gathering around the table for a hearty breakfast of either pancakes or waffles. We looked forward to this bonding time over a yummy big breakfast.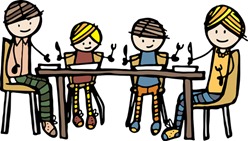 In just the past couple of years we have been adjusting our eating habits to a more healthy lifestyle which includes eliminating white flour (highly processed foods) and the like. This affected our Sunday tradition dramatically. We had to stop with the pancakes and waffles tradition because we just hadn't found a healthy alternative that was cost effective for a family of six (the frozen variety was very expensive) and we hadn't found a healthy homemade alternatives that everyone liked.
I have to say in advance, I love the internet. You can find just about anything your heart desires, including a recipe for healthy pancakes or waffles that everyone likes! What exactly was I looking for in a "healthy" recipe? Whole grains, flax seed (for Omega 3's), and low (no) sugar.
Here is a recipe I found. I played around each week with the recipe until we found a version we liked. I am putting our substitutions in blue next to the original recipe ingredients.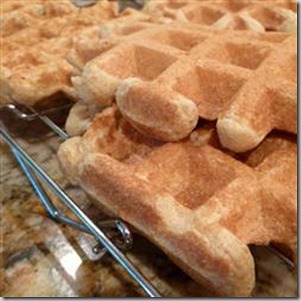 Original Recipe Yield 6 servings
Ingredients
2 eggs, beaten (we sub 1 tbsp ground flax seed + 1/4 c. water per egg)
1 3/4 cups skim milk (we use almond milk)
1/4 cup canola oil
1/4 cup unsweetened applesauce
1 teaspoon vanilla extract
1 cup whole wheat pastry flour (we use whole wheat)
1/2 cup flax seed meal
1/4 cup wheat germ
1/4 cup all-purpose flour (again, we use whole wheat)
4 teaspoons baking powder
1 tablespoon sugar (we use Truvia)
1/4 teaspoon salt
Directions
In a large bowl, whisk together the eggs, milk, oil, applesauce, and vanilla. Beat in whole wheat pastry flour, flax seed meal, wheat germ, all-purpose flour, baking powder, sugar, and salt until batter is smooth.
Preheat a waffle iron, and coat with cooking spray. Pour batter into waffle iron in batches, and cook until crisp and golden brown.
We usually double the recipe to have enough for the family to enjoy. We put leftovers in the fridge for a quick trip through the toaster for future breakfasts. Finding this recipe has helped us hold onto but update our traditions and still be true to our new healthier way of eating. Add a little syrup (preferably one with no high fructose corn syrup) and you are set!
What have you done to hold onto but update a tradition?
[tweetbox width=500 height=50 label=Retweet! content="Updating Family Traditions with Log Cabin Syrups @ourkidsmom #LogCabinSyrups %u "]
This recipe adapted from and photo  from allrecipes.com