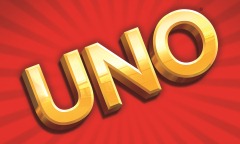 I have been playing UNO since I was a young preteen. My friends and I would hide in a closet (with the light on) and play UNO all afternoon. Strange as it sounds, it was incredibly fun and we looked forward to it.
Mattel has been connecting generations of game lovers and families for four decades now. To mark their 40th anniversary, they have introduced a totally new way to play. This is the same UNO game we have grown to love over the years, but with its own unique personality.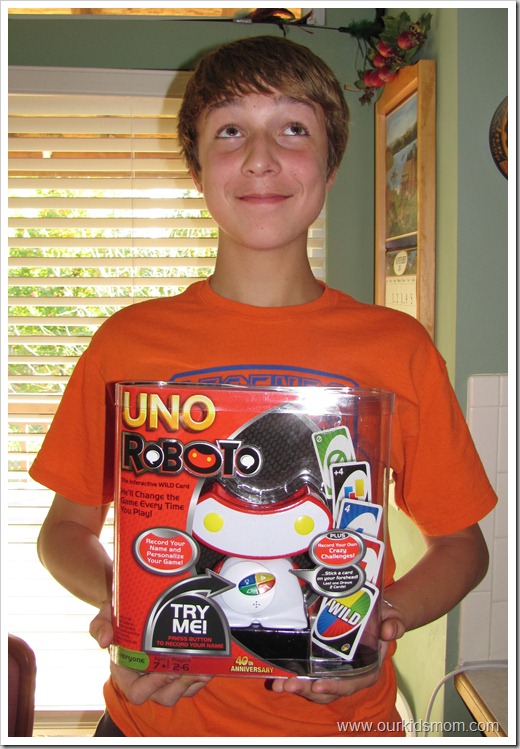 Now I'm a mom with a large family of six. My family enjoys spending time bonding (and giving each other a hard time) over board games. When we heard about UNO! Roboto we were excited to give it a try… we have two other versions of UNO! in our game closet and they are favorites.
We had a fun relaxing Saturday afternoon with our favorite takeout (Subway) and UNO! Roboto. Although we have fun with the younger kids, the older two love to spend some quality time with us while Emma and Ethan nap. We chowed down and read through the rules to become acquainted with Uno Roboto.
To begin, players record their names and add any house rule they'd like… no matter how silly, like "dance like a chicken". As the game progresses, UNO! Roboto will randomly select the sequence of players turns, shout out house rules challenges and even change the direction of the game.  One of the favorite changes my kids enjoyed was when UNO! Roboto asked another player to record a nickname for another player. From that point on UNO! Roboto will call that player by that name.
We enjoyed UNO! Roboto so much we played four rounds in a row that afternoon. When you play consecutive games UNO! Roboto remembers your "re" recorded nicknames for the other players that were made up in previous rounds. The laughs we had when we were referred to as burps, grunts and other inappropriate symbols/names brought tears to my eyes (from laughing).  UNO! Roboto is also an adorable little guy with a cute physique… just check out his rear end! lol We eventually put him on a turntable because everyone wanted to see him from the front when it was their turn.
I recorded a round and clipped a few fun things for you to see.
I think our entire family agrees that UNO! Roboto is now our favorite version of UNO! It is never the same game twice and you have to stay on your toes and pay attention. When UNO! Roboto calls out House Rules the first person to perform the rule wins and the other has to draw! The kids love to think up funny nicknames to record for other family members and they come up with some crazy House Rules!
Connect with UNO on Facebook 
Mattel has teamed up with Toys R Us for a special promotion… receive a free Shutterfly photo album with any games purchased between now and the end of the year!

"I wrote this review while participating in a campaign by Mom Central Consulting on behalf of UNO Roboto and received a product sample to facilitate my review and a promotional item to thank me for taking the time to participate."