Unique Tourist Attractions in Chicago Kids Will Love
Offbeat and odd attractions can often be the highlight of a trip, and Chicago has plenty of odd tourist attractions that kids will love. Most of the weird stuff was not planned out by the city but the fruit of one person's eccentricities. However, a couple of odd sights that a lot of planning went into, such as the unique events hosted by the Art Institute of Chicago, still didn't turn out as expected or have everyone wondering about them.
The next time you are in Chicago, check out any one of these sights that the kids will love to see and provide a couple hours of fun.
Leaning Tower of Niles
Rumor has it the Leaning Tower of Niles was built prior to acquiring sister city status, in an attempt to boost their chances. It didn't work, but the half size replica of the Tower still stands, and leans.  While the Tower sits just outside the city limits, anyone driving down Touhy that has not seen the building before, usually swings around for a better look, or to get pictures. Kids will have fun posing for photos pushing on the Tower, trying to hold it up and running circles around it. Weeknight concerts for families and children are also organized by the park district and city, held in the plaza that the Tower overlooks.
http://www.roadsideamerica.com/story/2092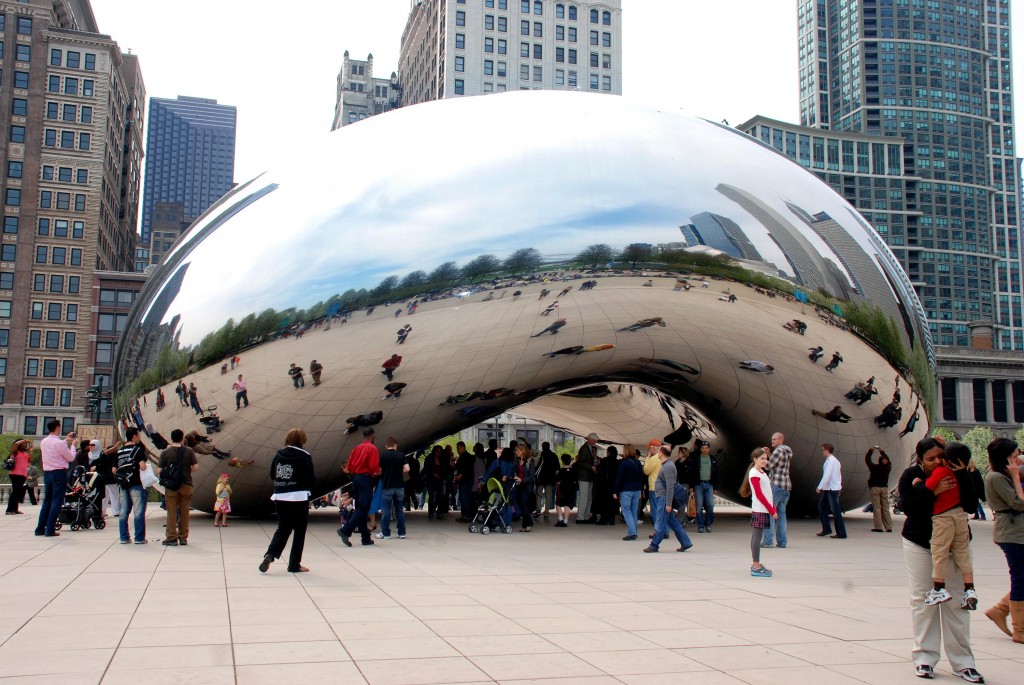 Cloud Gate, Millenium Park
Officially called, Cloud Gate, the locals and tourists lovingly refer to the public sculpture as The Bean. There is a lot to see and do in Millenium Park, but Cloud Gate gets all the attention because its funny looking, and fun to play under. Kids see it as a giant funny mirror, and you'll understand why when you get up close to the curved, stainless steel sculpture. Shaped like a giant been that's been pushed in towards the middle, kids can take selfies, walk and scoot around under The Bean to see what image of themselves is reflected back.
http://www.cityofchicago.org/city/en/depts/dca/supp_info/millennium_park_-artarchitecture.html
Agora, Grant Park
Head one park over and kids can get an idea of what its like to walk among giants when they see Agora, another public art project. 106 giant body casts were formed, headless, of course, as part of this sculpture by Magdalena Abakanowicz. The forms are all huddled together, seemingly walking towards the crowd. The sculpture is definitely odd, but poignant when you learn about the inspiration for the piece. Either way, children love this sculpture and enjoy running around through, inserting themselves into the forms and imitating the pose.
http://www.cityofchicago.org/city/en/depts/dca/supp_info/chicago_s_publicartagora.html
SuperDawg Drive In, Chicago
If you are looking for somewhere, odd, fun, super cheap and so very Chicago to eat, Superdawg is a must. The giant rooftop weiner dog couple are a Chicago icon, nicknamed Maurie and Flaurie, and have graced the drive in since the 50s. You get a truly authentic drive in experience with the kids, not much but the prices has changed since the establishment opened its door. If you're lucky, the lot will be filled with classic cars owned by Chicagoans that make it a point to stop here on the way to or from car shows.