Twister Mania for Xbox 360 Kinect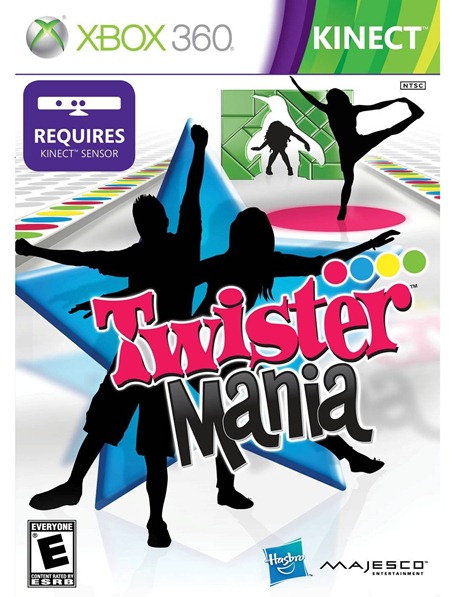 Growing up my friends and I would play Twister for what seemed like hours… especially at sleepovers. Landing in a heap of tangled arms and legs always left us giggling until we cried. When I heard that Twister was now available in video game form I was a bit skeptical. I imagined the typical Twister board… but when I got the game I realized this was so much more and had a lot of "giggle potential". Now Twister is asking us to contort our bodies to fit through random openings that are flying towards us. Add in the fact that Kinect recognizes multiple players at once and this makes a great family or party game!
*****
In November 2011, a brand new way to play Twister is coming to Kinect for Xbox 360! Introducing… Twister Mania! This interactive digital Twister® experience allows up to eight players to twist into the action with 16 fun, unique ways to play in a TWISTER- inspired environment filled with iconic, colorful flair!
Description
This outrageous fast-paced party game offers over-the-top hilarity – so don't hold back as you get your body moving and twisting to fit through cutouts, bend into thousands of forms, mirror your friend's image, and even clear stacked shapes lightning fast! Play solo to earn the fastest time or team up in co-op for laugh-out-loud tangled-up fun with your family and friends. Twist into wild and crazy fun with Twister Mania!
Features
o Use your body as the game piece in this unique Kinect exclusive title that challenges you to twist yourself in thousands of different ways…even the menus react to your body!
o Kick start the party by choosing from 3 main game modes:
o Party Play: Twirl the virtual spinner and advance around the Twister® mat with up to four teams of two in Party Play, a metagame that combines all game challenges.
o Play It All: Try your hand at every game challenge from start to finish in this campaign mode for the overachievers.
o Quick Play: Jump right in and directly select any of the 16 ways to play and difficulty level for a quick challenge.
o Twist, contort, duck and bend through four high-energy game challenges that each feature a range of four variations (total of 16 ways to play) to keep the action unique and challenging:
o Shape Frenzy: Mimic the shape (there are over 1800!) that appears on screen and earn points based on how well you fill its silhouette.
o Twist & Fit: Avoid the wall and fit your silhouette through cutouts coming at you on a moving wall. Score points by passing through a wall without touching a thing; the more wall you hit the lower your score.
o Break It Down: Work your way through a stack of colored blocks by assuming their form. When a shape is removed, the wall above will begin to crumble.
o Spot On: Challenge up to three players (or four teams of two) in a game of contortion H-O-R-S-E. Create a shape and see if your friends can match it.
o Team up with another player for cooperative play or go head-to-head in any game mode. Twister™ Mania supports up to eight players in turn based pairs.
o Relive hilarious, body-comedy moments with family and friends via photos after every play session.
Rated E for Everyone by ESRB
Available on Microsoft Xbox360 for the Kinect Motion Control system.
BUY IT:
You can purchase Twister Mania for Xbox 360 Kinect for $34.99 (RV $39.99)
Connect with Twister Mania:

[tweetbox width=500 height=50 label=Retweet! content ="There's a NEW way to play Twister : Twister Mania for Xbox 360 @ourkidsmom %u"]
I received a copy for purposes of review only. All thoughts are 100% my own.