Samples received. All opinions are my own.
I work as a Registered Nurse, and find that my neck and back muscles often ache after a shift. Adding a pregnancy into the mix, my muscles ache more than usual. You can imagine the excitement this Mama felt when asked to try out a truMedic massager. I had already gotten the ok from my doctor for massages during this pregnancy, and I was really feeling tightness and some aches in my muscles.
When I received the InstaShiatsu+ Head and Neck Massager, I was very impressed with the size and weight of it. It really is light and handheld in size, and it is wireless, so I can use it anywhere. It comes with a base and a charger that can either be plugged in via USB or wall outlet, making it very portable. The massager comes with a little travel bag, which makes it nice to store.
There are 3 different massaging modes. Massage, massage with vibration and vibration. I preferred massage with vibration, and was able to set the memory button to conveniently remember this mode on the massager. However, I found the instructions to set the memory button did not work for me. The instructions said to press the power and memory button at the same time. This kept turning off the machine. What did work for me was to hold the memory button for 1 second but no more, as holding it for 3 seconds removes the preset saved mode. Once I had the memory button set, all I had to do was turn on the machine, push the memory button and it turns on my preferred mode. Having it just on the massage mode or vibrate mode I found quieter, and when they are combined, it is on the noisier side, but I don't mind, as the recommended time is just a short 15 minutes per session.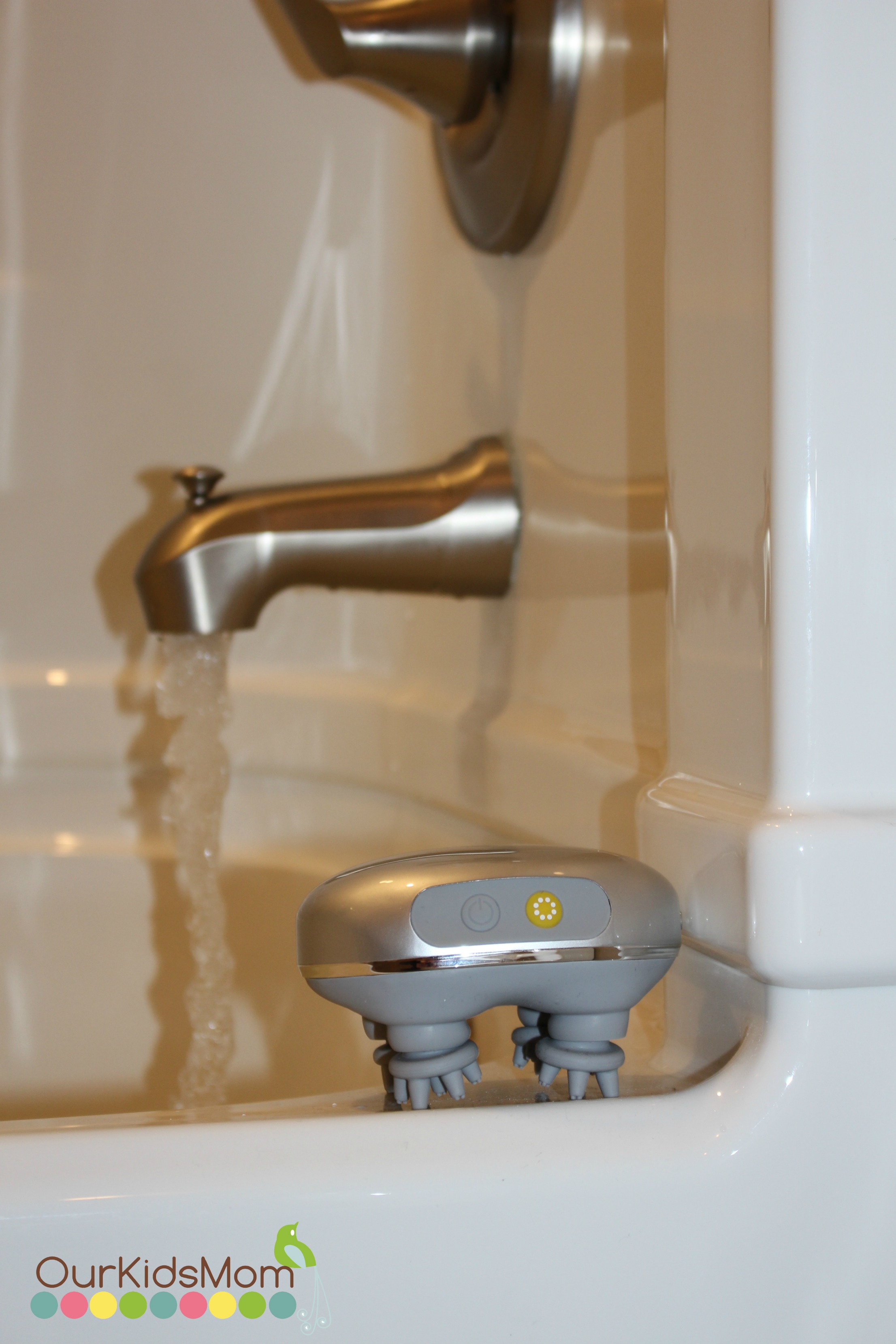 I was so happy to find it is water resistant!! I absolutely love having relaxing baths in the evenings after work, and now I added a nice massage to my evening routine. The instructions say the massager should not be submerged into water, but can be used in the tub or shower. I was curious to know how they had made it waterproof, because you plug it in to charge, but the charging interface has a unique rubber cover to prevent water from getting inside the massager once unplugged. I definitely enjoyed being able to use this massager while taking my evening soak.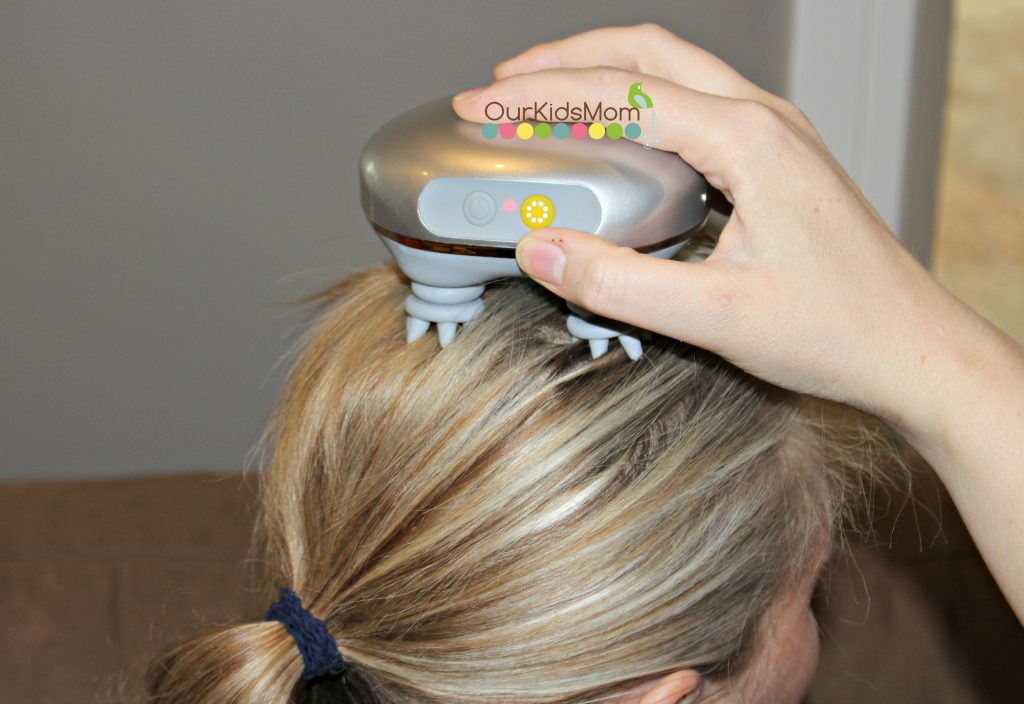 I enjoy a firm, deep tissue massage and found that this massager did provide a sharper massage due to the little fingers on each of the four massaging/circulating nodes. My husband found it a bit too sharp of a massage for a handheld massager, but I found it really helped work my muscles.
It is also made for massaging the head. I was hesitant at first, as I wasn't sure how it would work with my long hair. I was able to massage my head and not worry about my hair getting caught. I did have to be a bit careful when massaging the base of my head, as I have little baby hairs growing back after my last pregnancy and I did find that every once in a while one would get caught and pulled slightly. My husband has short hair and massaged all over his head and did not find that it pulled any hair at all. You know that feeling when you go to the hairdresser and they massage your head while they wash and rinse your hair? I found it similar to that and enjoyed that I could virtually replicate that at home.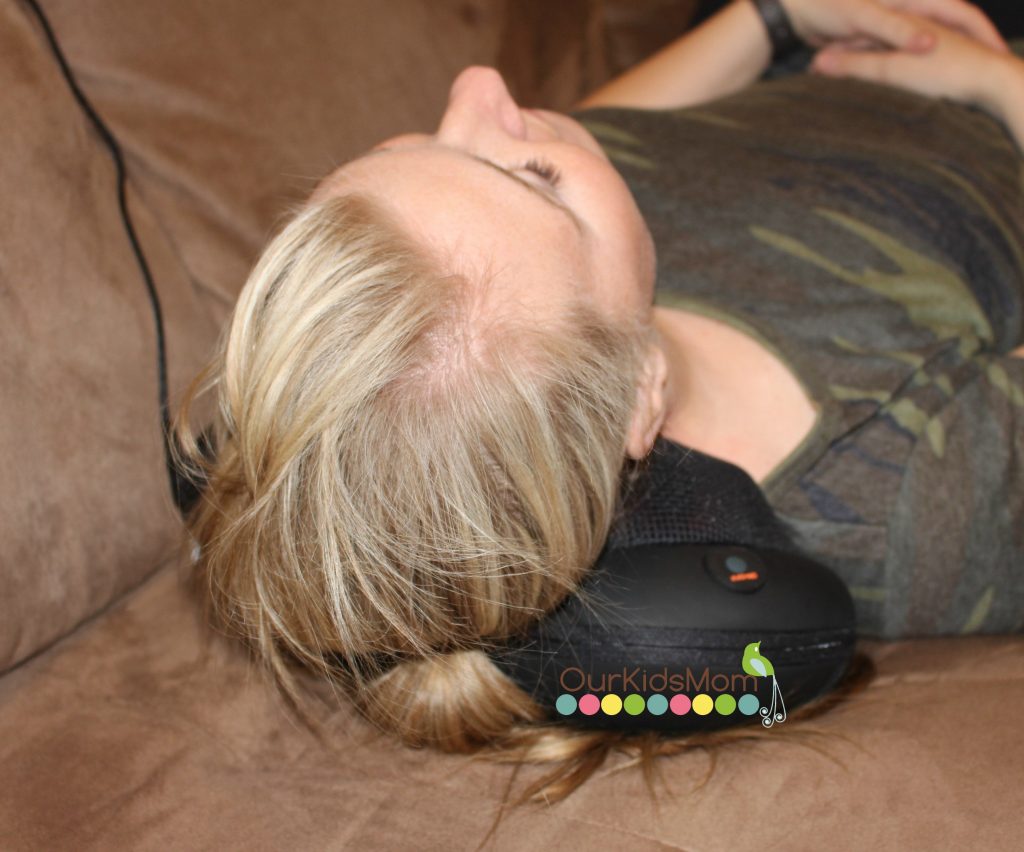 I also was able to try the InstaShiatsu+ Pillow Massager With Heat. It is a completely different type of massage than the handheld. It has two separate massagers that have 4 nodes that rotate and massage. You can either have the heat setting on or off. I found that I preferred the heat setting on. The machine turns on and off simply by pushing one button. I found it easiest to lay on the couch with it behind my neck or sitting on the couch with it behind my back. After 15 seconds, it has an auto-reverse function, which changes the direction of the massage nodes. You can choose the pressure of the massage by pressing harder into the pillow, which I found great. I could press my neck into the pillow a little harder to get that extra firm massage, and my husband could lay on it with less pressure for a more gentle one.
I am very pleased with the truMedic InstaShiatsu+ Head and Neck Massager. I am looking forward to taking it with my when I travel, as well as being able to enjoy a nice evening massage at home, especially after a shift at work. Check out the truMedic website, and order your Head and Neck Massager!