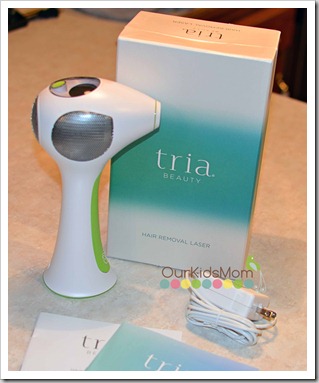 I recently made the announcement that I have joined the Tria Bloggers and will be updating you on a monthly basis on my progress.
I am a little behind on my update, but I wanted to tell you a little about the Tria Laser Hair Removal system before I gave my one month update.
If you don't know what it is… Tria Hair Removal Laser is the first and only laser for hair removal available for at-home use. The Tria Laser uses the same laser technology professionals use in-office for permanent results, at a fraction of the cost. See results with just 2 treatments and imagine permanent freedom from endless shaving and waxing in as little as 6 months.
WHAT I CAN EXPECT WITH HOME LASER HAIR REMOVAL
After your first treatment:
On occasion, some users experience mild redness that quickly dissipates within 24 hours.
After your second treatment:
You can expect up to a 70%* reduction in hair re-growth.
After 2-3 months of treatment:
Hair re-growth will begin to appear lighter and finer.
You will begin to see a visible reduction in the amount of re-growth, especially in areas where hair growth tends to be dense.
After 6+ months of treatment:
Hair follicles that have been deactivated by the Tria Hair Removal Laser will result in permanent hair reduction. Simply continue to use the Tria Hair Removal Laser until your skin is smooth and you're free of the endless hassles of shaving and waxing—then, you're done! Do occasional touch-ups if necessary.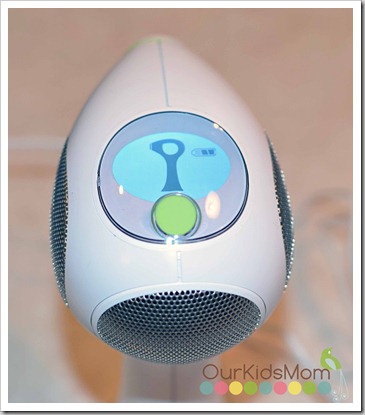 My hair on my legs grows fast. I have to shave my legs on a daily basis or the hair rubbing against my jeans or against the sheets drives me insane. I have PCOS, so the hair is coarse and a bit thick. I was so incredibly hopeful that I would finally break free from shaving my legs on a daily basis I was willing to try just about anything anyone told me might work.
Treatment with the Tria is to be done every two weeks making a total of two treatments a month. I have completed two treatments so far and am due for my third very soon. My results are promising!
After my first treatment I swore I noticed a difference, although not a huge one. It seemed that although my hair was growing back just as quickly, it didn't seem to be coming in as thick.
My second treatment was two weeks later. I used Tria and after putting it away I went on with my day. I totally forgot to check my legs that night or the next morning. I forgot because the hair on my legs wasn't bothering me! It wasn't bothering me because the growth was visibly finer and fewer hairs were growing back in. YES! I was noticing some amazing results for me!
My routine is the same every day. I shave in the mornings in the shower. Before using the Tria I would typically have significant growth by that evening and by the next morning would I have to shave or it bothered me. Now, I shave in the morning and the hair on my legs doesn't grow in enough to both me until either the end of the second day or the morning of the third day. I have a significant reduction in hair growing back in and I am beyond thrilled with the results so far!
My third treatment is due this weekend and I will be reporting back in after my fourth treatment. Wish me luck!
Cyber Monday Special:
If you are eager to join me and break free from the razor, Tria will be holding a Cyber Monday special. You can purchase the Tria Laser Hair Removal System at an additional $100 off! This is for all purchases of the Tria Hair Removal Laser and Skin Perfecting Blue Light. The promotion will be live from 11/21-11/27.  All you have to do is use the discount code SHOP100 at checkout.
Check out how easy the Tria Hair Removal Laser is to use…
Disclosure of Material Connection: I received one or more of the products or services mentioned above for free in the hope that I would mention it on my blog. I only recommend products or services I use personally and believe will be good for my readers. I am disclosing this in accordance with the Federal Trade Commission's 16 CFR, Part 255: "Guides Concerning the Use of Endorsements and Testimonials in Advertising." The opinions expressed in this post are entirely my own. Your experience with the product may differ from mine. The sponsor is responsible for prize fulfillment and will be shipping the winner(s) their prize(s). For more information read my disclosure policy.