Welcome to the Traveling Through Thursday Blog Hop 12/23/10 hosted by Living on Love and Cents, Mom On Dealz, Our Kids Mom , and Belly Charms (The Blog).
This week's Spotlight is Amanda from Mommy of Two Little Monkeys. Mommy of Two Little Monkeys is
#5 on this weeks linky. She had some fun things to share with us.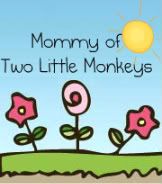 When did you start blogging?

I've been blogging on and off for the last 5 years but just recently started up Mommy of Two Little Monkeys after the birth of my daughter in August.

Why did you start blogging?

My daughter was born in August of this year and my son just turned 3 years old. Mommy of Two Little Monkeys was born to release my frustrations and thoughts about raising two little ones and trying to deal with losing my baby weight at the same time.

When you are not blogging what do you like to do?

When I'm not blogging I like to try my hand at making little girl bows, taking water yoga and water pilates classes, and playing with my kiddos.

What do enjoy most about blogging?

I've met so many new people in the short time that I have been blogging it really is another world out here! I enjoy that I have a place to write about what is on my mind and there are people out there who can relate and help inspire me to keep going.

I'm not afraid of telling people my weight.. it is just a number that hopefully will soon be cut in half! I gained 40 Lbs with baby #1 in 2007 and 23 Lbs with baby #2 this summer, 40 Lbs of that baby weight is still lingering around and I'm on a mission to get it off! I'm currently using the Weight Watchers program and in the 3 weeks I've been on it I have lost almost 9 Lbs 🙂
"I can't wait to meet some new bloggers in this weeks Traveling Through Thursday event!"
— THANKS AMANDA! Everyone stop by and tell her hello! She is #5 this week!
Each week we pick a spotlight / co-host! All you have to do is follow these steps. Next week will it be you?  
Please do these 3 simple things: 1) Follow the first 4 pages in the linky. These are our hosts. Be sure to comment so that we can follow back! 2) Please only link up your the network we are visiting for the week!–GOOGLE 3) Post our button in a post or sidebar! AND this week post about it on GOOGLE! For more followers- Grab the linky code and post this on your blog for your followers!
Happy Traveling! Be SURE to leave a comment so that we can return the follow.