Toyscamp.com is a rapidly growing online discount retailer of specialty Toys for Extraordinary Kids – featuring the most comprehensive collection of high-quality, nonviolent, safe, and incredibly fun Toys for kids.
Emma was sent Go! Go! Sports Girl Softball Girl – Sam to review.
Go! Go! Sports Girls are multi-cultural fabric dolls that are designed to be a fun way to promote self-appreciation and the benefits of daily exercise, healthy eating and sleeping habits, self-esteem and overall healthy life-skills.
Emma has become more interested in sports lately. Her big brother plays soccer and she likes to kick the ball around with him. When she received the Go! Go! Sports Girl she was excited. She actually thought it was a soccer girl and the backpack immediately came off.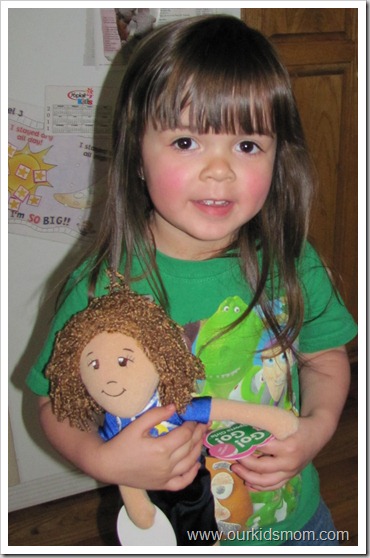 Emma named her doll Emily and has been dragging her around the house to almost every activity. Emily has eaten breakfast, lunch and dinner with us… has sat on the counter while Emma bathed… has gone for rides in the car to the grocery store, etc etc.
The doll is a decent size… just right for Emma to tuck under her arm and bring along. The curly hair is adorable and I love that it doesn't get tangled or frizz out. All of the clothes are removable and Emma loves to dress Emily. I love that Emma has identified with a "sports doll". Emily is unlike any of the other dolls Emma owns. Most of those are "baby" dolls that encourage roll play (playing house etc). The sports doll encourages interaction, imagination and it gets Emma to "move" and play sports with it (see video below for Emma's thoughts).
*~*~*~*~*~*~*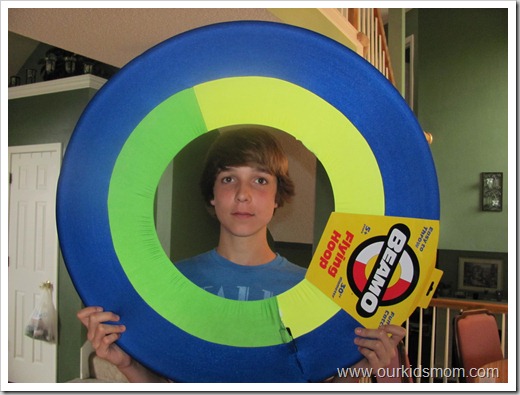 The BEAMO Flying Hoop arrived at our house just in time for warm weather. (Doesn't Josh look excited?)
BeamO is a giant, soft flying hoop toy. BeamO is designed for ease of control, catchability and aesthetic appeal. Most people will feel like experts within 15 minutes of play. BeamOs are 30 inches in diameter, 1-1/2-inches thick, with a 15-inch center opening. Lightweight yet durable, BeamO is designed for long life under normal playing conditions. BeamO is best played on grass or sand as concrete and asphalt can scuff the spandex sleeve. The washable sleeve may be hosed off when dirty and should be cleaned after pool or salt water use. Flightability BeamO will fly from 20 to 150 feet with ease depending on the age and strength of user. The product is not designed for extreme distance throws. Colors BeamO comes in a variety of three color combinations. Colors are subject to fabric availability.
 Our family is always looking for something new and interactive to do outside. We enjoy Frisbee on occasion, but the younger kids can't seem to get the hang of it.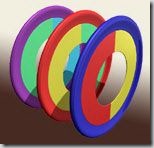 The BEAMO is geared for children ages 5+, is easy to throw and fun to catch. It is a large Styrofoam type of hoop (soft) covered in a stretchy material (like swimsuit material). Because of the soft hoop, the younger children are not afraid to get in it's path and try to catch it. It is also very lightweight (30 ounces). This makes me less worried when they play in the driveway. I cringe when toys hit the cars, but with BEAMO I don't! The center hole allows for an expanded game of catch. Josh likes to get in BEAMO's way and tries to jump and catch it with his head and neck.
We absolutely love our BEAMO and it was hit at our recent family get together. The only downside is that the swimsuit material snags and can get holes in it when younger children that don't know better drag it. The hoop is large enough that even Emma at 4 1/2 has a hard time carrying it without an occasional drop and drag. Even so, I can still foresee many hours of fun and play ahead!
Watch a short interview with Emma about her Go! Go! Sports Doll with a small clip of the family playing with the BEAMO!
BUY IT:
You can purchase the Go! Go! Sports Girl (softball) for $19.99 and BEAMO – 30 inches for $19.99
WIN IT!
One OurKidsMom reader is going to win a $25 gc to ToysCamp.com!
This giveaway ended at 11:59PM EST on May 20, 2011.
Disclosure:
This post was written me and was not edited by anyone. The opinions expressed in this post are entirely my own and have not been influenced in any way. I received a sample for review purposes only. I was not compensated for this post. Your experience with the product may differ from mine. The sponsor is responsible for prize fulfillment and will be shipping the winner(s) their prize(s). For more information please read my disclosure policy.