TOY STORY THAT TIME FORGOT
Available for the First Time on Blu-ray™, Digital HD
and Disney Movies Anywhere 
Sample received. All opinions are my own.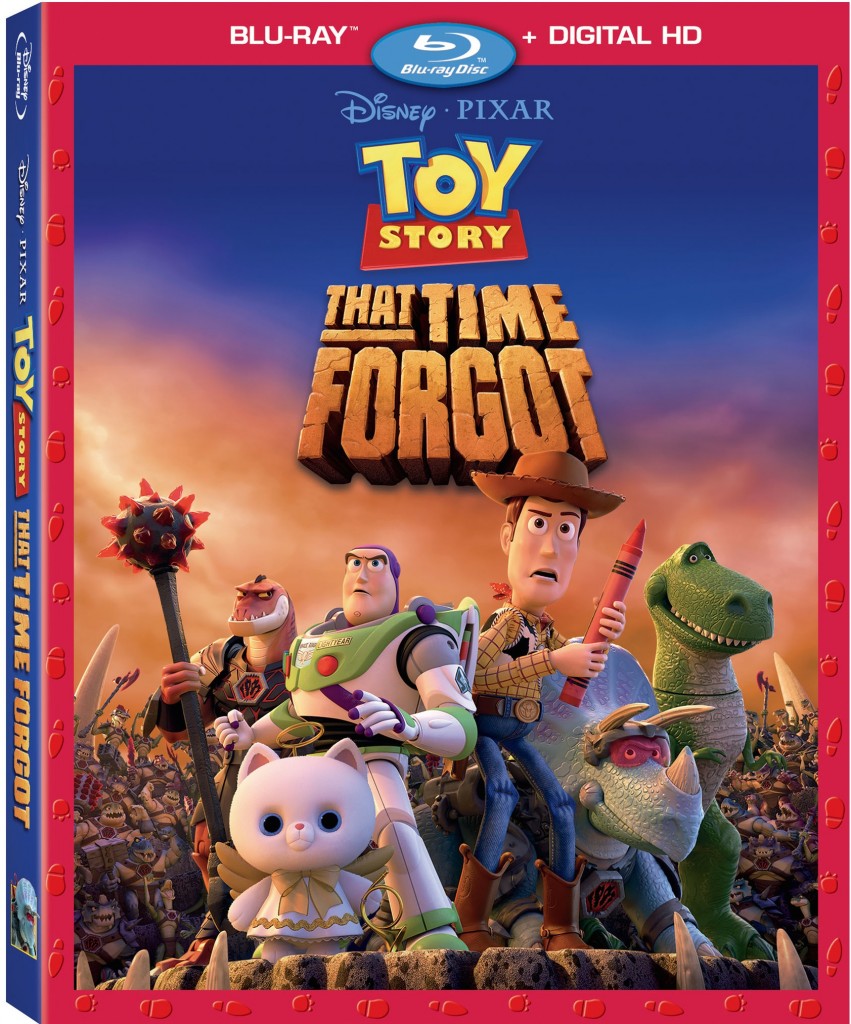 My children absolutely adore Toy Story 1, 2 and 3. They have been trying to wait patiently for 4 and thankfully Disney•Pixar gave them a little something to watch during the wait. This 22 minute short is adorable and perfect for my little dino lover.
Disney•Pixar proudly presents a hilarious new animated "Toy Story" adventure. During one of Bonnie's post-Christmas play dates, the "Toy Story" crew find themselves in uncharted territory when the coolest set of action figures ever turn out to be dangerously delusional.  It's all up to Trixie, the triceratops, if the gang hopes to ever return to Bonnie's room.  "Toy Story That Time Forgot" is an unforgettable tale packed with family fun and a must-have for every Pixar fan's collection!
Voice Talent: Tom Hanks as Woody ("Saving Mr. Banks," "Captain Phillips"), Tim Allen as Buzz Lightyear ("Toy Story," "The Santa Clause"), Kristen Schaal as Trixie ("Toy Story 3," "The Muppets"), Kevin McKidd as Reptillus Maximus ("Brave," TV's "Grey's Anatomy"), Wallace Shawn as Rex ("The Princess Bride," "Air Buddies"), Timothy Dalton as Mr. Pricklepants ("Toy Story 3," TV's "Penny Dreadful"), Don Rickles as Mr. Potato Head ("Toy Story"), Joan Cusack as Jessie ("Toy Story," "The End of the Tour")
Loaded with All New Never-Before-Seen Bonus Features Including Behind-the-Scenes,
Sing-Alongs and Over 10 Minutes of Deleted Scenes!
Run Time: Approx. 22 minutes
Ratings: TV-G (US), G (CE)
Connect via Social Media Channels:
Toy Story

https://www.facebook.com/PixarToyStory

 
 Pixar 

https://www.facebook.com/DisneyPixar

 
Woody 

https://www.facebook.com/ToyStoryWoody

 
Buzz Lightyear 

https://www.facebook.com/BuzzLightyear

 
Jesse 

https://www.facebook.com/ToyStoryJessie

 
Pricklepants 

https://www.facebook.com/ToyStoryPricklepants

 
@DisneyPixar 

https://twitter.com/DisneyPixar