Meet the Tota Grocery Stabilization System
Plastic Core Grocery Storage Boxes
The Tota Grocery Storage Box has a strong and sturdy plastic core that will not soak up moisture from cold or wet items. Use this collapsible box in your trunk to stabilize up to 75 lbs of pre-bagged groceries. Use Tota to carry up to 30 lbs of non bagged groceries to your car or into your home. Tota is also great for storing anything in your trunk or around your home. Collapse the box flat to store when your are not using it.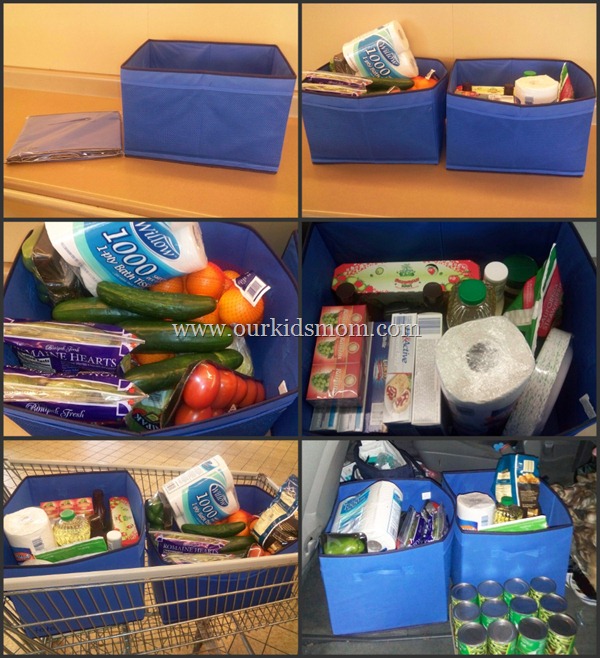 Tota starts flat and folds out into a nice 13" x 17" x 11" box. The original intended use for Tota was mainly to keep your grocery bags from sliding around in your vehicle (they did a nice job of that inside my minivan!). As you can see above, I use Tota as my main grocery bag/box!
I like to use them at local stores like Aldi, where you have to bring your own bags. This average sized trip filled both Totas with room to spare. I love using these over grocery bags. I am the type of person that tries to carry all the grocery bags up in two trips or less. I'm sure you know this type, or you are that type. The grocery bags dig into my fingers and cause a lot of pain from the pressure.
The Tota is so convenient to just pick up and bring in the house! I did notice a slight ripping sound from the handles in the heavier box when bringing them in. That's a pretty simple fix, though. Now I pick my Totas up with my hands underneath, like you are carrying a box. When filled like I have them above, the boxes handle well. I do not feel like they are going to give way or collapse.
I also take Tota with me to Sams Club. I open them up and fill them as I shop. Our club requests that the cart be pushed to the cashier and they scan right from the cart. Every time I have used my Totas at Sams I have received comments from the employees about what a neat idea they are. They are pretty neat, convenient, eco-friendly, money saving and they are very portable in the folded flat position!
BUY IT:
You can purchase one Tota for $10.99 or a two pack for $20.99
Connect with Tota Storage:

I received Tota for review purposes only. All opinions are 100% my own.