If you're a new or expecting parent, you know that having the right baby gear is crucial. As technology is advancing, you will get affordable, portable, and advanced tech gear for taking care of your kids. Not only does it ensure your little one's comfort and safety, but it can also make your parenting journey much easier. If you are a new mom, you can easily get these gadgets online. However, make sure that you keep it connected to the internet so your gear can fetch data in real time.
So, what are the must-have items for new parents? This article has rounded up some of the top baby essentials highly recommended by experts and trusted by parents everywhere. Also covered in this article are four very important categories: cribs that grow with your baby, healthy meal options, swaddles, and travel mattresses and playards.
Keep reading to learn more about these amazing baby gears and their benefits for you and your little one.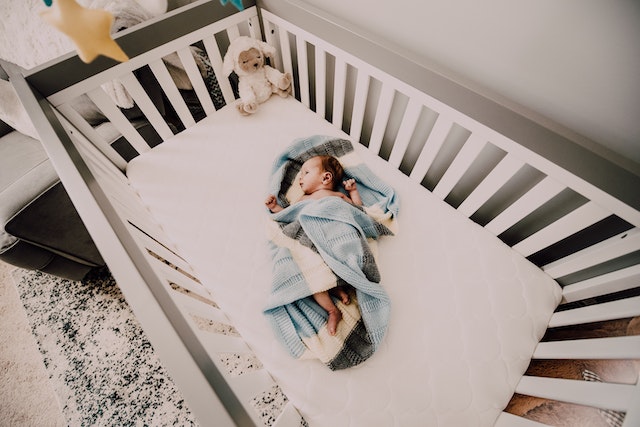 Keep reading to learn more about these amazing baby gears and their benefits for you and your little one.
Convertible Cribs for Healthy Sleep
Choosing the right crib is crucial to ensuring a peaceful sleep environment for your newborn. With so many cribs available, deciding which is the best fit for your baby can be overwhelming. However, some popular options are available in the market. First up is the standard crib. This type of crib is sturdy and secure, providing a safe sleeping space for your little one. Many standard cribs also have adjustable mattress heights, so you can lower the mattress as your baby grows and becomes more active. A bassinet might be the way to go if you want something smaller and more compact. Bassinets offer a cozy and snug environment that's perfect for newborns. They're also portable and lightweight, so you can easily keep your baby close to you during those early months. 
Another practical choice is convertible cribs like the Carter's by DaVinci Colby 4-in-1 convertible crib. These cribs are designed to adapt as your child grows, offering multiple configurations such as toddler beds, daybeds, and even full-size bed options. This means you won't need to purchase additional beds as your child transitions from infancy to toddlerhood and beyond. The Carter's by DaVinci Colby 4-in-1 convertible crib is a great choice due to its clean lines, exceptional quality, and versatile design. Plus, it promotes cleaner air in the home with GREENGUARD Gold certification.
Healthy Meals
Almost every, if not all, new parent is looking for ways to help their baby grow healthy and strong. One of the most important things you can do is provide your baby with healthy meals. During their first year of life, babies grow and develop at an incredible rate, which means they need all the essential nutrients they can get. So, what are some healthy meal options for your little one? Fruits and vegetables are a great place to start, along with whole grains, lean proteins, dairy or its alternatives, and healthy fats. But providing healthy meals can be challenging, which is where Give InKind comes in. It is a platform that facilitates coordinating support during important life moments like childbirth. They offer a range of tools, including meal organization, fundraisers, gift suggestions, and health journals. With Give InKind, you no longer have to juggle multiple tools to get help. Their Healthy Meals Support is specifically designed to aid parents in caring for their babies. With this feature, you can easily communicate what kind of support you need from your loved ones. From emotional support to practical assistance, Give InKind becomes the central hub for coordinating all your support needs. At Give InKind, they believe that no one should face important moments alone. By providing a comprehensive solution for organizing support, they make the journey of parenthood less overwhelming and more enjoyable. So why not give it a try? Your baby will thank you for it!
Swaddles for Your Babies Nursery
Creating a peaceful and comfortable nursery environment as a new parent is necessary for your baby's well-being. One of the must-have items for your nursery is a swaddling blanket, a cozy blanket designed to recreate the feeling of warmth and security that babies experience in the womb. Saranoni offers a range of stylish and functional swaddles for your baby's nursery. Their Bamboo Rayon Muslin Swaddles are made of 70% rayon from bamboo and 30% cotton, providing unparalleled softness and breathability. 
These swaddles come in a variety of colors to match your nursery decor. These swaddles offer a lot of benefits for both parents and babies. Their lightweight and breathable nature makes them a year-round essential for your baby's comfort. With every wash, these swaddles become softer, providing increased comfort. Additionally, you can choose between 100% cotton or bamboo fabrics to suit your preferences. Combining bamboo rayon and cotton results in a lightweight, breathable fabric that is gentle on your baby's delicate skin. Their softness enhances your baby's comfort, ensuring a soothing and cozy experience. 
Travel Mattresses and Playards
Traveling with a baby can be stressful, but having the right gear can make all the difference. A travel mattress is a compact, lightweight mattress that is perfect for travel. Playards, on the other hand, are versatile and multifunctional baby gear that can be used as a portable crib or playpen. The two are portable and easy-to-use must-haves for parents who are frequently on the go or need safe sleeping space for their little ones. Safety is always a top concern for parents, and choosing travel mattresses and playards that meet safety standards and regulations is important. One product that stands out in this category is the SlumberPod. Created by a mother-daughter team, this US-patented product is a portable sleep nook designed to create an ideal sleep environment for babies. 
The SlumberPod allows babies to sleep in their familiar playard, mini crib, or toddler air mattress while providing privacy and room to sit up or stand up inside. The SlumberPod is perfect for parents who need to share a room with a baby or sleep in a space without blackout curtains. Its dark yet breathable fabric ensures that babies and toddlers sleep comfortably and securely during overnight stays or naps. However, it's important to note that the SlumberPod is approved for indoor use only.
Conclusion
As a new or future parent, you want to provide the best possible environment for your baby. That's why it's important to invest in high-quality baby essentials that offer comfort, safety, and support. Convertible cribs are a great option because they seamlessly transition from nursery to big kids' rooms. But baby essentials go beyond just furniture; they also involve healthy meals, sleep, and safe and secure playards. Investing in these baby essentials is an investment in the well-being of both parents and babies, and it can help you create a nurturing and caring environment for your little one.