Are you tired of the same old vacation routine? Ready to leave your comfort zone and experience something new and exciting? Look no further than Gatlinburg. Located at a prime location in the Great Smoky Mountain area, Gatlinburg offers an endless array of adrenaline-pumping adventures and breathtaking natural beauty.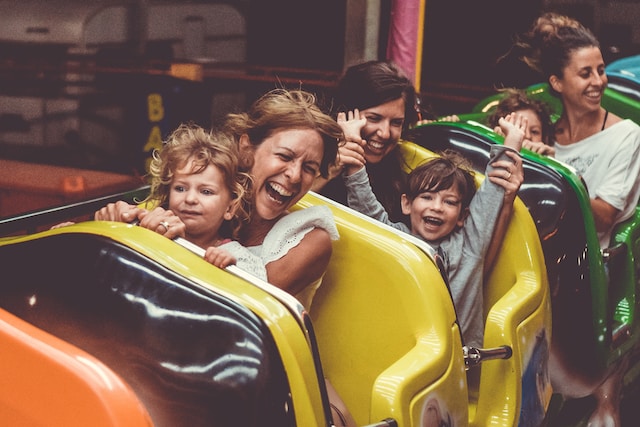 Gatlinburg is the perfect destination for those seeking big adventures in the great outdoors. From thrilling zipline tours and heart-stopping ropes courses to scenic chairlift rides and exhilarating mountain coasters, Gatlinburg is a heaven on earth for thrill-seekers and nature lovers. So why settle for a boring vacation when you can make unforgettable memories with amazing fun activities in Gatlinburg? Let's dive into the world of excitement, thrill, and adventure with these top 5 fun activities in Gatlinburg: 
Experience The Famous Cabin Stay 

 
Gatlinburg's rich history of cabin-style living has made it a world-famous destination. Here, you can find cabins of all types and sizes, ranging from traditional wooden-style cabins to high-end luxury cabins with amenities like hot saunas, private pools, home theaters, game rooms, and attached kitchens. And the best part? You can enjoy this classic Gatlinburg living while enjoying the breathtaking beauty of the Great Smoky Mountains. 
In addition to the range of cabin types available in Gatlinburg, you can choose from various places to stay in Gatlinburg TN, for a memorable trip. Whether you're looking for a cabin on a mountaintop with breathtaking vistas or a cozy cabin near the heart of town to enjoy the vibrant life of Gatlinburg, you'll be able to discover the ideal accommodation that caters to your specific requirements. 
Staying in a cabin is the perfect way to experience Gatlinburg's charm and history while enjoying modern amenities and comfort. Whether you're visiting with friends, planning a family vacation, or looking for a romantic getaway with your loved one, a cabin in Gatlinburg is a perfect choice. 
With added facilities like private pools, game rooms, and home theaters, your stay in Gatlinburg will be exceptional. And when you step outside your cabin, you'll be surrounded by the stunning natural beauty of the Smoky Mountains. 
Gatlinburg Zipline

 
If you want to soar through the treetops and take in the stunning views of the Great Smoky Mountains, put ziplining at the top of your to-do list! Gatlinburg offers a variety of zipline tours, including the award-winning zipline at Anakeesta, Climb Works Smoky Mountains zipline tour, and Smoky Mountains Ziplines. These zipline tours range from beginner-friendly to more advanced options.  
As you zip through the trees, you'll feel the rush of adrenaline and the wind on your face. You'll be surrounded by the natural beauty of the Smoky Mountains, with breathtaking views of the forest and mountain ranges. And if you're really in for a thrill, try ziplining at night!  
In addition to the zipline tours, Gatlinburg ziplines offer other activities such as rope courses and scenic chairlift rides. These activities are perfect for those who want to take in the views at a more leisurely pace or who prefer a slightly less intense adventure. 
Whitewater Rafting

 
If you're in Gatlinburg, your dream trip will be incomplete without a whitewater rafting experience. Whitewater rafting is a thrilling adventure that takes you down the rapids of the Pigeon River, offering an exhilarating experience that's perfect for adventure seekers. 
Once on the water, you'll navigate through the fast-flowing river, making your way downstream while taking in the beautiful scenery of the Smoky Mountains. Whitewater rafting usually varies in difficulty, so everyone can feel the thrill without feeling overwhelmed. Here, the guides are trained to ensure everyone has a fun and safe experience. 
Whether you're a first-time rafter or an experienced thrill-seeker, you're in for an electrifying adventure! And if you're touring with your family, whitewater rafting is a fantastic way to bond and create lasting memories with your loved ones. 
A Hike to the Great Smokey Mountains National Park

 
Have you ever wanted to immerse yourself in nature and experience breathtaking views that will leave you in awe? If so, a hike to the Great Smoky Mountains National Park is a fun activity you don't want to miss while in Gatlinburg. 
If you're an avid hiker, the Great Smoky Mountains National Park is your perfect tourist destination with over 800 miles of hiking trails, ranging from easy to strenuous and even white-knuckle trails leading to steep mountaintops. No matter your skill level, there's a trail that will suit your needs and provide an unforgettable experience. You can hike to enchanting waterfalls, scenic landscapes, and historic structures. 
The park's natural beauty is an awe-inspiring and perfect backdrop for your adventure. You'll witness stunning vistas, lush forests, and vibrant wildflowers, making your hike a truly immersive experience. To add adventure to beauty, you'll encounter various wildlife in their natural habitat. You'll be surrounded by the sounds and scents of the forest, making for a truly immersive and rejuvenating experience. 
Practice Some Shots at the Mini Golf Course 

 
Are you looking for a fun activity that the whole family can enjoy? Why not practice your shots and hit the ball into the hole at one of Gatlinburg's mini-golf courses? 
Mini-golf is a classic pastime that never gets old. Gatlinburg has a variety of mini-golf courses that cater to different themes, from pirate adventures to prehistoric landscapes. The courses are designed to challenge players of all ages and skill levels, so everyone can enjoy the game together. 
Mini-golf is an excellent way to spend quality time with your family or friends while enjoying the beautiful scenery of Gatlinburg. The courses are typically well-maintained and beautifully landscaped, providing a peaceful and scenic environment for your game. 
In addition to the fun and challenge of mini-golf, most courses offer additional activities such as arcade games, batting cages, and go-karts. This means you can easily spend several hours at a mini-golf course, making it a perfect activity for a day out. 
Wrapping Up 
In conclusion, Gatlinburg truly holds the crown among the top destinations in the United States, with an endless array of fun and exciting activities for everyone. From soaring above the clouds on a zip line to hiking the trails of Great Smoky Mountains National Park and practicing your mini-golf skills, there's never a dull moment in Gatlinburg. 
So why not plan your next vacation in Gatlinburg and experience the thrill of the outdoors, the fun of the attractions, and the warmth of southern hospitality all in one place? Don't wait any longer; book your trip to Gatlinburg now and create unforgettable memories that you will cherish for a lifetime.