The athleisure trend allows moms to transition from the playground to a night out without fussing over what they're going to wear. Athleisure pieces breathable fabrics and versatile styles combine to create multi-purpose pieces that look great and fit even better. Here are some tips for those looking to try the athleisure style for themselves. 
#1 Go Beyond Traditional Gym Clothes 
The word "athleisure" shouldn't call to mind sweat pants and old tank tops. Athleisure pieces are high-quality and made using breathable, stretchable, comfortable fabrics that move with your body. Athleisure pieces, like sleek leggings and comfortable tops, look great, and blazers can dress up an athleisure look for a professional environment. 
#2 Choose Truly Versatile Items
The purpose of athleisure is to simplify your wardrobe with items that you can wear anywhere. When shopping, think about the different ways you can style an item to suit your lifestyle. Leggings are definitely one of the most versatile items you can buy, but there are other options, too.
When you buy a shirt, jacket, shoes, or any other item, imagine how you can fit that piece in to a casual or work outfit. You should aim for versatile pieces that you can style at least a few different ways. This will reduce closet clutter and reduce your spending in the process.  
#3 Save Time With Staple Pieces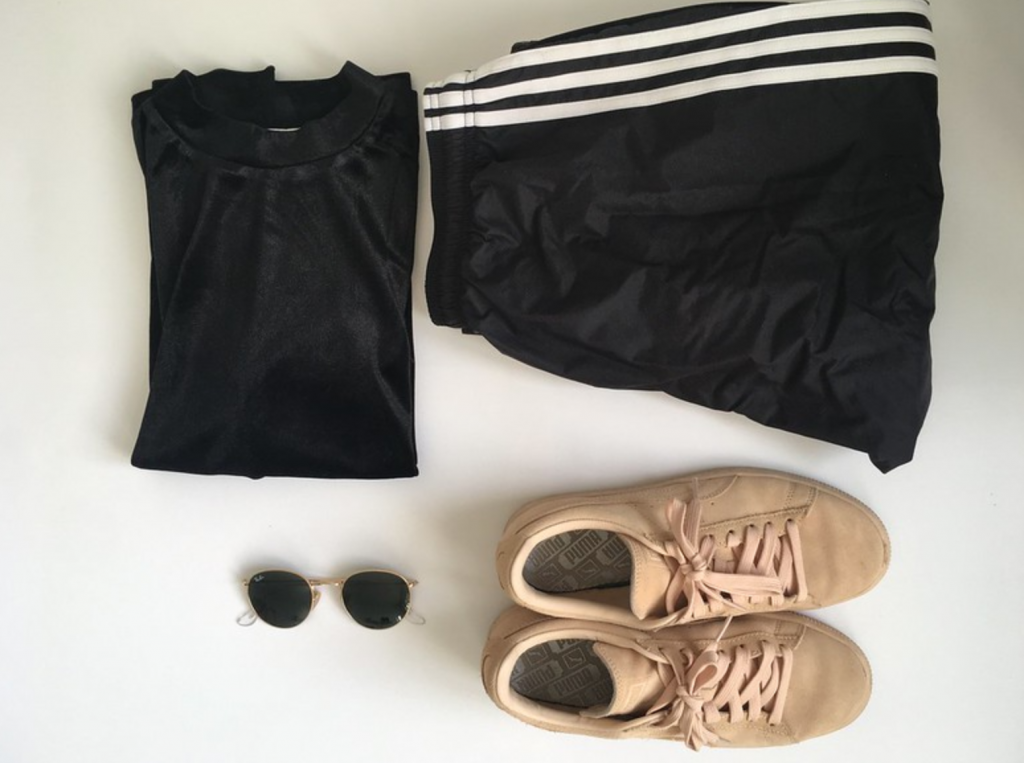 Image via Flickr by Sari Montag
The best athleisure wardrobes begin with a few fundamental pieces that you can mix-and-match with everything else for limitless outfit combinations. When choosing your staple pieces, invest in quality garments that are made using materials that feel good and look good. You're going to wear your staple pieces almost every day, so purchase quality pieces that are durable.
As an example, most people purchase at least a couple pairs of sleek black leggings that they can dress up or down to create an outfit for virtually any occasion. If you need work wear, consider adding a navy blue or black blazer as another staple piece that can instantly elevate any athleisure outfit.
#4 Use Accessories to Complete Your Look 
Perhaps the best advice you can take if you are jumping on the athleisure trend is to invest in quality, versatile accessories. As with everything under the athleisure umbrella, your accessories should be multi-functional, meaning you can mix-and-match them to suit a variety of outfits.
When investing in accessories that allow you to dress up athleisure clothing, think about fashion jewelry that adds personality to your look or even some fine jewelry that can knock a work or date night outfit out of the park.  A cute pair of shoes can also give an athleisure look an extra level of polish.
Like any form of fashion, your approach to the athleisure trend should focus on staying comfortable while expressing your unique individuality through what you wear. If you shop for the right pieces, you'll find that the athleisure style is endlessly versatile and filled with money-saving, life-simplifying possibilities.