Tips for Moving State-to-State
Moving is never an easy task, but when you are moving long distance, as in moving from state-to-state, the chore becomes even more difficult. When moving this far away many additional things must be considered. Besides moving basics you also have to contend with such things as getting a new driver's license, learning about the local and state tax rates and other laws and regulations that may be different from where you currently live.
Plan Ahead To Have a Pleasant Move
To help ease the stress associated with the move it is recommended that you begin the planning process as early as possible. For example, you should begin learning about the state and even the neighborhood you will be moving to as much as six months to a year ahead of time. Online research is an excellent way to learn all sorts of things about an area.
Taking the time to start early will prevent last minute problems from cropping up. It will make you feel in control of the situation from start to finish.
Flexibility Is Key to Less Stress
Any time you are planning for something major like moving you should factor in a little flexibility for things not going as planned. No matter how well you plan, sometimes life throws in a few surprises along the way. We have to be flexible enough to deal with those surprises. For example, maybe you are excited about moving to Connecticut at the end of June for a new job, but with only a two week notice you find out from your employer that you will be moving there at the end of May instead.
Obviously this changes things. The house you are buying will not be ready in May, so you will need to put your things in temporary storage. The good news is, there are quality Self Storage Connecticut facilities available and your new company may even  pay for temporary housing until your new home is ready. Take a deep breath; everything will be fine as long as you are flexible.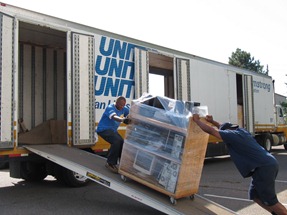 Hiring Movers or Doing It Yourself
One of the biggest decisions you have to make about your move is whether you will pack and move your belongings yourself, or you will hire professionals to do all or part of the work. The good news is, you have the option of hiring out only what you want to have done by others. The point is, many people are more comfortable packing their belongings themselves. However, they would rather leave loading and hauling the goods to another site to professionals. The choice is yours.
Before you hire a moving company it is wise to do some comparison shopping. Shop online and compare at least three or four companies. Find out what services they offer and what is included with their quoted rate.  Ask as many questions as you can before making a final decision about which company you will hire. Better yet, use a Mover Concierge Service.  Let the experts find the right mover for you.  Their sound advice and recommendations are free of charge. The Concierge will be with you every step of the process to ensure your move runs smooth.  The goal is to provide peace of mind and make your move as stress-free as possible.
This is a guest post by R. Wilcox