Philosophy


At Tiny Love, enabling a superior developmental environment for your baby is far more than an ongoing mission; it is the driving passion behind all of our endeavors.
Tiny Love strives to consistently improve its position in the market by being the first developmental toy provider to identify the latest discoveries in child development and translate them into engaging, interactive toys that nurture skills and delight the senses.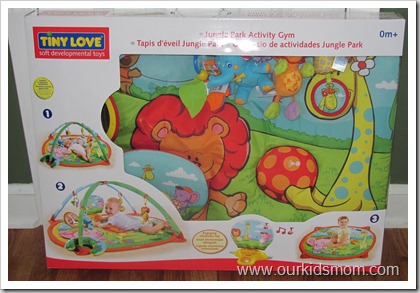 I have always loved Tiny Love toys. Their designs, use of colors and overall long term usability never fails to impress me. The Jungle Park did not fail to impress either. The mat is colorful and nicely padded, it includes a u-shaped pillow for tummy time, has a removable multi-stage electronic toy as well as multiple hanging toys and it includes sliding rings to hang the toys from.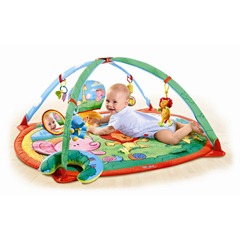 I want to start with the sliding rings, because the mat we had for Emma had stationary rings. Allowing baby to have a different point of view helps them retain interest in the toy (great idea Tiny Love!).
The electronic toy can be used on the mat, but also used on the floor anywhere for tummy time, when baby is propped up in a sitting position and it has two settings: it will play for 9 minutes of continuous music or it has a baby activated lights and music toy.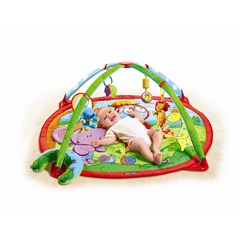 The toys…. oh the toys. Love them! Of course a mirror is a "must have". Babies love to look at other babies and themselves. I already mentioned the removable electronic toy. There are also toys to hang. A wind chime, lion rattle, a leaf teether and and an elephant jitter. The mat has integrated toys: a horn, 2 peek-a-boo flaps and taggies.
Last but not least… this toy is meant to transition even into toddlerhood. The arches are removable and the mat can be used for floor time! Genius, right?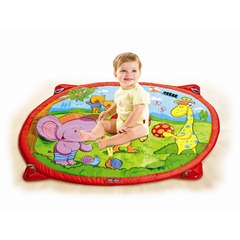 And, as always… The Jungle Park is easy to fold and portable. I would recommend the Tiny Love Jungle Park Activity Mat (on sale for $56.32 at Amazon) for your own baby or grab one for the next baby shower!
I received a mat for review purposes only. All opinions remain 100% my own.