Timi & Leslie was created in 2000 when Leslie Newton was looking for a gift for a friend's baby shower. Unhappy with the diaper bag selection on the market, she designed one out of vintage fabric she had been collecting her entire life and covered it in vinyl.
From that point Leslie would create bags in her spare time as the orders came in, but eventually the demand became such that she decided to put her comedy career on hold and design bags full time. She began designing stylish bags to remind women that they can still be stylish even though they are now a parent. Leslie says her bags are for "the woman in every mom."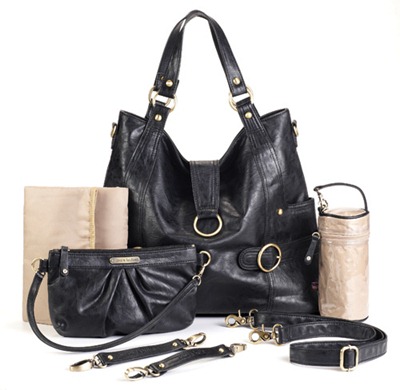 Diaper bags… if you have babies and/or very young children, they are a necessity. I have carried one for nearly 12 years of my life. That sounds horrible, doesn't it?! It's true! My first few rounds were "chopped" up because my children were spaced far enough apart that I transitioned back to a purse. This second "round" of children… well, I've been carrying a diaper bag for 4 1/2 years straight now. I've done the cheesy Pooh Bear, the cutsie florals… I am ready to carry a fashionable bag again, kwim?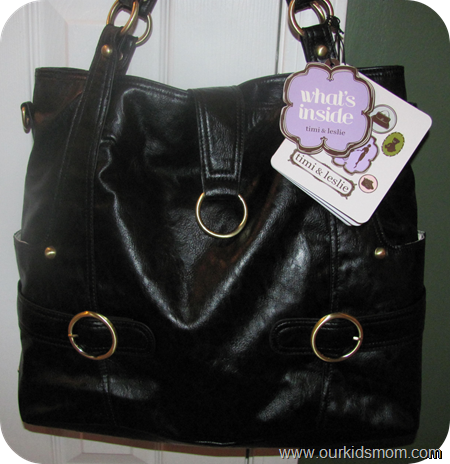 When I stumbled on Timi & Leslie bags I instantly fell in love. They are stylish, but yet so functional! I was over the moon when they agreed to a review. I was sent a Hannah bag in black (pictured above).
You'll be the envy of all mamas' wearing your Hannah bag! It's made from faux leather (PVC free) and features our custom hardware in an antique brass finish.Hannah comes with many functional and fashionable accessories and features:

• A cross body, adjustable detachable strap so you can wear it hands free whenever you need to
• Our specially designed changing pad with a front mesh pocket where you can store your diapers, wipes and creams when you need to make a quick diaper change trip
• A stylish clutch that you can use as your purse (who wants to carry a purse and a bebe bag?) with interior credit card slots and an inside zipper pocket
• An insulated bottle tote to keep your baby's bottle warm or cool
• Matching stroller straps so you can hang your bebe bag from your stroller
• Dirty clothes sac to keep your wet or dirty clothes contained, or a duster bag to keep your bag safe during storage.
• Water resistant, light colored lining so you can easily see everything in your bag
• Two exterior side pockets
• Six interior organizational pockets
• Inside key fob – never lose your keys!
• Measures 14"H x 16" W x 6" D and 11" handle drop
• Hannah is available in Pewter, Bronze, Rouge, and Black
I was impressed from the minute I opened the shipping box. The bag was carefully wrapped in tissue paper as were all the pieces of hardware, and then it was wrapped (again) in a plastic bag.
After unpacking everything, the first thing I inspected was the interior. Why? Because, as a mom that carries items for two children… space, function and organization are important in a bag.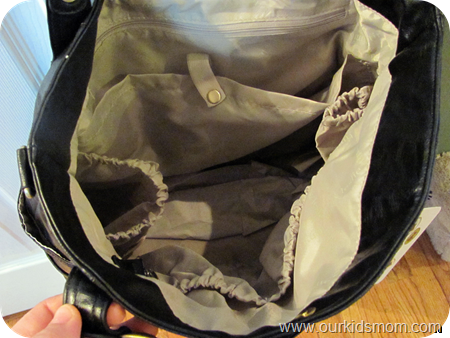 As you can see, there are six interior and two exterior pockets to help organize your bag. There is also a key fobe to clip your keys to. No more digging to the bottom of the bag to find your car keys again!
The interior was very spacious with more than enough room for Pull-Ups, wipes, 2 sippy cups, 2 Munchie Mugs, 2 changes of clothes, first aid items, a bag for mom's stuff (included!) and I can still get the magnetic closure to click.
Timi & Leslie have thought of it all. As I mentioned, there is a matching "mom's bag" that can easily be grabbed for that occasional (although rare) moment that mom gets the leave without the kids. It's just big enough for the essentials, but stylish enough that you don't feel like you need to dig for a purse to carry. Don't like the strap? That's removable also and you can carry the bag as a clutch. They've also included a changing pad, a bottle tote, a dirty clothes sack, a longer strap so you can carry your bag over your shoulder (or cross body), and two stroller straps so your bag can hang off the stroller handles (genius!).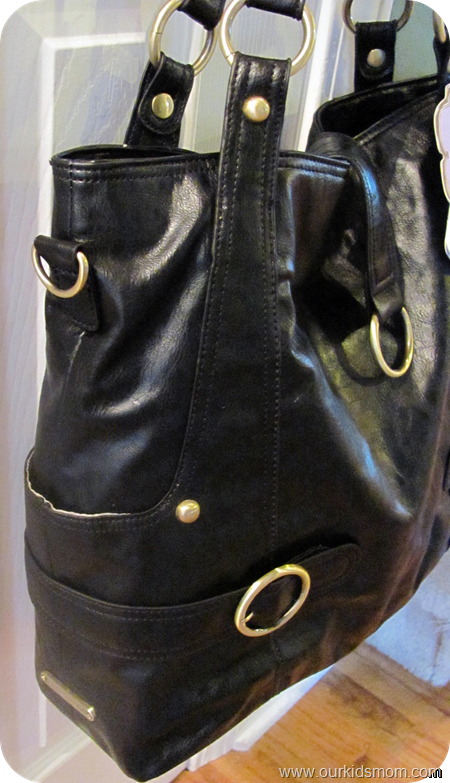 I've gone over how functional this bag is. Now let's talk about aesthetics. My first reaction… I gasped. The bag was so much nicer in person than in the photos. I love every detail about it. The material is a faux leather (yeah! No animal products!). It feels very durable and looks authentic. The antique brass hardware adds a touch of class to the design, as well as function. The shoulder strap clips do not look out of place, even when not in use. The best part, it doesn't look anything close to a diaper bag. It looks like an oversized purse/bag that I would have gladly carried before I had children.
BUY IT:
You can purchase the Timi & Leslie Hannah bag in black for $154.99 at Amazon.com
WIN IT!
ONE OurKidsMom reader is going to win a Timi & Leslie Rachel diaper bag (w/accessories) in black (RV $149.99)!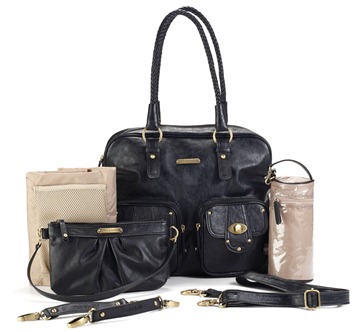 This giveaway ended at 11:59PM EST on May 9, 2011.
Disclosure:
This post was written by me and was not edited by anyone. The opinions expressed in this post are entirely my own and have not been influenced in any way. I received a sample for review purposes only. I was not financially compensated for this post. The sponsor is responsible for prize fulfillment and will be shipping the winner(s) their prize(s). For more information please read my disclosure policy.