Thule Urban Glide 2 Double Stroller Review
Halfway through my pregnancy with my second child, I started thinking of the gear I would need for two children. A double stroller was high on my list, but when looking at the different options I couldn't find one that met all of my requirements. I didn't end up buying one. Then I was sent the Thule Urban Glide 2 to review, I could not believe how amazing this stroller was! It checked off everything on my list.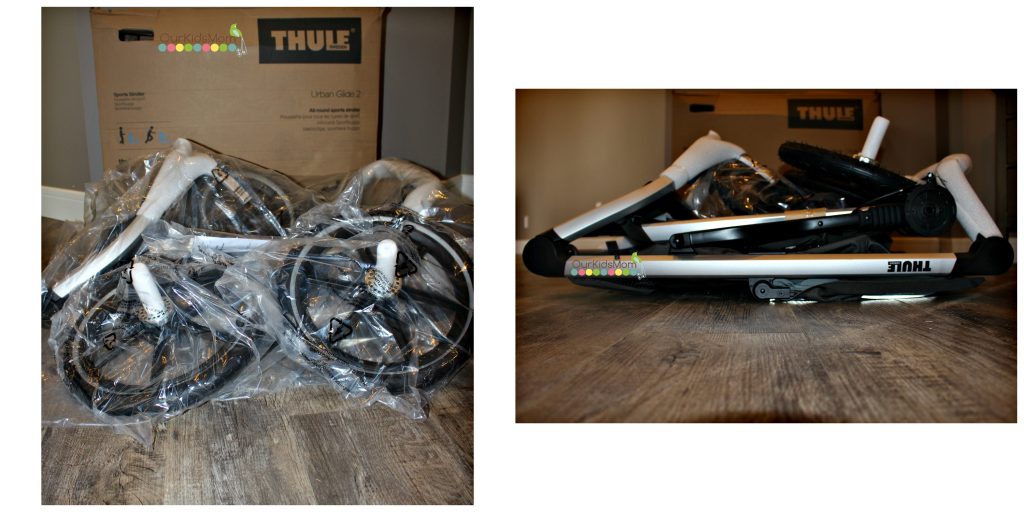 Some features that were on my requirements list included:
A double side-by-side stroller. I have very long legs, and other double strollers that I tried that had seats in front of each other did not work for me. My feet would hit the stroller and I always had to be looking down to make sure my feet were far enough away from the stroller. I do not have to worry with the Urban Glide 2. I can jog and take long strides and my feet don't hit it. Some doubles are so wide and this one is 31.3 inches, and I was able to take it through my front door. This was something I wanted in a stroller, so that I didn't have to worry about it not fitting through doors while shopping.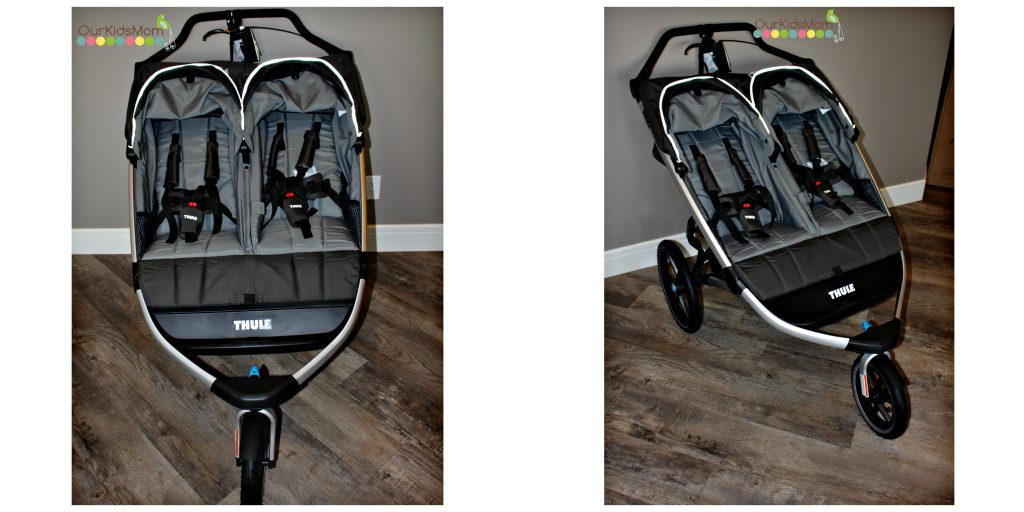 Big air filled tires. I live on a farm with gravel roads, and I find that air filled tires ride better. The front tire is 12 inches, and the two back ones are 16 inches, and they have suspension.  When I drove it around the farm, I was very impressed, as it drove very smoothly.
A stroller with a pivoting and locking front tire.  The locking feature is good for running, and the pivoting setting is best for strolling.
Adjustable handlebar. I am over 5'10'' and making sure that the stroller handlebars are at a comfortable height for me is important. I find that I do keep the handlebars at a higher height, which works great for me. There is a button on either side of the handlebar to adjust the position of the handlebar.
Reclining seats. This stroller has great reclining seats. I found the adjustment clamp at the back of the seat so easy to use. They recline back 165 degrees, which is nice if my kids want to have a nap.
A canopy that extends further than other strollers. I was amazed at the canopy on this stroller as it extends all the way down to provide optimal coverage, which is ideal because I was able to move the canopy depending on where the sun was. There is a window in the canopy and when I opened it for the first time, I realized that a magnet and not velcro secure it!! Thumbs up to Thule! I won't be waking up a sleeping child with noisy velcro while trying to check on my kids. I also found a magnetic window on the back of each seat that is mesh to allow for airflow.

Storage underneath the stroller. I was not expecting storage that had a cover, and was pleasantly surprised. I was able to store a jacket underneath and zip up the cover while out on the gravel road, and it did not get dirty. It does not hold a large amount of items in the storage, but I found it sufficient for what I need. There are also mesh pockets on the back of each seat as well as a pocket inside the stroller in each seat.
A brake system. The Urban Glide 2 has two brakes. A foot parking brake that locks the wheels, and a hand brake. I found the foot brake a bit on the harder side to lock and unlock, but if I make sure to wear closed toe shoes, it shouldn't be a problem. The hand brake is very convenient, as I can use it when I jog on uneven terrain, to make sure I can control the speed of the stroller with ease.
I wanted a stroller that will last for years as my kids grew, and I believe this is one that will. The weight capacity of this stroller is 100 lbs., and with a two year old and an infant we will be using this stroller for a long time. It is recommended for children 6 months and up, unless using the car seat adapter, which I ended up buying as my little one is currently 2 months old.
I found this stroller barely heavier than my single jogging stroller, as it weighs 32 pounds. For the size of the stroller, I was surprised at the one handed fold capability, and how compact it is when folded flat.  The two back wheels can be easily removed by pressing the blue release button, in seconds the wheel can be taken off or put back on, taking up even less room when folded, and I was able to fit it in the back of my Ford Edge.  I was so happy that it fit. I won't be able to fit much more than the stroller, so I wont be bringing it on overnight trips, but for day trips and such, I will be able to transport it in my vehicle.

I am so excited to use this stroller for years to come and I am incredibly impressed with all it has to offer. If you are looking for a high quality, and durable double stroller, the Thule Urban Glide 2 is the stroller for you.