The Sandwich is 250 Years Old! | November is National Bread Month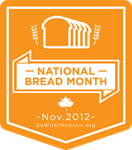 This year marks the 250th anniversary of the sandwich! There are many reasons to love sandwiches:
Sandwiches are one of the easiest, most versatile and convenient ways to make a healthy meal for individuals or families.

Bread is the most important ingredient in making a healthy and delicious sandwich; it is the foundation of a great meal any time of day.

The complex carbohydrates in bread and other grain-based foods provide lasting energy the human body needs on a daily basis.
Bread and grain foods provide many essential nutrients our bodies need to stay healthy and help fight diseases such as heart disease, diabetes, some cancers and birth defects. Some of the health benefits of bread are:  
Whole grains are a good source of complex carbohydrates, numerous vitamins and minerals, and are naturally low in fat.
Enriched grains are also a good source of complex carbohydrates and are one of the major sources for iron and folic acid in our diets.    
Whole grains are a good source of fiber and other important nutrients, such as selenium, potassium and magnesium.
Whole grains may lower risk of heart disease, some cancers and diabetes as well as other disorders, such as hemorrhoids, irritable bowel syndrome and diverticular disease.  
Emma brings a sandwich to school many times a week. She loves peanut butter and jelly and peanut butter and honey. I am currently looking for a wider variety of sandwiches that will appeal to her as well as stay safe outside of the refrigerator for several hours.
At home we often have veggie sandwiches, peanut butter and jelly and Kaytlin enjoys a "faux" turkey sandwich on occasion as well. While looking for a new recipe to try I found Celebrity Chef Bryan Voltaggio  delicious recipe creations. This one for the Avocado CLT looks and sound fabulous… but there are so many more creative and yummy recipes at that site! … Enjoy!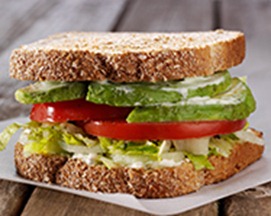 Author:
Celebrity Chef Bryan Voltaggio
Ingredients
GENERAL:
12 Slices whole wheat bread, toasted
3 Avocados, peeled, pitted, and sliced
3 European cucumbers, peeled and sliced thin
1 Romaine heart, finely chopped
2 Heirloom tomato, sliced
½ cup Green Goddess Spread (recipe below)
½ cup Goat Cheese Mousse (recipe below)
1 teaspoon Extra virgin olive oil
Sea salt and freshly ground pepper, to taste
GOAT CHEESE MOUSSE:
1 quart Goat cheese, at room temperature
4 ounces Buttermilk
¼ cup Your favorite fresh seasonal herbs, finely chopped
½ teaspoon Salt
¼ teaspoon Pepper
GREEN GODDESS SPREAD:
1 cup Mayonnaise
½ cup Sour cream
2 Garlic cloves
1 Lemon, juiced
½ quart Mixed green herbs (equal parts parsley, tarragon and chive)
Instructions
GENERAL:
Lay out two slices of whole wheat toast on a cutting board.
Coat the first slice of bread evenly with the Green Goddess Spread. Set aside.
Spread the second slice of bread evenly with the Goat Cheese Mousse, then layer with cucumber slices. Season lightly with salt, pepper and olive oil.
Next, add the romaine and tomato on top of the cucumber. Again, season lightly with salt, pepper and olive oil.
Then, add slices of avocado and top with the slice of toast with the Green Goddess Spread.
Stabilize with two wooden skewers and cut in half to serve.
GOAT CHEESE MOUSSE:
In a blender or food processor, add the goat cheese and buttermilk. Puree until smooth, the mixture should be thick. If a blender or food processor is not available, mix together in a large bowl using a rubber spatula. Transfer to a bowl and mix in the fines herbs. Taste for seasoning and adjust with salt and pepper as necessary
GREEN GODDESS SPREAD:
Combine all ingredients in a blender and puree until smooth and uniformly green in color. If a blender is not available, finely chop the garlic and herbs and then whisk all ingredients together in a large bowl.
Do you have a fabulous sandwich recipes you could share?
"I wrote this review while participating in a blog tour for Mom Central Consulting on behalf of the Grain Foods Foundation. I received a promotional item to thank me for taking the time to participate."