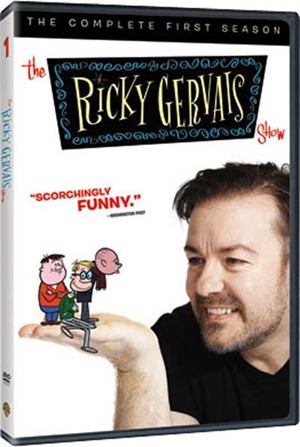 THE RICKY GERVAIS SHOW
From the creators of the smash-hits The Office and Extras, The Ricky Gervais Show is an animated comedy based on a series of highly popular audio podcasts voiced by Gervais, collaborator Stephen Merchant, and colleague/friend Karl Pilkington that have been set to clever, eye-catching animation. The podcasts' storylines, which were inspired by Pilkington's offbeat musings about life, built a tremendous following amongst fans, earning a spot in the Guinness Book of World Records for the most downloads. Among the topics discussed in season one are Pilkington's view on population control, monkeys in space, lion mutilation, public nudity, reversing the aging process, "Monkey News" segments and much more.
The Ricky Gervais Show premiered on HBO in February 2010 and won an Emmy for Outstanding Achievement in Animation Character Design. Gervais earned a spot on Time Magazine's 2010 list of Most Influential People and has been selected to host the Golden Globe Awards for the second time in 2011. He has earned multiple awards for his work in television, including Emmy and Golden Globe Awards.
DVD Special Features Include:
Channel 4 Comedy Gala Animation
Episode Story Board
"The Ricky Gervais Showis a must-have DVD for anyone looking to have a great laugh and a good time. Ricky, Karl and Stephen share a great sense of camaraderie and make a delightful, entertaining team. With the addition of imaginative animation, their hilarious podcast material is elevated to a whole new level," said Rosemary Markson, WHV Vice President, TV and Special Interest Marketing. She added, "We are pleased to release this fun series on DVD."
Featured Episodes Include:
Space Monkey
Nuts
Knob at Night
The Jockey
Charity
The Fight
Dolphins
Beatles
Glass Houses
Noises
Cobblers
Freaks
The Diary
Released on DVD January 4, 2011
Own it on DVD for $21.99
Get the inside scoop on WB movie & DVD releases! www.wbreelnews.com