Prams and strollers are probably not something you have given much thought to until you got pregnant. And suddenly you see different prams, strollers and pushchairs everywhere. Some lie flat, some are for newborn babies, some have a compatible car seat, and some are good for off-road running.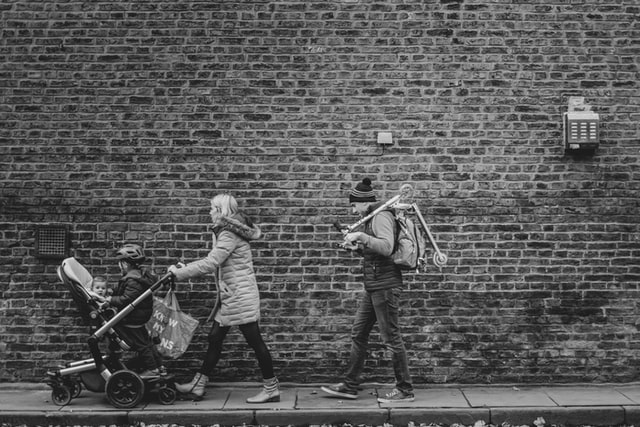 New mothers can quickly become overwhelmed with options, and that is why we have collected three of the best prams 2022 has to offer, suitable for young babies and mothers on the go.
Top Three Prams of 2022
1) Best pram overall: Stokke Xplory X
Stokke products are priced a bit higher, but you definitely get your money's worth. The Stokke Xplory X was released in 2021 and is extremely versatile, durable, comfortable and stylish.
Although it is a little bit on the large side, it has large lockable front swivel wheels and a steady hand grip which will allow you to manoeuvre the pram with ease.
The pushchair seat unit is ergonomically designed to support the head of a newborn baby or young child, and the seat is covered in plush woven fabrics for your baby's comfort. This pushchair is also compatible with a car seat.
As we mentioned: you pay for quality. The Xplory X has the best safety features, a footrest, several reclining back positions, and a waterproof UV-protectant canopy to keep your baby safe from the weather. The mesh design means that your baby will be cool in summer and comfortable in winter.
Specs:
Price:

Starts at £979

Ages:

newborn to 22 kg

Wheels Type:

Lockable swivel wheels

Folded Dimensions:

105 x 47.5 x 56 cm

Unfolded Dimensions:

131 x 100.5 x 56 cm

Weight:

13.4 kg
2) Best for travelling: GoodBaby Pockit+ Stroller
Although the GoodBaby Pocket+ Stroller is not a full travel system, it is an excellent, lightweight pushchair that is easy to operate and handle with one hand.
The Pockit+ was awarded the Guinness World Record for the most compact stroller in 2014, and although it is small and light, it is still very sturdy and can transport a child up to 17 kg. These small strollers can fit into any car boot and are even small enough to be carry-on luggage on a plane and to be stowed in the overhead storage space.
The stroller comes with a hammock-style lie-flat seat and a five-point harness to keep your baby safe while they sleep. It comes with a basket for storage, groceries or diaper bags. Although the stroller canopy is slightly smaller than other similar compact strollers, the pros of this stroller are far greater than the cons.
It is light, strong, affordable, and folds up small enough to stash it away when not in use.
Specs:
Price:

Starts at £190

Ages:

6 months to 4 years (or 17 kg)

Wheels Type:

Lockable swivel wheels

Folded Dimensions:

20 x 34 x 42-55 cm

Unfolded Dimensions:

102 x 42 x 71 cm

Weight:

5.6 kg
3) Best everything-you-need pram: Bugaboo Cameleon 3
The Cameleon 3 is the third reiteration of the well-loved, all-in-one stroller. The Bugaboo stroller is instantly recognisable by its bright colours and sleek design.
The Cameleon 3 gives mothers everything they need in a buggy: it is versatile, it has a reversible seat, the seat can go into a lie-flat position, the handlebar height is adjustable, and the suspension can be adjusted for a smooth ride on different terrains.
The pushchair frame is versatile, and you can decide if you want the baby to face you or the world. Even the wheels have adjustable positions, which will make it easier to push through loose sand.
The basket has been redesigned but still has more than enough space to store your groceries and other essentials. 
The Cameleon 3 comes with a lot of add-ons and accessiries, including the UV-protectant canopy and a rain cover. At an additional cost you can also buy a matching car seat, diaper bag, footmuff, and other accessories. 
Specs:
Price:

Starts at £675

Ages:

0 to 36 months

Wheels Type:

Lockable swivel wheels with foam-filled tyres

Folded Dimensions:

90 x 50 x 31 cm

Unfolded Dimensions:

100 x 59 x 80 cm

Weight:

9.6 kg
Final Thoughts
With so many amazing prams on the market, it can be overwhelming to find the best one. Of course, only a mother will know what is best for her baby, but we hope that our pram guide has helped you to narrow down your choices and find the best pram in 2022!