The Magic School Bus DS game Oceans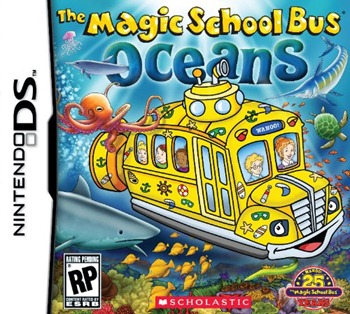 Ms. Frizzle steps back into action, piloting one of the most revered magical vehicles in the history of magical vehicles with a brand new game for the Nintendo DS. Players will take a journey into the ocean to make new discoveries and learn a little something new about the big blue, liquid playground.

The game lets players into an open explorative universe with more than 200 different interactions within the infotainment universe of the ocean. Nintendo DS gamers will learn a little bit about something new regarding oceanography while at the same time partaking in mini-games and having fun while being educated. There are a total of six different levels of the ocean, with various marine transformations available for the Magic Bus. With 100 different sea creatures to uncover, and 100 equally interesting facts to comb over, players of all ages will have plenty to do with the upcoming, budget-priced title from Scholastics and Cokem International.
Our kids ages 9 & 11 1/2 both have a Nintendo DS & they are always asking for new games.  We don't mind them playing, but when we can find educational games that they enjoy, that's always a bonus!  When we were asked to review The Magic School Bus Oceans game, we were excited to try it out.  Both kids tried the game & both said that they thought it was fun.  Michaela (age 9) enjoyed it more, but she's our "brainiac" and loves to learn.
The Magic School Bus game is good for learning about the ocean and having fun doing it.  Any Magic School Bus fan would enjoy this game.  There are puzzle and trivia games that teach animal facts and you can drive the bus all around the ocean.  Both Micah & Michaela agreed that this game would be best for kids ages 5-8, but anyone that wants to learn about the ocean and ocean animals would like it.
BUY IT:
You can purchase a copy of The Magic School Bus Oceans for $16.00 at Amazon.com (RV $19.99)
Connect with Scholastic & the Magic School Bus:
[tweetbox width=500 height=50 label=Retweet! content ="The Magic School Bus Oceans for Nintendo DS Review @ourkidsmom %u"]