OurKidsMom has joined forces to help cheer on the summer athletes of the London 2012 Olympic Games.
I know many of you are like me vocalizing your excitement for the games in the privacy of your own living room. If only these athletes could hear us cheering and screaming for their success from the other side of the television, right?  
Well, here's our chance.
Team VISA has set up a Global Cheer app to help us send our cheers!
Even top Olympians like Michael Phelps need us to cheer…
Let the summer team know we are behind them 100% and are rooting for their success!
WIN IT:
ONE OurKidsMom reader is going to win a $20 VISA GIFT CARD!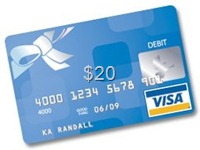 This giveaway ended at 11:59 PM EST on July 31, 2012.
Disclosure: I am blogging on behalf of Visa's Team Visa athlete program and receive compensation for my time, but the thoughts, words, and promotions on this page are mine, not Visa's. The gift card promotions are not sponsored by Visa in any way.