If you cloth diaper, then you know the importance of being picky with what detergent you use to get them clean. You have to think about… is the soap going to leave a build up?… Is it going to all rinse out of my diapers?… Is it going to get my diapers clean?… Is it tough enough to get the stink out of the diaper?… and is it safe to use on my diapers?
Well, I must say The Laundry Tarts cover all these concerns and then some. Their all natural detergent has no chlorine, Phosphates, Sodium Lauryl, Parabens, Phthalates, Edta, or animal products in it. This leaves you with a environmentally safe detergent that not only will not harm the environment but is kind to your skin as well. The Laundry Tarts have made a commitment to use only safe ingredients in all their products, everything is completely biodegradable including the bag it comes in.
 
I, for one, am a very skeptical person when it comes to trying new detergents. I guess I used to think that "if it doesn't foam then it's not getting my clothes clean". Was I ever wrong! Thankfully I was introduced to The Laundry Tarts.
On the bag it says that all you need to use is 2-4 TBSP per load and half of that for the water saving front loaders.  I have an old school top loader and seriously wondered if 4TBSP of soap was going to truly cut it. I proceeded with my normal cold soak, hot wash, cold rinse, and then a second rinse. When the load was finished it was time to pull them out and put them in the dryer. I immediately noticed that the diapers had a "clean smell"… not a perfume or fragrance… just a good fresh clean smell. When it was time to pull them out of the dryer I noticed right away how super white they were! They looked and smelled clean, there were no foamy suds and they still came out clean…. wow was I ever wrong!

So I had to do it. I tried The Laundry Tarts on regular clothes because having kids means you have tough stains. My son recently started playing soccer and his grass stained knees come clean! To treat them I got the knees wet, applied a little of the stick and used a bristle brush to scrub them a little to work up a lather. Then I rinsed it and tossed them in the washer… they come out pearly white.
I would have to say
this stick is simply amazing

! It has worked wonders on even blood stains. Other products use harsh chemicals to remove stains that end up not rinsing out properly and they leave a residue behind that can cause skin rashes, allergic reaction, or aggravate any skin with eczema and psoriasis. Why would I choose to switch back to a chemical product to wash my cloth diapers when I can use a chemical free product like The Laundry Tarts

that works better

?!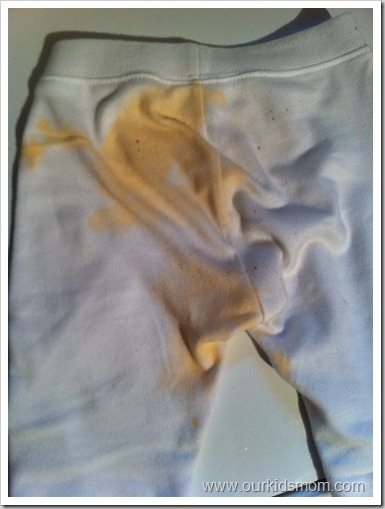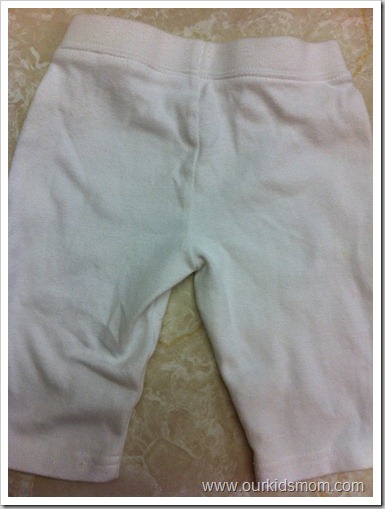 Above is a picture of what happened when my 20 month old daughter decided to drink orange pop by herself. We were 2 hours away from home and so it sat and dried on her new white pants for 8 hours. I used The Laundry Tarts Stain stick on the stain. I first wet the pants, rubbed on the stick and used a soft brush to work up a lather, then rinsed them and washed as normal…. simply AMAZING!

I was excited to hear that The Laundry Tarts also has a new product called Strip It! It is meant for anyone needing to strip any unwanted odors, residue, or heavy soiling. Just like all their other products, it is safe to use with any water type and fabrics. Strip It! can be used on anything from your linens to getting out a carpet stain. I used Strip It! on my husbands smelly work clothes and
wow!

… I'm sure he went to work being the best smelling man there! I also use it on my cloth diapers to strip any unwanted smells or residue out.

Thankfully The Laundry Tarts has a great menu of scents to choose from. They carry scents like Key Lime Pie, Pina Colada, Rootbeer Float and Strawberry Shortcake and those are just a few of their great scents. If scented isn't for you there is a Plain Jane -unscented for anyone that has problems with a fragrance. The fragrances are not left behind in your clothes or diapers, you just enjoy the scent as you put it in the washer. The scent rinses out great leaving a crisp fresh smell and clean clothes or diapers.
BUY IT:
The Laundry Tarts products can be purchased at www.thelaundrytarts.com
Win It:
Check back on Monday June 4 for the Fluffy Butts Cloth Diaper Giveaway to win a few Laundry Tarts items.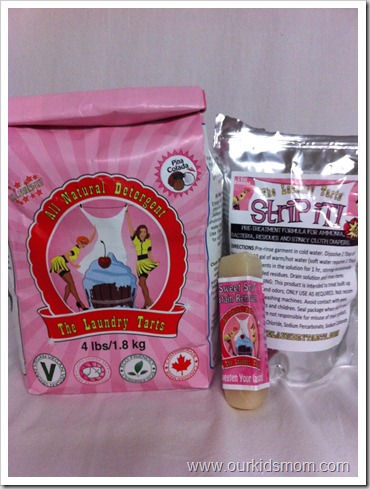 Connect with The Laundry Tarts for up to date product news, sales and promos:
Disclosure of Material Connection: I received one or more of the products or services mentioned above for free in the hope that I would mention it on my blog. I only recommend products or services I use personally and believe will be good for my readers. I am disclosing this in accordance with the Federal Trade Commission's 16 CFR, Part 255: "Guides Concerning the Use of Endorsements and Testimonials in Advertising." The opinions expressed in this post are entirely my own. Your experience with the product may differ from mine. The sponsor is responsible for prize fulfillment and will be shipping the winner(s) their prize(s). For more information read my disclosure policy.