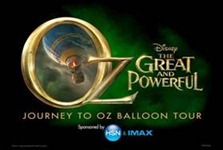 I'm just a little behind, but I wanted to share this fun bit of news. If you have a chance to make it to a tour stop, it's worth it! I was fortunate to see the balloon at the premiere and at the press junket the next day.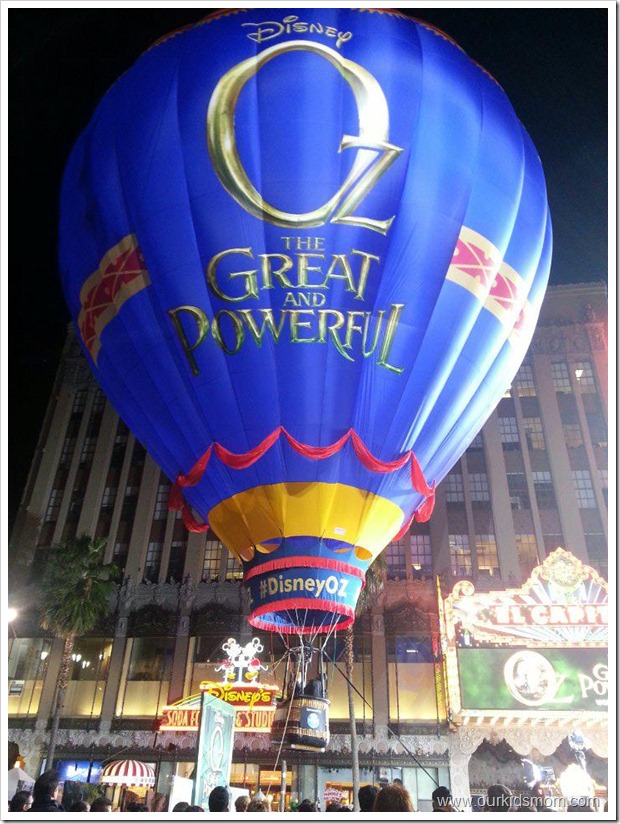 Disney announced on Feb. 12th the launch of the "Journey to Oz Balloon Tour," sponsored by leading multichannel retailer HSN and IMAX Corporation, in support of its upcoming fantastical adventure "Oz The Great and Powerful," opening in U.S. theaters and IMAX® on March 8, 2013. The colorful, "Oz The Great and Powerful"–emblazoned hot-air balloon began its tour this morning from the Walt Disney Studios lot in Burbank, Calif.
Stops for the "Journey to Oz Balloon Tour" to date include:
· "Oz The Great and Powerful" premiere at the El Capitan Theatre in Hollywood  (February 13)
· Disneyland Resort in Anaheim, Calif. (February 17)
· Daytona International Speedway in Daytona Beach, Fla.  (February 20)
· Central Park in New York City (March 5 & 6)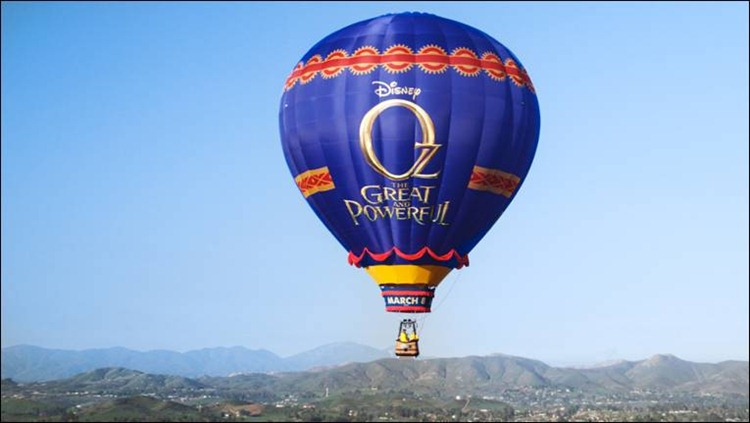 On February 15, the "Journey to Oz Balloon Tour" app will go live on the official Facebook page for the film. Starting then, fans will have the opportunity to unlock screenings in cities near them. Users will vote by Tweeting with a custom hashtag for their city (e.g. #DisneyOzSeattle) or by sharing on Facebook.
"Oz The Great and Powerful," directed by Sam Raimi, imagines the origins of L. Frank Baum's beloved wizard character. When Oscar Diggs (James Franco), a small-time circus magician with dubious ethics, is hurled away from dusty Kansas to the vibrant Land of Oz, he thinks he's hit the jackpot—fame and fortune are his for the taking—that is until he meets three witches, Theodora (Mila Kunis), Evanora (Rachel Weisz) and Glinda (Michelle Williams), who are not convinced he is the great wizard everyone's been expecting. Reluctantly drawn into the epic problems facing the Land of Oz and its inhabitants, Oscar must find out who is good and who is evil before it is too late. Putting his magical arts to use through illusion, ingenuity—and even a bit of wizardry—Oscar transforms himself not only into the great wizard but into a better man as well.
"Oz The Great and Powerful" is produced by Joe Roth, with screen story by Mitchell Kapner and screenplay by Mitchell Kapner and David Lindsay-Abaire. Grant Curtis, Palak Patel, Josh Donen and Philip Steuer are serving as executive producers.