Last month was our first month of receiving a shipment from the California Wine Club (see the review here). If you remember, I mentioned that we are not very knowledgeable when it comes to wine, so we were excited to try a few bottles of some premium wines (normally we would stay in the $5-$10 range when buying one on our own).
This month we received another bottle of red and one white. Both were from Castroro Cellars and both were from 2010… one was "Blind Faith" Pinot Noir and the other Gewürztraminer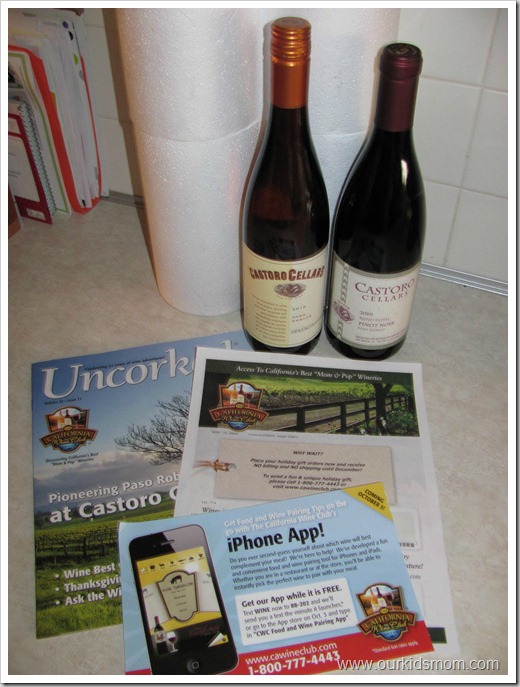 The Pinot Noir is described as:
Savor the concentrated fruit aromas that are a hallmark of Castoro's "Blind Faith" Pinot Noir. On the palate, you'll find black cherry and tea notes, toasty, smoky flavors and every reason to take another sip!

This wine was just released, so no awards or reviews are available, but expect some great kudos. Pedigree: the '09 won two Gold Medals, three Silver and two Bronze.

Enjoy now or hold up to five years. Serve with lighter meats like poultry as well as pork chops, ham, and a Castoro favorite, grilled salmon.
The Gewürztraminer is described as:
Aromas of jasmine and ginger lead to lush, tropical fruit flavors. Like Gewürztraminer in France, where the grape originated, this bottling has lots of nice fruity character.

Castoro's Gewürz is made in such small quantities that the winery has never submitted it for review or competitions.

The final blend was 77% Gewürztraminer, 15% Viognier and 8% Muscat Canelli. This Gewürz is a terrific aperitif and great with salads, Japanese or Thai cuisine. Serve chilled.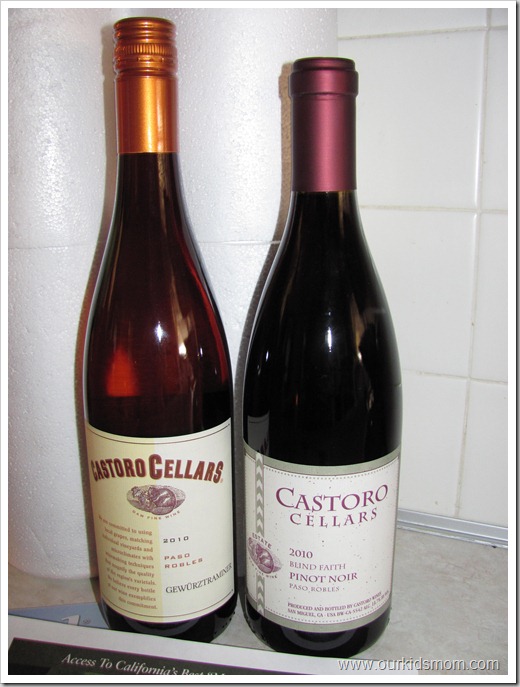 I am still not a wine expert, nor do I play one on tv, but I am happy to report that I thoroughly enjoyed the taste of the Gewürztraminer. I don't want my opinion of the Pinot Noir to influence you. I just haven't met a red wine I like. That being said, I didn't cringe near as much with this bottle as last months
.
My husband on the other hand enjoyed both bottles immensely. We both agreed the Pinot Noir wasn't as bitter and had a lesser bite (again, I don't know accurate wine terminology). He felt like it was smooth and went over the palate well. We also both agreed that the Gewürztraminer was a little sweeter and fruitier.
Our experience (again) this month was fantastic. We were sent two bottles of wine that we never would have chosen… but are glad we had the chance to sample. We are excited and intrigued to see what will be sent next month, our final month *sniff sniff*. We are also considering the options of purchasing a wine of the month membership for Christmas gifts!
BUY IT:
The Premier Club can be purchased for Just $36.45 per month plus shipping, handling and applicable sales tax.
*** COUPON ALERT: ***
Use code: ourkidsmom at checkout to receive 10% off every gift order you place! In addition, you can also receive a 10% off discount on your first month of membership for yourself and a free bottle of wine in your first months shipment.
Connect with California Wine Club:
[tweetbox width=500 height=50 label=Retweet! content ="California Wine Club Premier Membership Review @cawineclub @ourkidsmom %u"]
This review was made possible by
Mom Spark Media
. All thoughts are 100% my own.