2nd Annual Kenmore Bloggers Summit 2012

Friday January 20, 2012… Kenmore welcomed 40+ bloggers to Kenmore Live Studios in downtown Chicago for some first hand experience with some of it's newest innovations. They had a full day of demonstrations, product information and group challenges planned for us (see me? I'm in the front row!).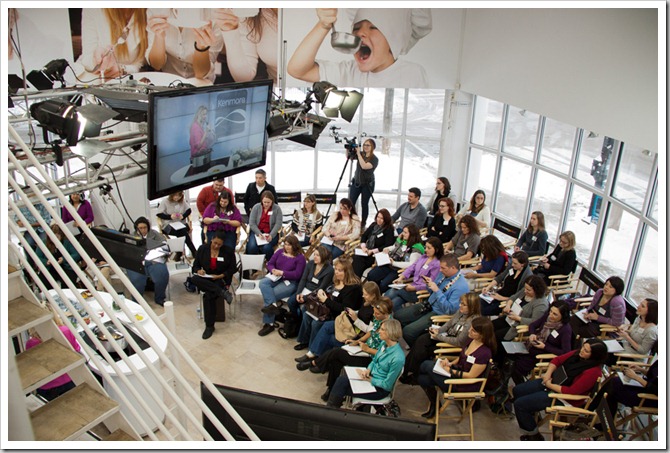 Our first session was with Suzy Singh from Master Chef. She was incredibly personable, knowledgeable, friendly, helpful (yes, she helped us with one of our challenges!) and energizing. I love her passion for good food and she gave me some great new ideas for my slow cooker. She also encouraged us to use our iPads in the kitchen (she was playing with hers before the session). You can actually watche her session here on YouTube.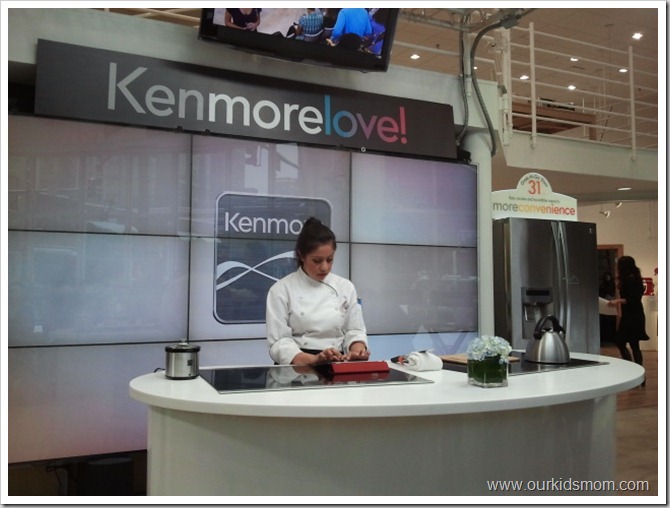 The main session that left a deep impression on me was the innovations segment. I am in huge puffy heart love with the new 31 cubic foot Kenmore Elite Trio French Door Refrigerator with Grab-n-Go Door (the entire crowd gasped when the Grab-n-Go was demonstrated for us!). It's amazing how they have kept the outside of the fridge the same size, but increased the interior space and usability. With my family of six I would truly appreciate the interior space. Having to shop 2 to 3 times a week for vegetables and fresh food is a normal activity for me… having the space to put them when I get home would be fantastic!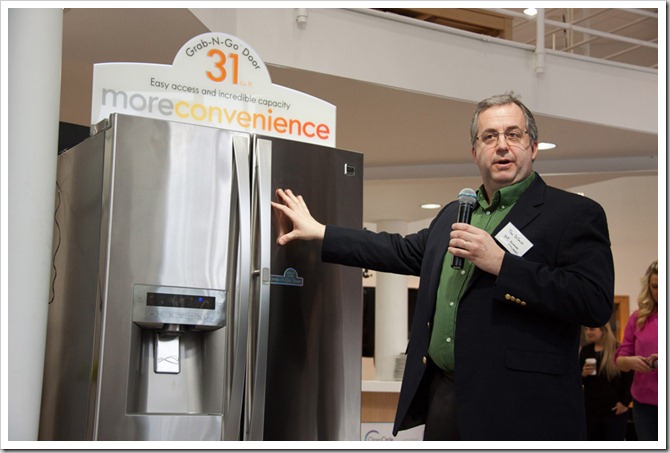 Design Highlights:
• Grab-N-Go™ Door is a unique concept that keeps often used items within easy reach. A separate refrigerator compartment is accessible from the outside with a simple push of a button. Removing the need to open both
refrigerator doors, letting cold air escape, the Grab-N-Go™ Door is also accessible from the inside, making it easy to load with snacks, drinks, leftovers and more.
• Integrated Dispenser virtually disappears into the door to provide a sleek and integrated look.
• Tall dispenser makes it easy to fill tall items like pitchers, coffee pots and water bottles.
• Slim In-Door Icemaker provides more storage on the top shelf while still allowing for plenty of door storage bins.
Features:
• External Ice & Water dispenser provides fresh filtered water and crushed and cubed ice right through the door
• GeniusCool™ technology with Linear Compressor and Dual Evaporators provides smooth, quiet operation and energy efficiency that meets ENERGY STAR® standards
• Seven electronic temperature sensors work to keep frozen items frozen and refrigerated items from freezing
• Multi Air Flow technology provides even cooling by circulating cold air into every nook and cranny
• Innovative AirTight Crisper with Moisture Lock retains moisture in vegetables longer when compared to a standard humidity crisper bin
• Two Slide Away shelves add versatility to easily store tall items like large juice bottles, wine bottles or tall pitchers
• Gourmet Pantry Drawer features digital temperature controls to store meat, deli items or produce
• 3-Tier Freezer Drawer with two drawers and a deep divided bin provides easy access and more organization
• CleanFlow™ Air Filter circulates air through a charcoal filter to fight food odor and help keep the interior smelling fresh
• Recessed LED Interior Lighting adds a bright, modern look to the interior and enhances usable space
• Compact Water Filter provides more top shelf storage space
• ENERGY STAR® qualified

I then fell into even bigger puffy heart love with the new Kenmore Double Elite Electric Free Standing Range. The Divisional Vice President for Product Development at Kenmore, Tom DeSalvo, often referred to it as a 50/50 meaning the oven space is split evenly in half allowing room to cook two big turkeys in each oven. Many double ranges on the market are a 70/30 split making the smaller of the ovens not as usable. I also love that this oven uses convection technology. I've found that convection is much more efficient and cooks more evenly and quicker, too. The Kenmore Double Elite is unique that both ovens are true convection, whereas competitors only have the lower (larger) oven working with convection.
Having a family with 3 vegetarians and 3 meat eaters… this range would be a huge time saver for me, especially at holiday time. Just imagine… a ToFurkey in one oven and a Turkey breast in the other. No more lining food up on the counter in order of importance waiting for it's turn in the oven. Even on a daily basis this would be incredibly handy. Many times my meat eaters turn their noses up at the meal prepared for the vegetarians (they don't like beans). Now I could have both meals done at the same time and nobody would be served a cold or reheated meal!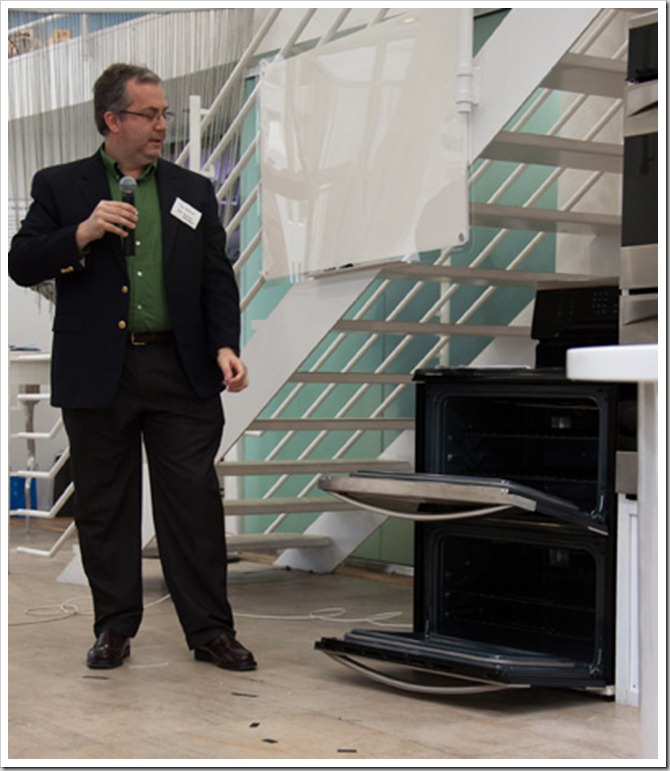 The Kenmore Elite Double Oven Electric Free Standing Range offers two, large ovens that work independent of each other for greater cooking convenience. With 3.5 cu. ft. in each oven, consumers can bake two large dishes at two different temperatures simultaneously. Both ovens feature true convection to cook meals more evenly in addition to Electric Turbo Boil™ rapidly brings pots to boil. No other range in the market has larger capacity* and no one's faster**.
Design Highlights:
• Kenmore Elite design offers sleek and modern styling to fit any kitchen décor
• Premium, quality touch points including sculpted handles with ergonomic grip and precision set controls
• Intuitive, easy to use interface
• Cool, blue LED accent lighting when oven is on, optional kitchen accent light when not in use
Features:
• The large, self-cleaning 3.5 cu. ft. ovens accommodate multiple dishes and feature heavy duty, porcelain-coated, handle-style oven racks
• True Convection utilizes a fan in each oven with a separate heating element to provide maximum air movement, cooking food more evenly throughout.
• Flexibility and control with every element for any occasion with a 3,200 watt Electric Turbo Boil™ element, 3,000 watt Triple Element, 2-1,200 watt 9" elements and a 100 watt Warm & Ready Zone
We even learned about other small appliances Kenmore produces. Mark Beier from Chicago Fit Club dropped by to show us how we could get fit while doing everyday chores around the house like vacuuming. To be honest, this clip is very *ahem* informative (yes, Mark… you should be blushing) and fun to watch. The bloggers participating had a good sense of humor and should be applauded. If you'd like to take a peek, you can view it on YouTube.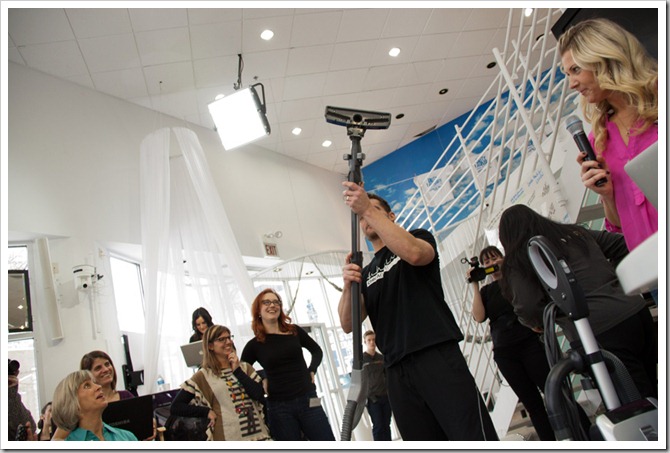 I could probably go on all day about what we learned, but these were just a few highlights of our day. Kenmore was incredibly warm, friendly, inviting and hospitable while we invaded their space for the day. I had a great time and hope to possibly go again next year! I can't even imagine what new innovations are around the corner for Kenmore appliances. Maybe we'll see a few of our suggestions? …
You can view ALL of the videos from the Kenmore Bloggers 2012 Summit on YouTube.
I've included the innovations clip from the Summit below so you could see first hand how incredibly awesome the new fridge and range are. It is an hour long and covers many appliances and innovations for the coming year. You can view the fridge at around 20 minutes and the double range at 26 minutes.
* All product details supplied by Kenmore
Disclosure: Kenmore supplied travel, accommodations and meals for our trip to the Summit as well as a small appliance as a thank you for coming. No compensation was received for posting and all opinions remain 100% my own.