I participated in a campaign on behalf of Mom Central Consulting (#MC) for Arm & Hammer. I received a product sample to facilitate my review and a promotional item as a thank you for participating.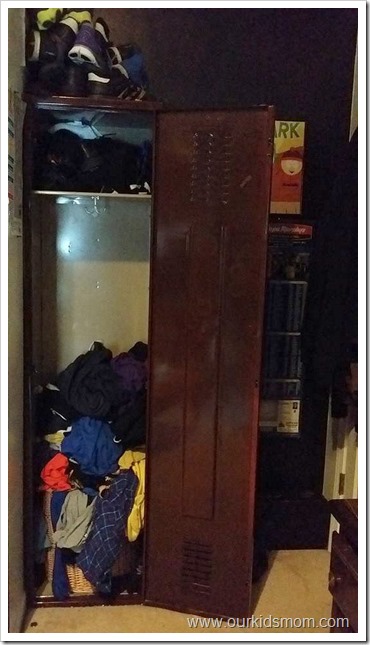 If you have a teenage boy living in your house, then you are probably more than familiar with the strange and mysterious smells that waft from their room. My son is a typical teenager… he does what he needs to get by and not beyond. He has been doing his own laundry since he was 12, and although I am fairly certain her knows how… oftentimes it just doesn't get done.
The photo to the right is a snapshot of the mysteries I face every time I enter his room. He thinks that by closing his locker door I won't know what is lurking behind… but the smell always gives it away. That combined with the shoes in a pile above, but that's another story.
There's not telling how long this mess has been here… the items at the bottom of the pile may contain smells from an afternoon from a hard sweaty soccer workout this past summer or several laps around the track during training last spring. I'm convinced that he repurchases shirts instead of washing them just to avoid the hassle of doing his wash.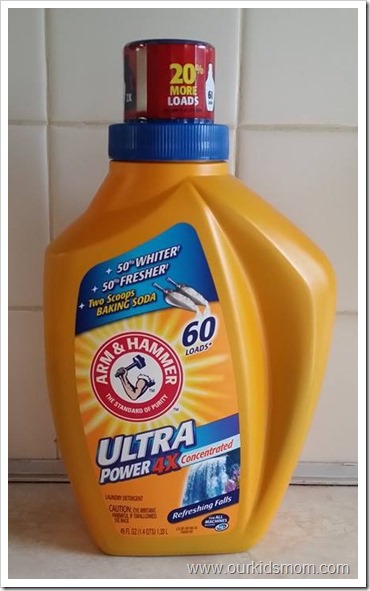 The holidays are here and I am mortified to think that my friends and family might even catch a small whiff of this mess. Thankfully I was sent a bottle of Arm & Hammer Ultra Power 4x Laundry Detergent to tackle this mess with.
Arm & Hammer's Ultra Power 4X concentrated laundry detergent contains powerful stain fighters and two scoops of baking soda to give you fresh, clean clothes. The small, conveniently shaped bottle delivers more washes per load than 2X concentrated detergents. Share everything you freshened saving time and money with Arm & Hammer!
It's amazing how little detergent it took to tackle these large smelly "knock you off your socks" loads.
Thanks to Arm & Hammer I am no longer worried about having my guests walk down the hall to the bathroom and accidentally catching a strange odor wafting through the air.
How do YOU freshen up your home for the holidays?