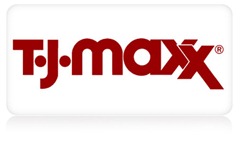 In August 2011, T.J.Maxx and Mom Central Consulting conducted an online survey to find out back to school shopping habits.
Did you know:
The majority of Moms (60%) do the bulk of their back to school shopping a few weeks in advance.
Even though most Moms get a head start on shopping, 25% wait until the last minute
About half of Moms shop at 2-3 stores when shopping for back to school items.
About 1/3 of Moms prefer to shop at 'one stop' stores vs. specialty stores.
81% of Moms said that the rising cost of items(i.e. gas, groceries) negatively affect their family's back to school budget this year.
This is where T.J. Maxx and Marshalls comes into play. They carry name brand items at a much lower price. You never know what you are going to run across when browsing… the inventory changes constantly. That is what makes shopping at these stores such a rush… finding that "best find"… saving big bucks.
Back to school shopping can be a daunting task with four children, especially children with such a wide gap in ages. Shopping the ads can be overwhelming and confusing. Who wants to go to five stores to get everything you need… just to save a small percentage off your total bill? I can almost always find something for everyone at T.J. Maxx… something they all like.
This particular shopping trip ended up being mostly Emma's windfall. I was able to find several Carters pieces… one of my favorite brands due to quality, design & style, the ability to mix and match and affordability.
The tops below were scored for a measly $6.99. The retail tag said $18. That's an $11.01 savings per shirt! The pants are also Carters and matched two of the tops perfectly but for some reason were on clearance. I paid $4.00 for them… they were retail tagged for $18.
I was able to find a pair of running shorts for my older son for $5 and a pair of running earbuds for $5.99 (retail $15).
Just on this stash I saved over $75 off of retail price!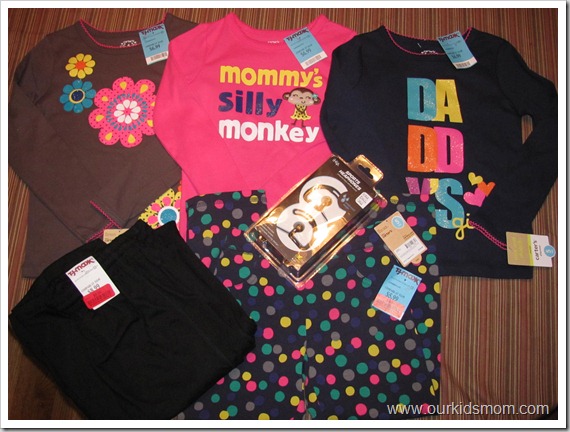 Back to school shopping never stops at our house. The kids seem to always need something or grow out of something. I try not to worry about it anymore and my initial response is now… "Let's head to T.J. Maxx!".
I wrote this review while participating in a campaign by Mom Central Consulting on behalf of T.J.Maxx and Marshalls and received a gift card to facilitate my review and thank me for taking the time to participate."