T-fal OptiGrill
I received a sample for review. All opinions are my own.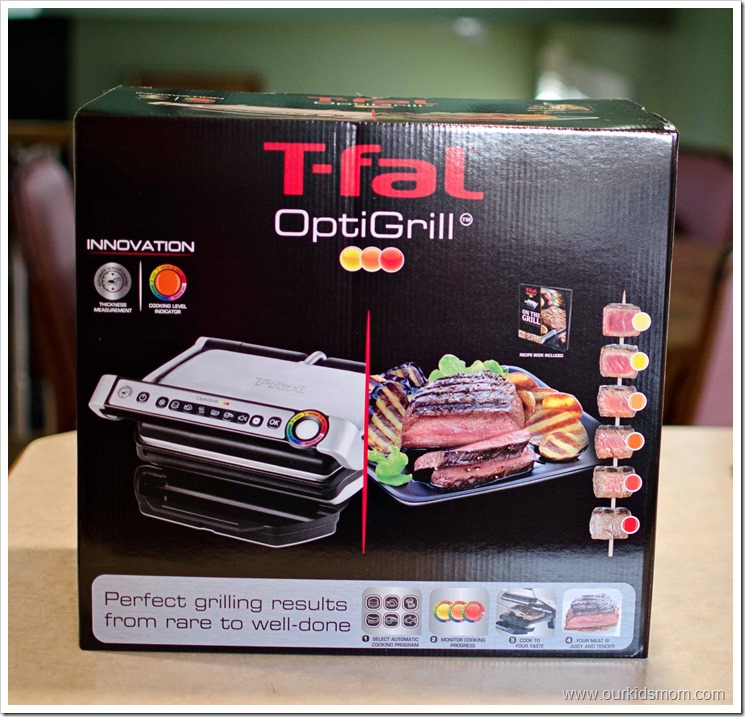 For years now we have been owners of an indoor grill. I've always "liked" it, but would get frustrated because I never truly knew when the food was done. When T-fal asked me to try the OptiGrill I was thrilled to see the options it offered!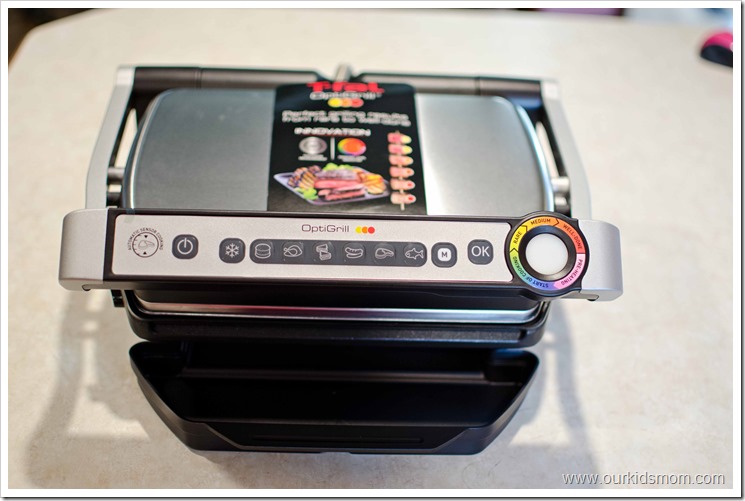 When it arrived I immediately noticed it's substantial size. With a family of six to cook for, small appliances are just not efficient for me. With the OptiGrill I can cook for one or all six with no problem.
A little bit about the OptiGrill:
High Performance : 1800 W

Sensor cooking automatically adapts to the thickness of foods

6 Automatic cooking programs

Frozen Food function to defrost and cook all types of food

Manual cooking function for grilling fruits and vegetables or personal recipes

Die-cast aluminum plates with non-stick coating

Extra large removable drip tray

Angled plates for easy fat release

Easy to clean – dishwasher safe removable plates and drip tray

Brushed stainless steel housing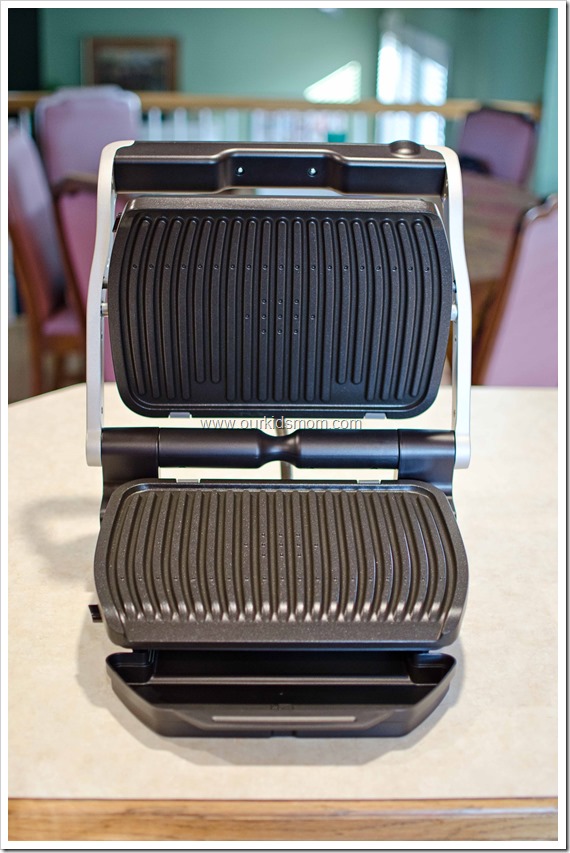 Unlike our old grill, the OptiGrill plates are easily removed (with clips) for cleaning. I'll be honest and say I didn't read the directions (because heck, I've had a grill for years… I know how to clean this!) and fumbled with cleaning them while in the grill. While putting it away I noticed the clips and it was a "Hallelujah!" moment.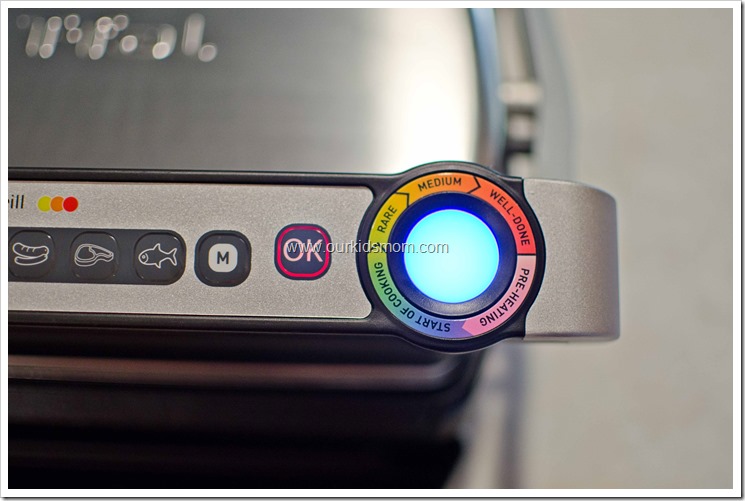 The OptiGrill makes grilling a joy. Fresh or frozen, you place the meat in the preheated grill and close. It's that simple. The OptiGrill offers automatic sensor cooking… meaning it knows when your food is done! With the automatic sensor cooking the OptiGrill adapts the cooking to the thickness of the meat and the number of portions.
The cooking level indicator displays the level of cooking from rare to well-done. It has a color changing display to show cooking progress, and it beeps when your food reaches each of the cooking stages. Previously I had always worried when cooking poultry or pork. I never really knew if it was cooked thoroughly, so I would overcook it and we'd have rubber hockey pucks for dinner. I decided to put my full faith trust in the OptiGrill and cooked several different meals basing how well it was cooked by the automatic cooking sensor.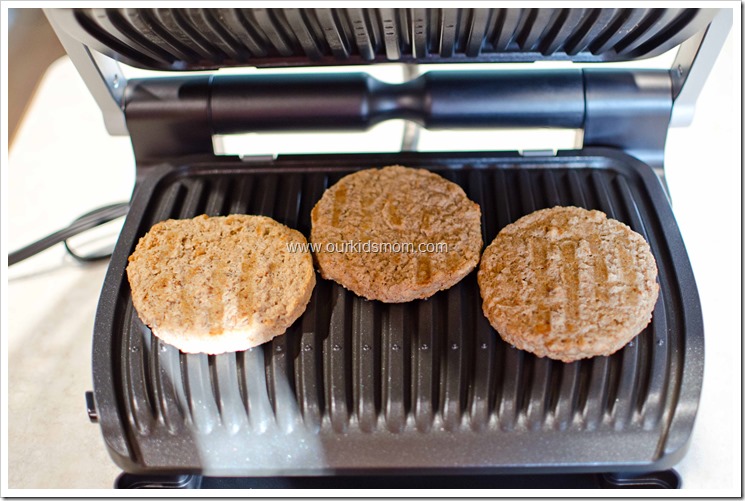 My first dinner consisted of vegetarian hamburgers. Okay… so that's really a no brainer and no worries of undercooking it since it's already cooked. But if you've had one before, you know that warming them incorrectly can result in a rubbery hockey puck. So I tossed them on straight from the freezer.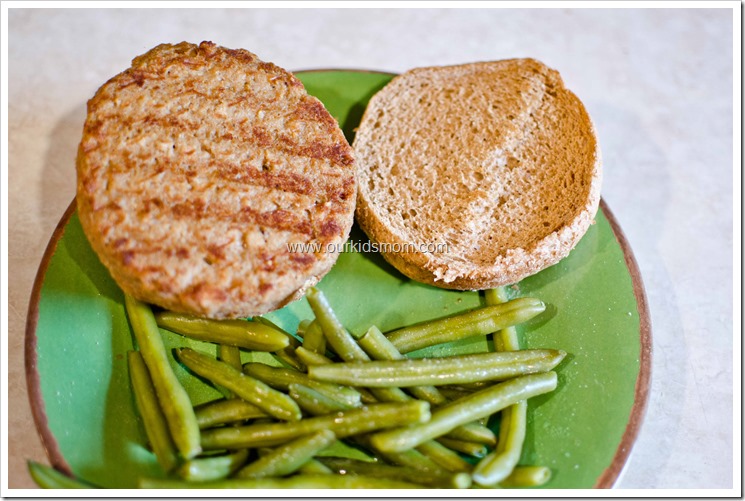 I waited for the indicator to show well done and removed and plated them. Everyone that had one loved the flavor and texture… it was a delight to eat.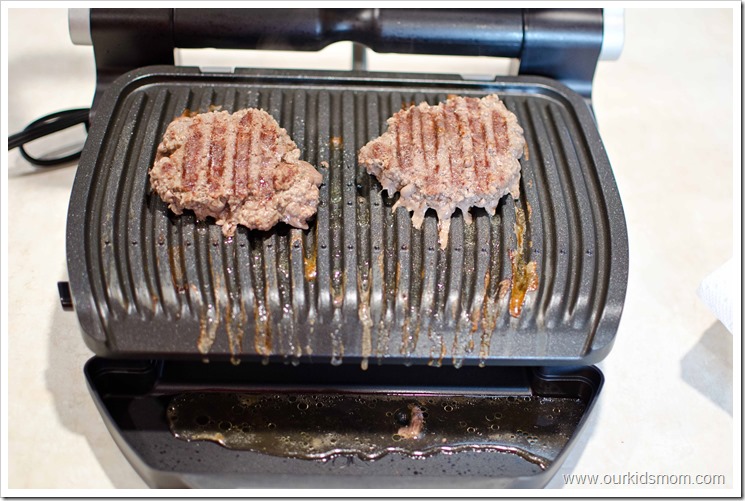 I then tossed on a couple of real hamburgers for my son to eat after soccer practice. They aren't pretty because I basically took the meat out of the freezer and tossed it onto the grill. I love this option because many (many) times I am caught without any idea of what to serve for dinner. I am a meal planner wannabe (some day, some day) so being able to grab a piece of meat from the freezer and toss it on the grill… and knowing it will cook it all the way through is a huge bonus for me.
You can see how the grooves and the angle of the grill allow the grease to trickle into the tray instead of pooling up under the meat. This is not a new concept, but it's worth mentioning how it makes the meal a bit healthier even if the photo is a tad gross (lol). Although my fresh from the freezer burgers are not pretty my son was more than impressed with the flavor and barely came up for air while eating them.
I neglected to photograph the pork chops I made for him, but again I pulled them directly from the freezer and grilled them. I waited for the well done indicator and cut them open to check the doneness. Amazingly there wasn't any pink and my son swore they were tender and delicious. Score!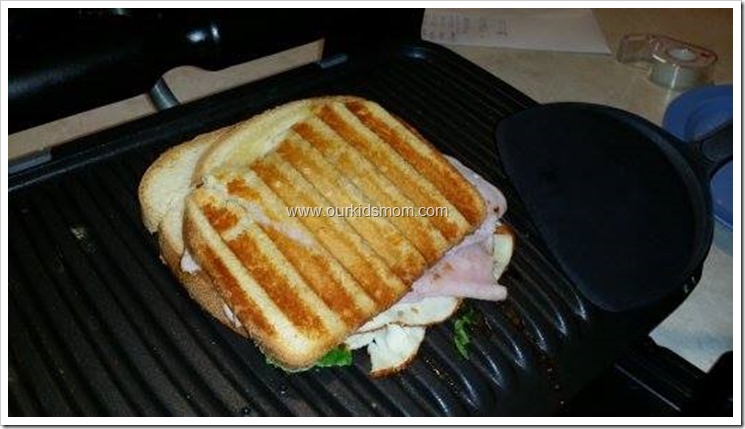 Our final test was a grilled sandwich. Josh has been asking for a Panini maker for years now. I've been reluctant because I'm short on space and knew it wouldn't get used often. The OptiGrill did the job quickly and my son was grinning ear to ear as he ate his sandwich.
I am not a "buy every gadget under the sun" kind of girl… I look for multi-functional items that perform practical duties. That being said, the OptiGrill will remain in my cabinet because (1) it cooks meat thoroughly from frozen to done (2) it's easy to use (3) it's multi-functional and my son can have his grilled sandwiches (4) it does all the thinking for me and (5) it's easy to clean. The OptiGrill would make a fabulous house warming or hostess gift… or if your holiday gift recipient loves practical gifts, like me, grab her (or him) one of these!
Connect with T-fal OptiGrill:

BUY IT:
You can purchase the T-fal OptiGrill online
Disclosure of Material Connection: I received one or more of the products or services mentioned above for free in the hope that I would mention it on my blog. I only recommend products or services I use personally and believe will be good for my readers. I am disclosing this in accordance with the Federal Trade Commission's 16 CFR, Part 255: "Guides Concerning the Use of Endorsements and Testimonials in Advertising." The opinions expressed in this post are entirely my own. Your experience with the product may differ from mine. The sponsor is responsible for prize fulfillment and will be shipping the winner(s) their prize(s). For more information read my disclosure policy.