My family goes through granola bars and trail mix bars like crazy. I was looking for a recipe that I could control what was in them, but they still loved.
I made these on Thursday and they were a HIT!
I used whole wheat flour instead of all-purpose and you can try substituting agave for the brown sugar. I think this is a very forgiving recipe.
Ingredients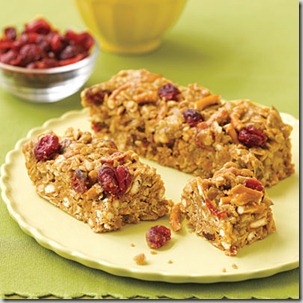 1 1/2  cups  salted pretzel twists, broken into small pieces
2  cups  rolled oats (not instant)
1  cup  raisins or dried cranberries
1  cup  toasted sunflower seeds
4  tablespoons  unsalted butter
3/4  cup  peanut butter, preferably natural (unsweetened)
1/2  cup  packed dark brown sugar
1/2  cup  honey
1  teaspoon  vanilla extract
1/2  cup  all-purpose flour
1/2  teaspoon  salt
Preparation
1. Preheat oven to 350°F; butter a 7-by-11-inch baking dish. In a large bowl, combine pretzels, oats, raisins and sunflower seeds.
2. Melt butter in a small saucepan over medium-high heat. Add peanut butter, sugar, honey, vanilla, flour and salt; stir until smooth.
3. Pour butter mixture into pretzel mixture and stir quickly to thoroughly coat. Transfer mixture to prepared baking pan and use your fingers to press in firmly and evenly. Bake until lightly browned, about 20 minutes. Cool completely in pan on a wire rack before cutting into bars.

(my finished product… made with raisins)
Nutritional Information
Calories:

298

Fat:

14g (sat 4g)

Protein:

7g

Carbohydrate:

40g

Fiber:

3g

Cholesterol:

8mg

Sodium:

197mg
I found this recipe in All You Magazine