Growing up I can clearly remember looking forward to "art days" at school. I have always enjoyed creating things and that hour spent being creative left me feeling happy, confident, excited… so many things. As the years have progressed and funding for schools has dropped, the art education budget unfortunately has been one of the areas cut. I know that from my teaching days, many times supplies for projects end up coming from a teacher's own pocketbook. With an art teacher having multiple classrooms of children to teach, that just isn't feasible to do.
When we moved to our current home about 10 years ago, my oldest was just starting 5th grade and was a bit shy (which is an understatement). I was worried about her starting a new school, making new friends and just overall feeling comfortable in her surroundings. There was a local contest to design a bear which would then be auctioned off for charity. The art teacher had the children draw their concepts, turned them in… and my daughter won the opportunity to decorate one!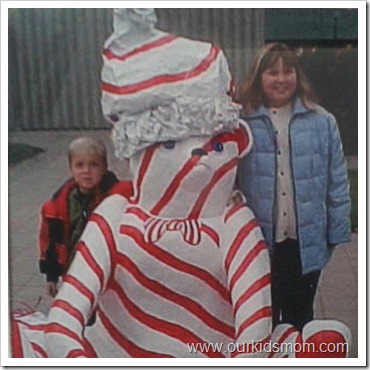 (Josh & Kaytlin with her "candy cane bear")
During the hours that Kaytlin and Mrs. Boggs put in on this bear I saw my daughter gain confidence, enjoy her surroundings and blossom. Art is one way for her to express herself, which is why that particular year was so important in her life. You see… through this connection, through her time with Mrs. Boggs and her many successes in the art classroom my daughter gained the confidence to pursue her desires and is now studying graphic design in college. Because of this important developmental time and her exposure to art, she is now creating pieces like this regularly in her college classes!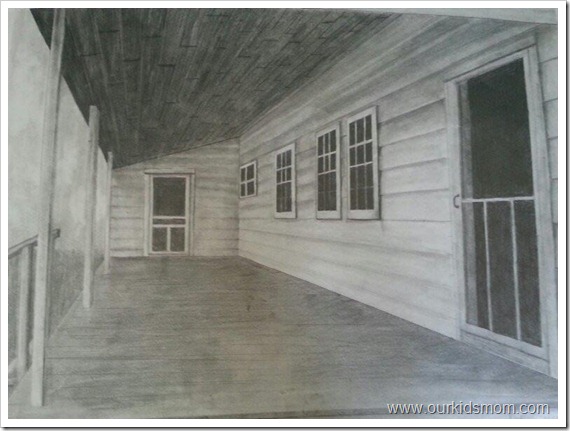 That's why when I heard about the Blick Art Room Aid charitable efforts I knew I needed to be part of it. Blick created Art Room Aid in 2009 as an online resource to connect art educators (who share project ideas and funding needs) with arts advocates (who can make contributions to projects in need that resonate with them). This enables our children, our next generation, to experience every aspect of art possible.
Mrs. Boggs is now in our lives again, this time as Emma's art teacher. I can already see the connection with Emma and art… she even cried when I had to check her out of school on art day for a doctors appointment. It means that much to her.
I recently contacted Mrs. Boggs to let her know about the Blick Art Room Aid project. She had mentioned that the kindergarteners were going to have a dentist visit their classrooms and she wanted to work with them in making clay toothbrush holders. Unfortunately she didn't have the funds to purchase the materials needed to do so. It was fairly easy for her to set up an account and she now has a page on Blick Art Materials site explaining her project and her shopping list of items needed. With a small goal of $116.50 I am hoping we can meet her needs!
There are so many teachers that have created wish lists on the Blick Art Room Aid site. It's easy to donate or purchase items for a classroom, you can even find ones local to you! Every penny counts and I know that children like my Emma and Kaytlin appreciate the opportunity to work with items like clay.
To contribute to Mrs. Bogg's art room clay project, simply visit Blick Art Materials site, enter the amount you wish to contribute and click on "give now".
Disclosure: This is a compensated post through The Motherhood. All thoughts & opinions are 100% my own.