Support and Kindness During The Rough Times | Kleenex Care Packs

There have been a couple of really rough periods in my life that I was surprised by an outpouring of care and compassion from friends and especially neighbors. Over 21 years ago we lost our first born daughter at five days old. I was a young naive 20 year old that thought nothing bad would ever happen to me. My life spiraled quickly and through the love and support from unsuspecting people like neighbors bringing meals and lending an ear, I was able to come through in one piece.
Another terrible point in my life that stands out was when we lost a baby at 13 weeks. The reason I remember it so clearly was the response that came from a group of women I had just started working with. Two of them, in particular, made it their duty to stop by to check on me, bring the family meals as I healed from surgery and one of them even brought me the newest gossip magazines to keep me planted on my butt per doctors orders. I had never received an outpouring of caring and compassion like that and nearly 7 years later I still remember it clear as day.
Recently a dear friend of mine lost a loved one rather quickly and somewhat unexpectedly. I knew she was having a very difficult time dealing with the loss and emptiness that accompanies such an event and wanted to show my support in some way. Little did I know that all I had to do was sit with her for a good hour and just listen to her ramble. Releasing emotional junk and sorting through her thoughts out loud with someone that only responded when needed was helpful for her. She was able to look at the situation with a new focus, sort out a few issues that were bouncing around in her mind and had someone to share her sorrow. What would have made it better would have been a Kleenex Care Pack. Both of us were tearing up… the soft gentle touch of Kleenex on our eyes and nose would have been bonus support.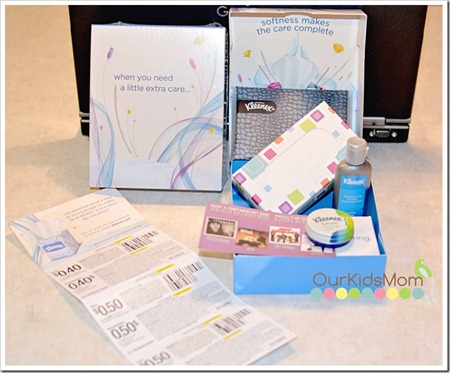 There are so many situations where a Kleenex Care Package would be a welcome gift. The flu season is hitting our town hard. Bringing a neighbor a gift basket with a can of soup, some crackers, some gossip magazines and a Kleenex Care Package is sure to brighten anyone's day. Know someone going out of town? This would be a great gift for them because it's full of travel sizes. They can toss the non-liquids into their bag and the hand sanitizer is the right size to make it through checkpoint at the airport. Really… the uses are endless!
 
Kleenex brand, America's softest tissue*, knows that once one experiences the softness of Kleenex brand tissues, they will be eager to share it with other cold and flu sufferers, friends and strangers alike, as a way to show they care. This cold and flu season, make the care complete with a Kleenex Brand Care Pack, and together we'll turn a seemingly-small gesture into something bigger, to make everyone feel better. Visit kleenex.com/softness to learn more.

Disclosure: Compensation was provided by Kleenex via Glam Media. The opinions expressed herein are those of the author and are not indicative of the opinions or positions of Kleenex