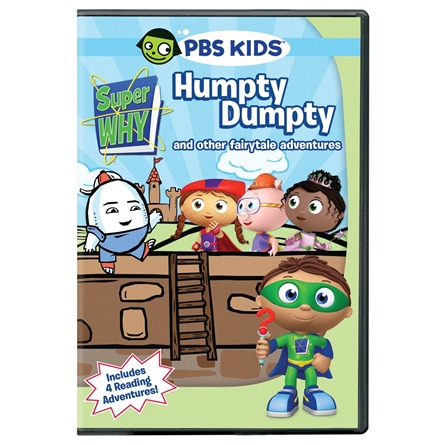 Super Why, Princess Presto, Wonder Red and Alpha Pig are back with four new-to-DVD adventures!  Join Super Why and his pals as they continue to teach children the fundamentals of reading through interactive adventures in classic fairytales including Humpty Dumpty, Cinderella, Pinocchio and Rumpelstiltskin.  From Out of the Blue Enterprises, PBS KIDS and Paramount Home Entertainment, comes SUPER WHY! HUMPTY DUMPTY & OTHER FAIRYTALE ADVENTURES, the latest installment in the award winning franchise "SUPER WHY!"  The DVD includes four exciting and educational adventures, interactive games, music videos, resources for parents, printable activities and coloring pages.
Emma has been a huge Super Why! fan for quite a while now. Ethan has begun to show interest in a few television shows, and when this particular Super Why! was offered for their review I had to say yes. Why? Because Ethan has become obsessed with nursery rhymes. We had (yes, had… he decided to shred it the other night *sob*) a board book packed full of nursery rhymes that we sang (yes, not read… sang) every night.
I had to coax Ethan to have a seat so he could watch our new DVD. He didn't want to at first, but he sat out of obedience. Emma was excited when she saw the opening… Ethan became excited when I handed him the case. His all time favorite rhyme is Humpty Dumpty right now, and Humpty Dumpty is on the front cover.
Both children sat through the entire DVD… eyes glued to the set. I love how Super Why! helps encourage children to use deductive reasoning skills when trying to figure out words they don't know. The children are learning reading skills while enjoying a storyline, and that is when they learn the best… when they are enjoying themselves.
You can purchase Super Why! Humpty Dumpty and other fairytale adventures for $10.99 at Amazon.com (RV $14.98)
Connect with Super Why! here:
I received product for review purposes only from M80 on behalf of Paramount. All opinions are 100% my own.