Sunday Dinner: A Tradition Worth Bringing Back
The Sunday dinner used to be ubiquitous in our culture. Even families who weren't religious would come together once a week to sit down to a big meal and just…be together.  Sometimes extended family members or family friends would join in the fun. No matter what though, parents and kids sat down for one big family meal every week.
We've gotten away from that in our increasingly disconnected digital world. With everybody in the family coming and going at different times and engaging in different activities, having a meal with more than one family member at a time is seen as something of a feat.
No more! Bring back the Sunday dinner! Here's how to do it: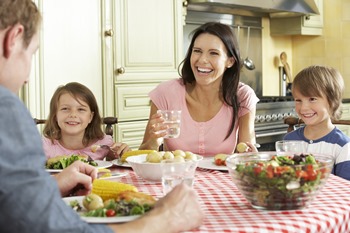 1. Address Your Dining Area
Has your dining room table become a place for mail, laundry and various summer or school year detritus? Have the dining chairs all been re-appropriated to other areas of the house? Put this space back together. Start by having the family look at dining room sets together and pick out one that everybody loves. It doesn't have to be overly formal, but it does have to be something everybody feels comfortable sitting at. Make it a house rule that the dining room stays the dining room.
2. The Food
Coming up with food that makes everybody happy can be a challenge. We've all become such picky eaters! Address nutrition first and palates second. To cut down on work, come up with one big family dish, like our Mexican Chili Pasta, and then supplement it with several sides that people can choose according to personal taste.
3. Preparing the Meal Itself
Make the meal an event! Have a full dinner and then desert all together at the table. Make it a rule to put away all gaming devices, smart phones, tablets, eReaders, etc. This is a time for conversation and togetherness. A good tradition to start at these meals is High-Low (which, yes, we got from a movie). Have each person talk about the best part and the worst part of their week. The conversation that springs up from these instances can carry you through the whole meal. For extra fun, why not let each person choose a quick game to play after the meal is over. There are lots of great games that are fun for all ages to play (Quirkle, Dixit, Uno, Yahtzee, Apples to Apples, etc).
4. Schedule It
The hardest part of getting the family together for a big family meal is finding a time in the schedule that works with everybody's social lives and extracurricular activities. No more! Make your weekly family meal a priority. Put it on the schedule and make it a family rule that social time and extracurricular time need to be scheduled around it. It will take some getting used to but within a few months it will feel like second nature.
Your Sunday dinner doesn't have to happen on Sunday. If Tuesdays work better for you, that's fine. What's important is that the family sits down and spend time together over good food and good conversation.