Summer is Trendy at The Children's Place
I recently received this trend report in my inbox from The Children's Place. As you have learned from my previous reviews, we absolutely love their clothing!  As I slowly scrolled through the graphics I made my mental shopping list and put a bug in the rep's ear. I was a happy camper when she asked if Emma and Ethan would like to review a few of the "trend report" items!
Here was June's Trend Report. As you may notice, many of the items are perfect for the entire summer…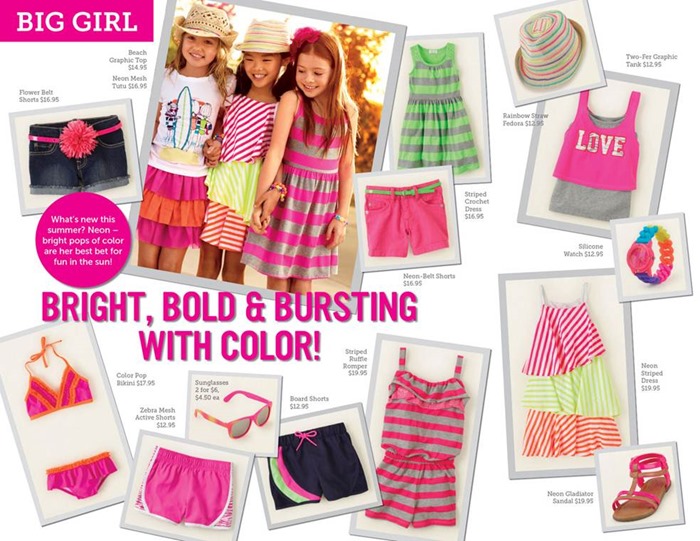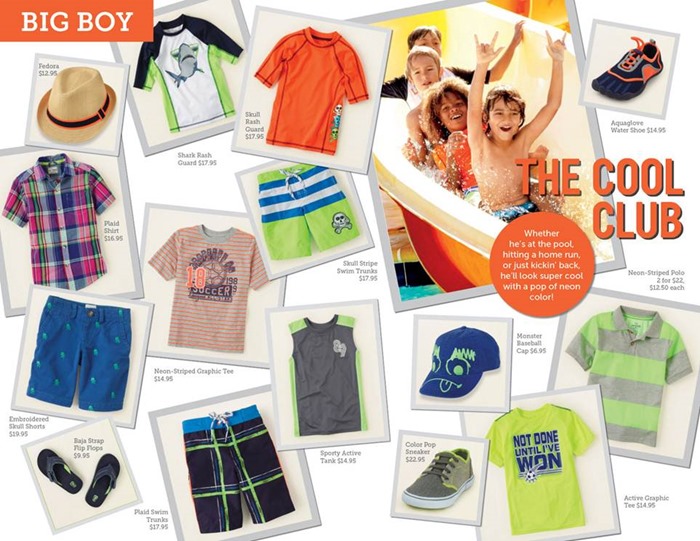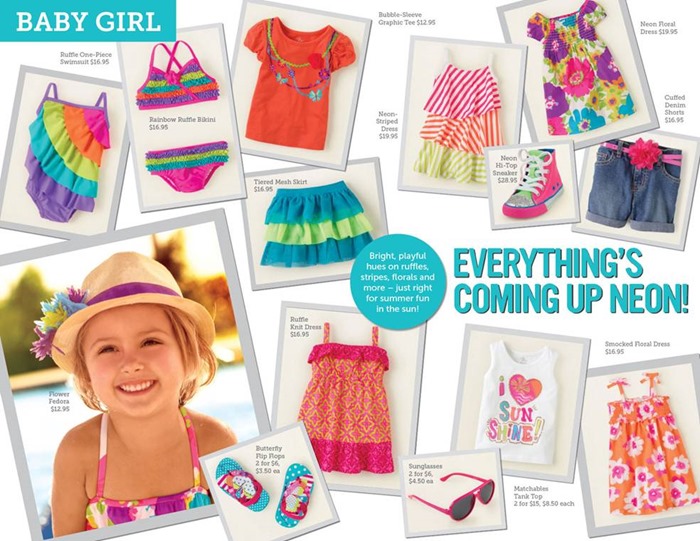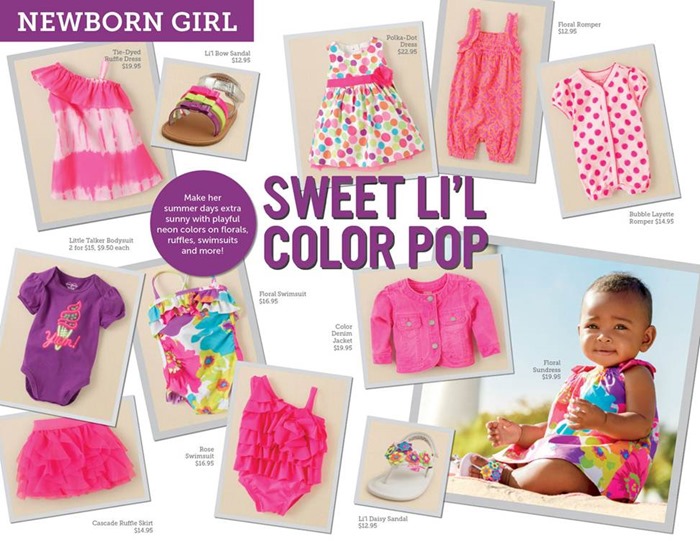 I won't show you how long my shopping list was, but let's just say I was happy (but yet sad) that a few of the baby items weren't available in larger sizes. That little one shoulder tie dye ruffle dress in the newborn girl section and the ruffle one-piece rainbow swimsuit would be so cute on Emma.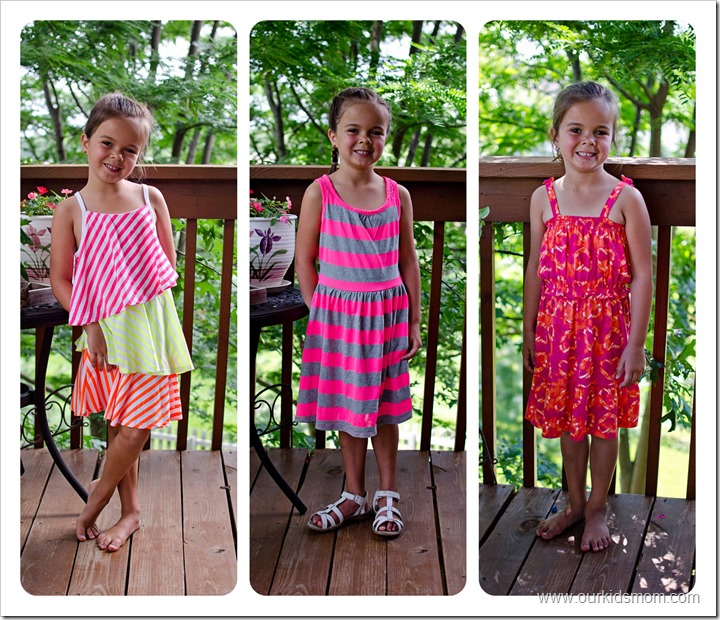 When I pulled Emma's pieces out of the box, I had flashbacks of my clothing from the 80's. I was actually surprised at how bright the neon colors were (were ours that bright?) and a bit worried Emma wouldn't like them. As Emma picked through the bunch she explained to me how cool the colors were! Every piece was bright, vivid, flowy, comfortable, girly and adorable on her. It was a hard decision for her when I asked her which one she wanted to wear first!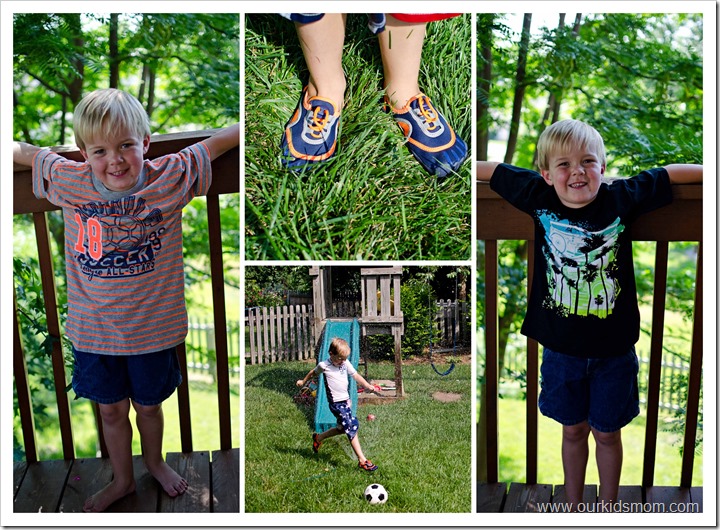 Ethan received two t-shirts and a pair of water shoes. I wasn't thinking straight when I picked the size for his shirts, but even though they are a tad big he still enjoys wearing them. His soccer shirt has a little bit of neon orange throughout, which he also thought was cool, and the black shirt has a cool summer listening to tunes feel with a boom box across the top.
What I was most excited about in his bunch were the water shoes. I like to take the kids to the local water park, but mid to late summer the heat makes the pavement feel like a frying pan. Ethan has chubby feet across the tops and it makes pulling tight water shoes onto his feet a big ordeal. These shoes are adjustable and open quite wide to allow his foot to slide right in. I have to help him with the tongue (he tends to get it shoved way down in the shoe) but the bungee cord tie makes for a quick on/off. Ethan likes that these water shoes look like "toe shoes". He gets the trendy look without actually having to put each toe into a slot like a glove. My next trip to the mall will have me looking for a pair of these for Emma!
As always, I loved everything that came from The Children's Place for both kids. I really think they have their finger on the pulse of fashion and create pieces for children that are trendy, but yet don't make them look too grown up.  
Connect with The Children's Place:
        Disclosure of Material Connection: I received one or more of the products or services mentioned above for free in the hope that I would mention it on my blog. I only recommend products or services I use personally and believe will be good for my readers. I am disclosing this in accordance with the Federal Trade Commission's 16 CFR, Part 255: "Guides Concerning the Use of Endorsements and Testimonials in Advertising." The opinions expressed in this post are entirely my own. Your experience with the product may differ from mine. The sponsor is responsible for prize fulfillment and will be shipping the winner(s) their prize(s). For more information read my disclosure policy.