Spring Home Makeover with Liftmaster 8550G Garage Door Opener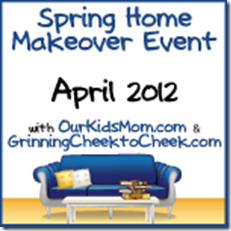 We purchased our home about ten years ago. It was almost three years old at the time, so our existing garage door opener was at least thirteen years old. I was beginning to worry about it a little, as it seemed to be getting louder and louder. We had gotten to the point that we would leave the garage door open if we knew we'd have to leave during nap time because it would wake Ethan up when it opened. My husband was even parking in the driveway so he wouldn't have to open the garage door in the morning because he leaves at 6 am.
When Liftmaster offered to let us try out their new belt driven openers featuring MyQ Technology – a new "smart home" technology that allows your garage door opener to connect with other household devices, I eagerly agreed. Here is the final shot of our old chain driven opener.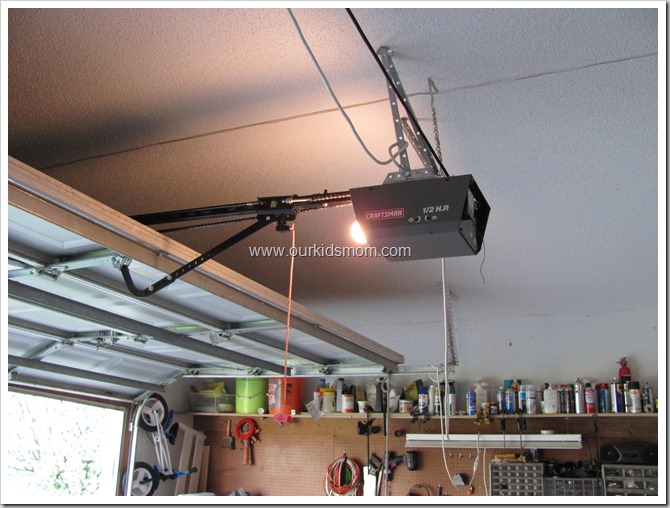 We eagerly watched as the installer unboxed the new unit. It was impressive and I already loved that it had a light on each side of it. Our garage tends to get a dungeon feel to it it's so dark.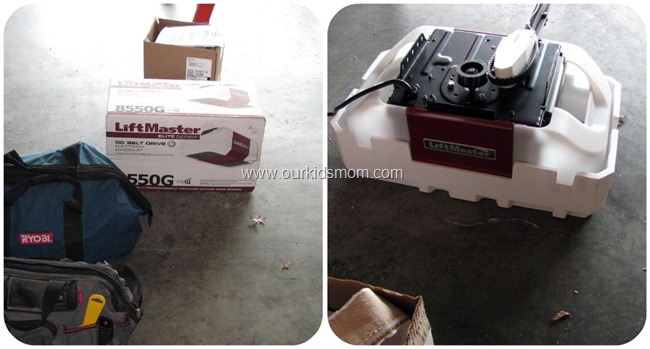 The installation only took about an hour and a half. During that time our installer was super nice and explained everything he was doing along the way. He also pointed out that our current installation was a bit "off"… our motion sensors at the door that stop the door from closing when a small creature breaks the beam were installed fairly high. He also noticed that our spring was adjusted improperly and was not bearing the weight of the garage door like it should. I was happy that a professional was installing the opener so that everything would function perfectly right from the beginning.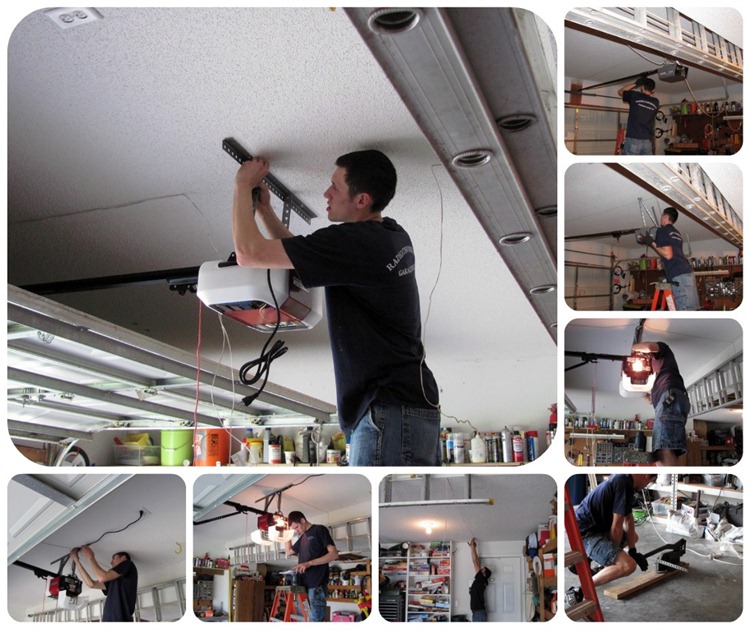 The features of the 8550G include:
Equipped with MyQ™ technology that lets you monitor and control your garage door and house lights remotely by using a computer or smartphone (LiftMaster Internet Gateway™ accessory required)

Timer-to-Close feature allows the door to automatically close after a pre-programmed number of minutes

Auto-force feature constantly monitors garage door system and adjusts forces to temperature fluctuations, floor height, and door track movement

The Smart Garage Door Opener® lets you electronically program security codes from the Smart Control Panel® or the powerhead
Enclosed gear case provides continous lubrication for longer life and smoother operation
A 6-foot power cord makes connecting to a power source easier than ever
Whole-garage lighting with adjustable light time delay; compatible with CFL bulbs
Energy-efficient operation consumes up to 75% less power in standby mode
HOMELINK® compatible with QuickTrain™ technology

Meets all UL325 requirements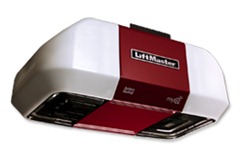 SAFETY & SECURITY FEATURES:
The Protector System® safety sensors project an invisible light beam across the garage door opening and automatically reverses the door if anything interrupts the beam while door is going down
Sensing technology will stop the door from closing if contact is made with a person or object

Opener lights turn on automatically when The Protector System's infrared beam is interrupted

Security+2.0™ rolling code technology eliminates frequency interference and assures a new code is sent every time the remote control is used
Patented PosiLock® system ensures the door remains securely locked when it is closed
Alert-2-Close warning system provides audible and visual warnings that the garage door is about to close when using the Timer-to-Close or remote closing features
Manual release handle in case of power failure
WARRANTY:
Lifetime motor and belt warranty

5-year parts warranty

1-year warranty on Battery Backup Battery
We had the Smart Control Panel 880LM installed. This was a huge upgrade from our old button, which looked like a doorbell button that you would find by the front door of a house.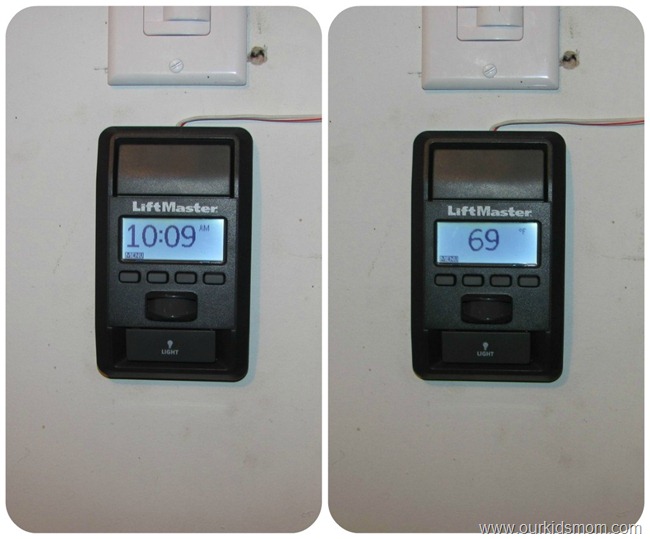 The Smart Control Panel is an intuitive menu-driven panel that allows you to program remote controls and MyQ™ enabled accessories right from the keypad. Some of my favorite features are the ease of adjusting settings, being able to view the temperature inside the garage, and getting system diagnostics to help keep your system in peak working order. We have actually had to use the diagnostics as it was displaying error code 14 intermittently. With an error code in hand we were able to figure out that the beams were not aligned properly and the receiving end wasn't receiving full beam.
Another feature that is great for people like me… Timer-to-Close. You can choose to have the door automatically close after a pre-programmed number of minutes. When your hands are full of groceries you don't have to fumble for the button. The door will close after the pre-programmed number of minutes giving you plenty of time to get inside before the door closes.
The features of the Smart Control panel are:
Menu-driven panel gives you complete control of the garage door opener
Easily view inside garage temperature, time and system diagnostics
Equipped with the Maintenance Alert System to help keep your system in peak working order
On-board programming capability makes it easy to program remote controls and MyQ™ enabled accessories, and adjust settings
Timer-to-Close feature allows the door to automatically closes after a pre-programmed number of minutes
Light button to control the garage door opener worklights

Choose from English, Spanish or French

Displays Fahrenheit or Celsuis

Compatible only with Security+2.0™ LiftMaster® garage door openers

SAFETY & SECURITY FEATURES

Locks out all outside remote control signals while you're away
Motion detector automatically turns on garage door lights when movement is sensed

The 880LM Smart Control Panel retails for $45.95
Our car unit is a 3-Button Premium Remote Control model 895MAX.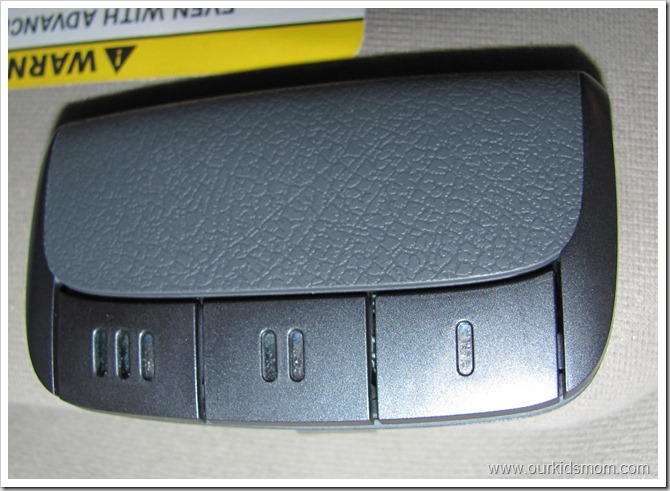 A remote for your car is essential with any garage door opener. This particular model has built-in MyQ™ enabled technology that allows you to control up to three LiftMaster® garage door openers or gate operators, or MyQ™ enabled light accessories with one remote. No more fumbling in the dark, either. This sleek remote includes bright blue LED buttons for easy night operation. I love the added security with this particular remote. It is equipped with Security +2.0 rolling code technology. A new code is used with every click, making it virtually impossible for anyone to steal your remote control signal!
Unique contoured shape and faux-leather grip
Sleek design includes bright blue LED buttons
Can control up to three garage door openers or gate operators, or MyQ™ enabled light accessories
Equipped with Security+2.0™ rolling code technology that virtually eliminates radio wave interference
Compatible with all LiftMaster® garage door openers manufactured since January 1993, and all 315MHz Security+® LiftMaster and Elite® gate operators

The 3-Button Premium Remote Control retails for $42.95
We also received a Garage Door Monitor model 828LM.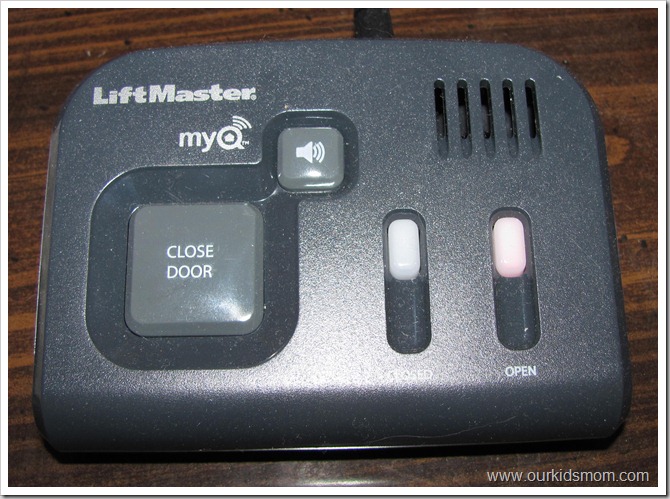 This is one of my favorite features. I can't count how many times we've gotten in bed and then asked each other, "Did you close the garage door?". This small box has a green light and a red light. With a steady green, we know that the door is shut and everything is good. With a steady red, we know the door is open. There is also an audible signal that your door is open that goes off about once a minute. When someone opens the garage door the box will beep once to let you know the door is opening. It's such a simple unit, but it gives me peace of mind that I know what is going on with my garage door. No more 2 am knocks on the door from the local police telling me my garage door is wide open (yes… it's happened).
Now you won't have to go downstairs or outside to see if you accidentally left the garage door open. With the LiftMaster® Garage Door Monitor, you can check and close the garage door from any room in the house.

MyQ™ enabled technology allows you to monitor and close up to four garage doors from any room in the house
Green and red LEDs indicate whether the garage door is open or closed
Volume-controlled audible alert lets you know when the garage door is being opened  

Fast, easy installation

Compatible only with LiftMaster® Security+2.0™ garage door openers
We also received a LiftMaster Internet Gateway 828LM.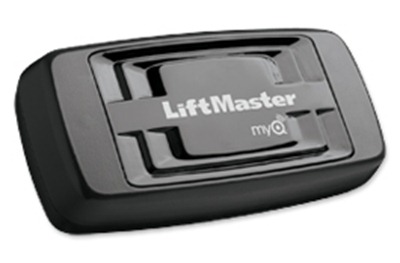 If you thought the Door Monitor box was a great item, you will be amazed by the Internet Gateway. This box connects to your wireless internet and allows you to monitor and operate your garage door opener, or turn on or off lights in or around your home, from anywhere in the world by using your smartphone or computer. It utilizes a two-way communication system that puts freedom and control in your hands. Be forewarned… this can be addicting and my teens like to freak people out with it.
Control and monitor your garage door opener, house lights and other LiftMaster® MyQ™ enabled accessories using a smartphone or computer
Easy and fast installation through your in-home router
Annual activation fee required but the first year is free 

Compatible only with LiftMaster® Security+2.0™ garage door openers and lighting accessories enabled by MyQ™ technology

To reduce the risk of injury to persons – When the LiftMaster Internet Gateway™ is used with garage door openers, the operator must be installed with sectional doors.
I was excited about the convenience and safety that comes with the LiftMaster® 8550. The reliable, integrated Battery Backup System guarantees access in and out of the garage, even when the power is out. That is important to me… I clearly remember one time our power went out and I watched my neighbor try to get into his house for 30 minutes before he drove away! The safety and security features will continue to operate as well, ensuring our family is protected in a power failure. The opener is also equipped with built-in MyQ™ technology, enabling us to close the garage door or turn lights on or off using a smartphone or computer – from anywhere in the world. And because it features soft start and slow stop to reduce noise when it operates, it is perfect for homes like ours with rooms above the garage.
Check out my clips of the old and new opener…
I have loved EVERYTHING about this garage door opener! Immediately I noticed how much quieter it was than our old one. Now when we open the door it sounds like the washing machine going into a spin cycle from inside the house instead of a plane taking off. Ethan now sleeps through the garage door being opened and his room is right over the garage!
Having the ability to open and close the door from anywhere is absolutely amazing to me! My only complaint about this entire system is that I could not get my car remote to program with the HomeLink in my van. It is not LinkMaster's fault, but HomeLink. Their technology is a bit behind the times. I am hoping that a patch will be available sometime in the near future to fix this problem, but the sleek car remote it's not really a big deal. I hide it under the visor with no problem.
BUY IT:
You can purchase a LiftMaster 8550G with MyQ Technology for around $450-$550 installed.
WIN IT:
ONE OurKidsMom is going to win a LiftMaster 8550G, a Smart Control Panel 880LM, a 3-Button Premium Remote Control model 895MAX and a LiftMaster Internet Gateway 828LM… installed !

This giveaway ended at 11:59 PM EST on May 18, 2012.
Disclosure of Material Connection: I received one or more of the products or services mentioned above for free in the hope that I would mention it on my blog. I only recommend products or services I use personally and believe will be good for my readers. I am disclosing this in accordance with the Federal Trade Commission's 16 CFR, Part 255: "Guides Concerning the Use of Endorsements and Testimonials in Advertising." The opinions expressed in this post are entirely my own. Your experience with the product may differ from mine. The sponsor is responsible for prize fulfillment and will be shipping the winner(s) their prize(s). For more information read my disclosure policy.