Spring Fever Sponsor Spotlight: Soda Stream Home Soda Maker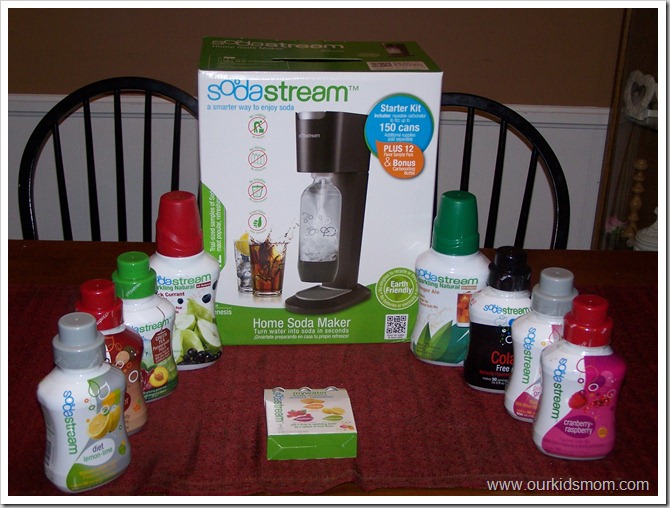 Making carbonated water and soft drinks is simple! Turn tap water into sparkling water in under 30 seconds, with no clean-up. Enjoy the freshness and convenience of homemade soda and protect the environment at the same time. No heavy bottles to carry, store at home or throw away. Fizz to your taste and add the flavor of your choice to make your favorite drink. Simple to clean and reuse. With a variety of colors and silhouettes, you'll be sure to find a soda maker to match with any decor.
********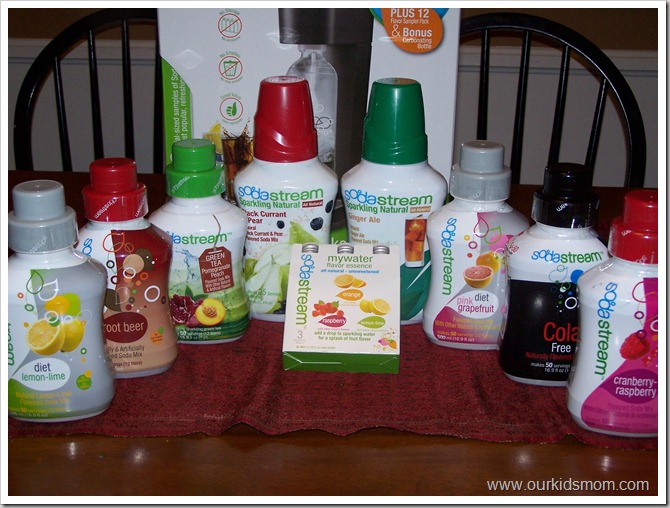 I love soda of (mostly) all kinds & when I got the chance to review the popular Soda Stream, I was thrilled!  I thought that the kids would probably like it as well, because they rarely get soda at home & they could experiment a little with the different flavors.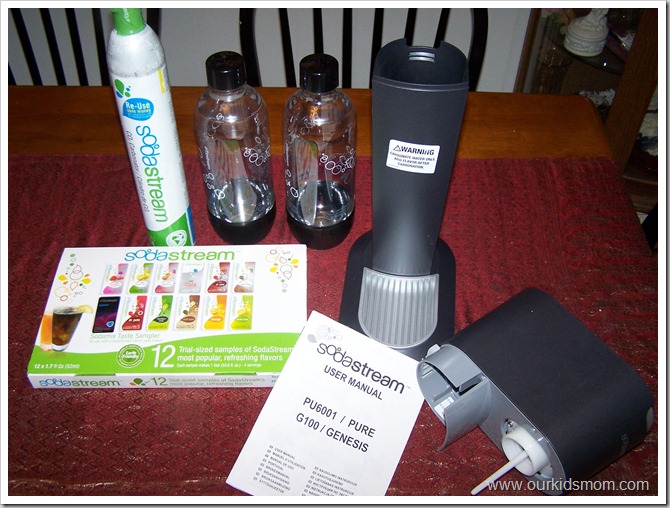 When we first opened the Soda Stream, I read the directions & thought:  It only has a few short steps, so it shouldn't be a problem.  My only "issue" was that on the instructions, it referred to 2 different models.  I had a hard time figuring out which model I have.  Once I figured it out, things came together quickly & easily & I honestly felt a little silly for not figuring it out sooner.  lol
Now to the fun part.  We added the carbonation to the water, then picked a flavor & poured it in, shook it up, & we were done!  It's as simple as that!  No mess, no clean-up.
Our 9 & 12 year old kids are really having a great time making their own sodas.  They have both decided that diet pink grapefruit is their favorite, although I'm not sure they've tried every flavor.  They tend to find something they like & just stick with it.  Even my husband, who normally sticks with his favorite store bought soda is trying all the different flavors & is really enjoying it.
One thing that would be nice is if there were some sort of labeling system on the bottles once the soda is made.  My husband hates diet colas & he accidentally grabbed my bottle from the fridge.  If there were some way to temporarily label them, it would be great!  It would also be great to have more bottles for making sodas.  The 2 that come with the Soda Stream are constantly in circulation & it would make it a bit easier if we each had our own bottle.  I will definitely be looking into purchasing more!
Our Soda Stream also came with some flavorings to make flavored water.  I'm not a fan of carbonated or flavored water, but my husband loves it & has claimed these for himself.  It's a nice change from always having soda.
We love our Soda Stream & we are so happy that we got to review it!
 BUY IT:
You can purchase a Genesis Soda Stream Starter Kit for $119.95
WIN IT:
Come back April 15-21 and enter for a chance to win a Fountain Jet Soda Lover's Start-Up Kit ($99.95)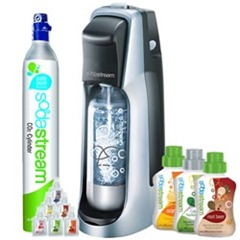 It includes:
– Fountain Jet – winner's choice of color (black/silver, red/silver or white)
– 1 carbonating bottle, reusable for up to 3 years
– Reusable carbonator to fizz up to 60L of soda
– Variety 6-pack of popular sample-size flavors
– 3 full-sized flavors of the winner's choice
Disclosure of Material Connection: I received one or more of the products or services mentioned above for free in the hope that I would mention it on my blog. I only recommend products or services I use personally and believe will be good for my readers. I am disclosing this in accordance with the Federal Trade Commission's 16 CFR, Part 255: "Guides Concerning the Use of Endorsements and Testimonials in Advertising." The opinions expressed in this post are entirely my own. Your experience with the product may differ from mine. The sponsor is responsible for prize fulfillment and will be shipping the winner(s) their prize(s). For more information read my disclosure policy.