Spooky Glow Jars Halloween Craft
My kids have been begging me to start picking out their costumes for Halloween. September just began, but they are already excited for fall.
So for this post, I thought I'd give you a couple of ideas of quick, fun and creative ways to create a "spooky jar".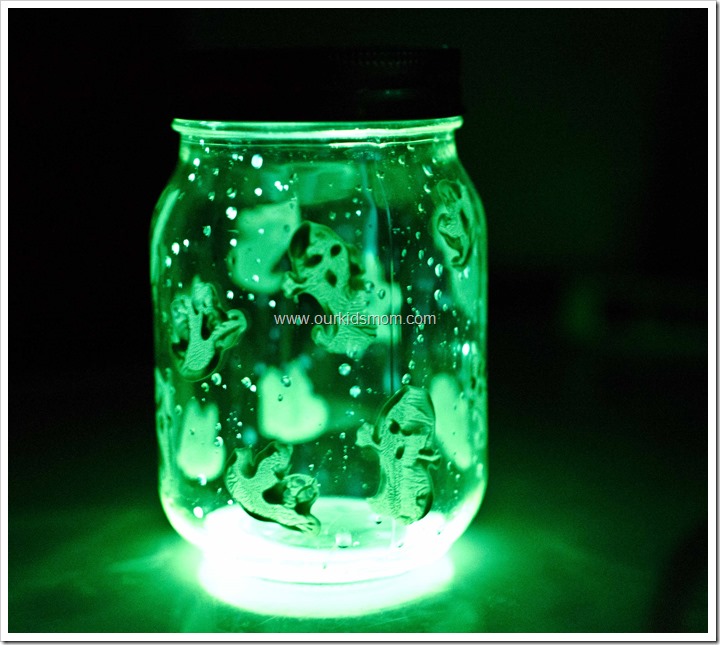 Above is the jar I made. I must say, this is the first time I've attempted this craft and I learned a few important things that I will share at the conclusion of the instructions.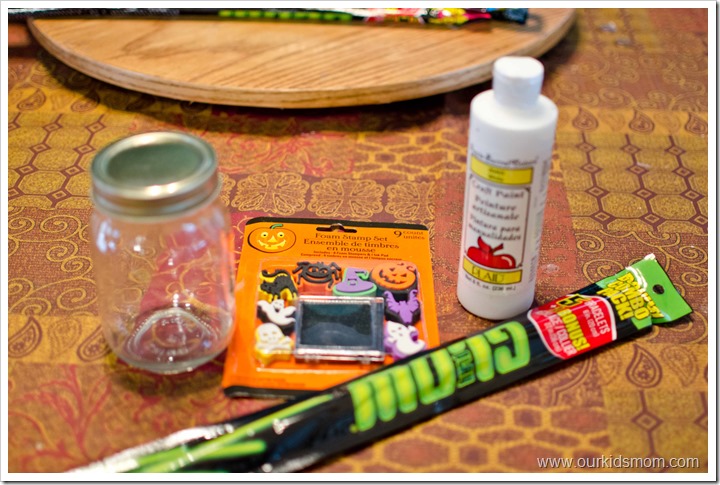 For the jar above, I purchased a "mason jar", glow sticks, and a foam stamp kit from my local Dollar Tree. I already had the white craft paint on hand. The stamp kit is reusable as is the paint.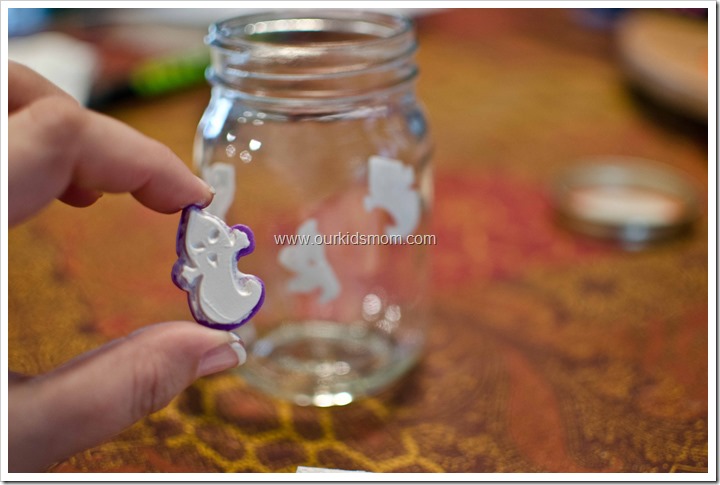 I tried dipping the stamps into the paint, but they got too much on them and the ghosts looked like blobs. So I dipped my finger in the paint and spread a very thin layer onto the stamp.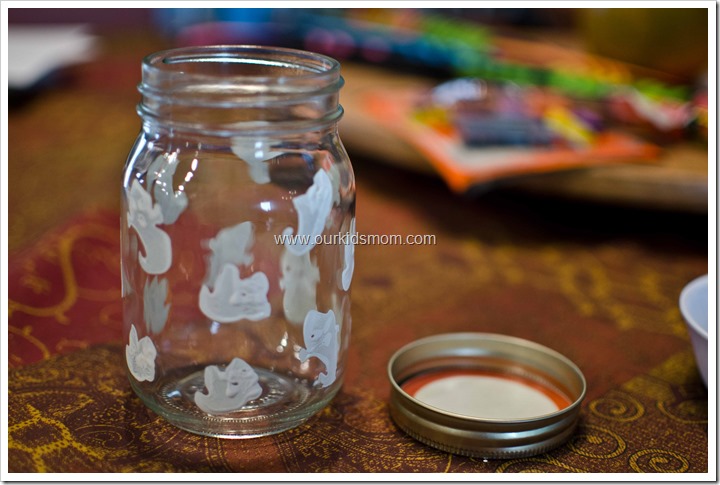 The paint made the stamps slide around a little bit, but it easily wiped off with a paper towel and I applied a few more times until I was happy with them.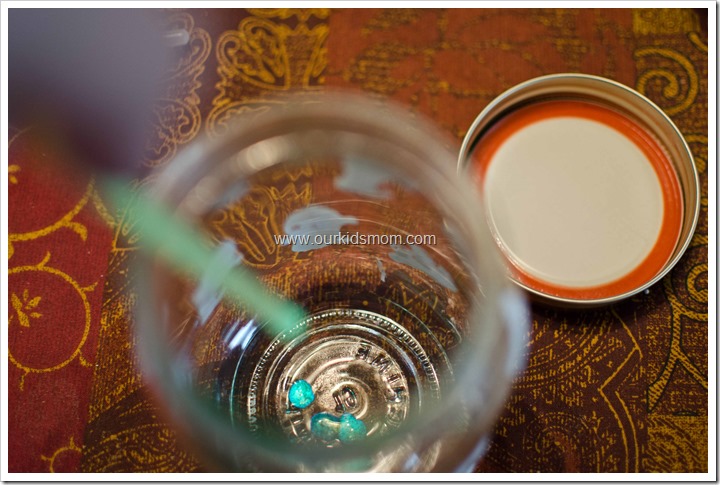 I then carefully clipped off the end of a glow stick and poured it into the jar. DO NOT try snipping off the other end to blow it through as it will only get on your lips and your tongue leaving a bad taste in your mouth all evening… I'm living proof of that. Be careful not to touch what comes out, also, as part of the insides of the sticks are actually glass. I emptied 3 bracelets into my jar.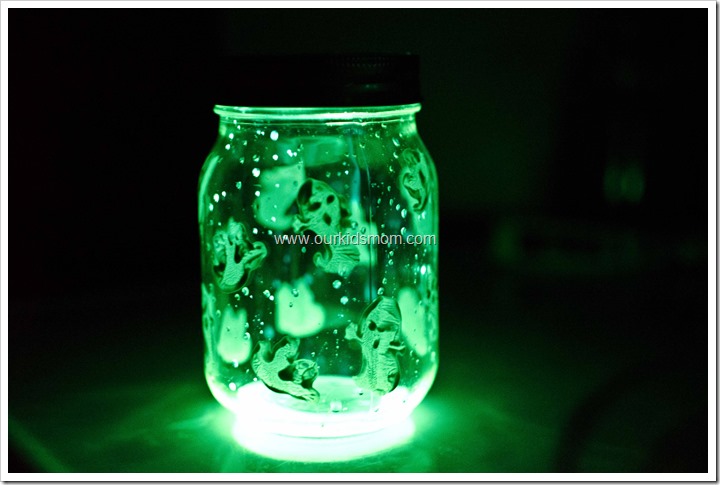 Close the jar and shake like crazy! The glow from the glow sticks is supposed to last up to 8 hours (ours lasted only an hour).
*** Here is what I learned from this. ***
My husband and I decided that purchasing glow in the dark paint would have been a better choice. You won't have to mess with the glow sticks and it will be reusable, which this is not. Just dribble or paint the insides with the paint and let dry. This is STILL a very cute project, though!
BUT WAIT… THERE'S MORE!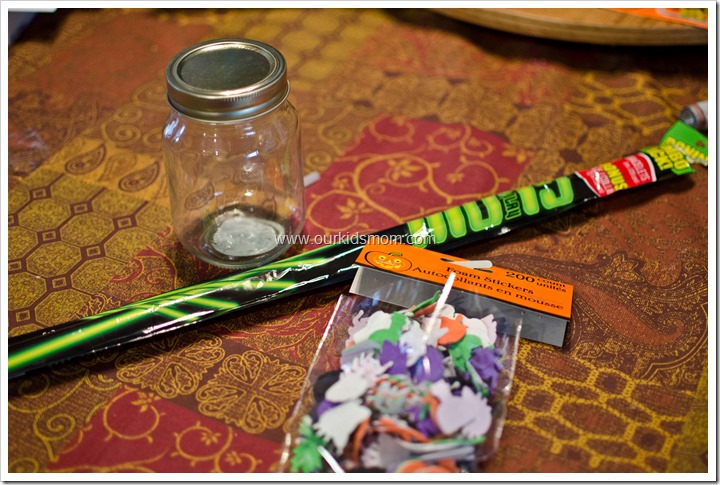 Ethan and I decided to try a similar but less messy route to a Spooky Glow Jar. You again will need a jar, glow sticks, and this time "spooky" stickers. We got ours at the Dollar Tree.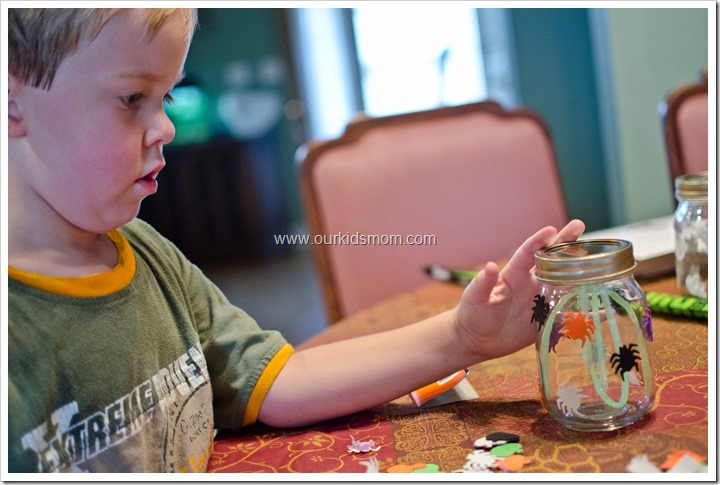 We covered the jar with scary foam spider stickers, curled up a few activated glow sticks and put on the lid.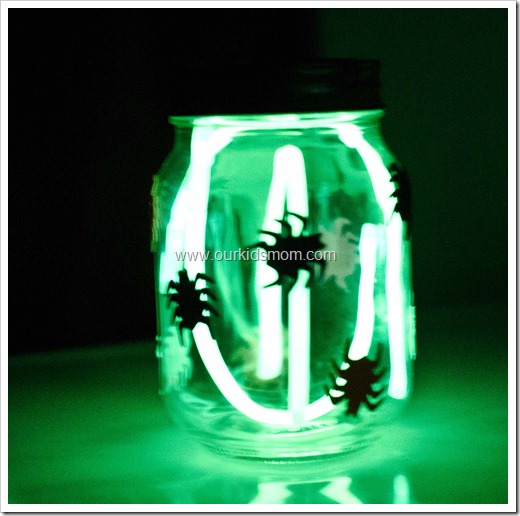 It's less messy, glows longer, is reusable, just as "spooky" and the kids can create freely. I also saw short strands of some Halloween colored lights that could possibly be integrated… but I like the quick and easy snap a glow stick and put it in method.
Ta Da!