This post has been sponsored by International Delights Iced Coffee, but all opinions are our own.
I have a sign on the wall of my kitchen that reads, "I haven't had my coffee yet. Don't make me kill you."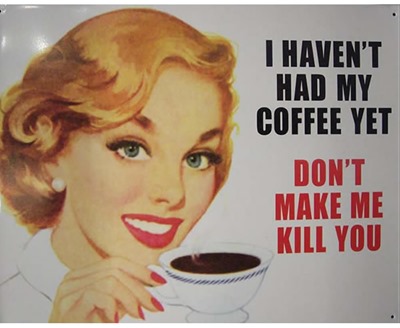 My family got it for me as a joke gift, but it couldn't be more true. To their surprise I proudly display it on my wall.
My children know that it's best to not start jabbering at Mommy until she's had at least half of her morning cup of coffee… a full cup is even better.
It seems that many Mom's I know are like this as well. We are all overworked, over stimulated and just need a few minutes of peace alone with our coffee to focus and wake up.
So why are we all spending so much time waiting in line for a specialty coffee treat when we can get the same thing at home?
Nowadays, it seems like everyone spends more time waiting in line for a coffee than actually drinking it!
International Delight Iced Coffee is the perfect alternative for long Starbucks lines, and not to mention a more economical choice!
Have you ever been stuck in line behind the person placing the overly complicated drink order? Then you will totally understand this video from International Delight's Iced Coffee.
Now long lines and expensive drinks are no longer an issue- this is the perfect choice for moms on the go!