Soup Sunday | Sweet Potato and Peanut Stew Recipe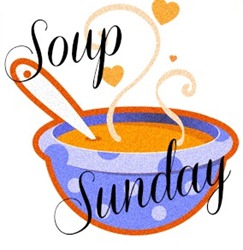 I almost didn't have a recipe for you this week. Last weekend was a warm one and soup just didn't seem like a great option for lunch/dinner. After speaking to a few of my readers I decided to quickly whip up a batch for this weeks post. It warms my heart that people look forward to this feature and actually try my dishes!
We have been slowly converting to sweet potatoes because they are better for you than baking potatoes and they have a richer flavor. When I saw this recipe I was excited to try it. The ingredients gave me a small heads up that this has a little Indian flavor to it. I immediately noticed the peanut flavor in my first bite. It was surprising, but tasty. The look of the soup reminded me of vegetable Korma and my husband and I agreed it did have an Indian undertone. Everyone liked it except Emma, who does not like chickpeas unless mashed into hummus.
Enjoy!

Sweet Potato and Peanut Stew Recipe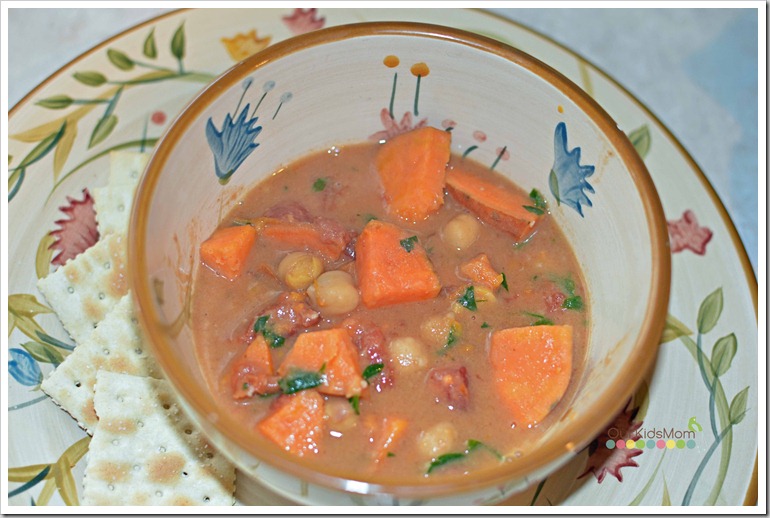 Author: Heather
Recipe type: stew
Serves: 4
Prep time:
Cook time:
Total time:
Ingredients
3 medium sweet potatoes (about 12 ounces each)
1 tbsp olive oil
2 garlic cloves, crushed
1½ tsp ground cumin
½ tsp salt
¼ tsp ground cinnamon
⅛ tsp crushed red pepper
2 cans (15 to 19 ounces) garbanzo beans, rinsed and drained
1¾ cups vegetable broth
1 can (14½ ounces) diced tomatoes
¼ cup creamy peanut butter
½ cup loosely packed fresh cilantro, chopped
Instructions
* Scrub and cut sweet potatoes into 1½ inch pieces.
* Place potatoes in microwave safe dish, cover and microwave on high until fork tender (about 8 minutes)
* In a 5-6 quart stockpot heat oil over medium-high heat until hot. Add garlic, cumin, salt, cinnamon, and crushed red pepper, cook stirring for about 30 seconds.
* Stir in beans, broth, tomatoes, and peanut butter until blended and heat to boiling. Cook, stirring occasionally for 1 minute.
* Reduce heat to medium-low. Add sweet potatoes and simmer, stirring occasionally, 2 to 5 minutes. Stir in cilantro.
Nutrition Information
Calories: 585 Fat: 16 Carbohydrates: 92 Sodium: 1725 Protein: 22
This post was adapted from Good Housekeeping Soups & Stews.