SoundFreaq Compact Audio System With Bluetooth Review

Our family spends a great deal of time in the kitchen and dining area. We love to turn on music for subtle background noise as well as nice and loud to dance/giggle/sing along while we are cooking. We've tried a few sound systems for the kitchen but have moved them out because they are either too large or it inconvenient to use. Most of our music is stored either on our laptops, phones or iPods. We obviously can't dock our laptops, our phones were not compatible and one of the kids tried to pry the iPod off of the dock and broke it.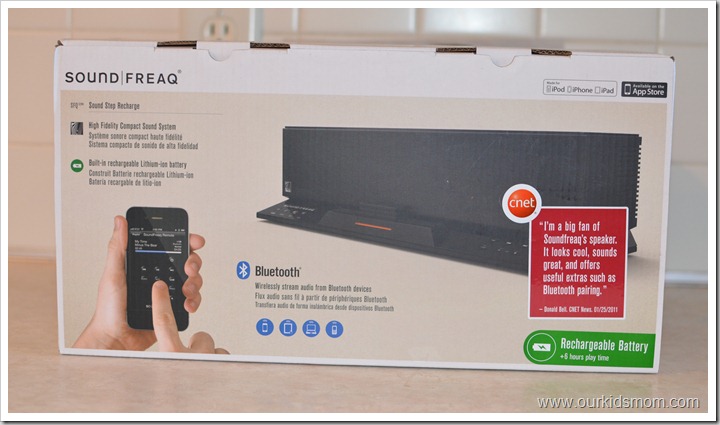 When I heard about SoundFreaq I was excited. Not only can you dock your iPad, iPhone or iPod but you can connect to it through bluetooth! SoundFreaq has a low profile unit with a rechargeable battery that offered the ability to keep my device in my hands. It promised the ability to multi-task while still listening to my music without docking. It sounded amazing and I was excited to give it a try!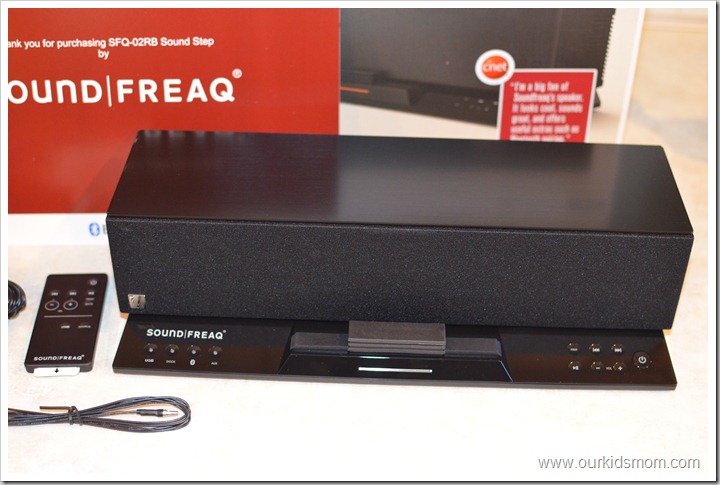 SoundFreaq's Sound Step is designed to bring anywhere with a rechargeable battery and low profile. Sound Step is crafted for natural bass response, vocal clarity and stereo separation with a 2.1 speaker configuration with a sub-woofer. Designed for music lovers, it is acoustically balanced to compliment every genre, at any volume.
So how did it perform? I easily connected my MacBook Pro and my Android phone to Sound Step through bluetooth with ease. It was heavenly to listen to my iTunes music through a quality sound system. It just doesn't cut the mustard trying to listen to my music through my laptop speakers. The sound quality that SoundFreaq put out was fabulous. We don't normally listen to music at loud levels, but we decided to give SoundFreaq a full test. Even at the higher end of the sound range it produced quality sound without distortion.
Sound Step works with all docking iPod and iPhone devices, and also fits the iPad to keep it charged too- even when in a case. With USB charging, you can keep your Blackberry, Android, Bluetooth headset, iPhone, mobile phone or any USB-chargeable device fully powered.
SoundFreaq did a fabulous job creating a portable rechargeable unit that is compatible with a large number of devices. Not only can you dock and charge your devices at the same time, but you can also use the USB connection t charge your bluetooth connected device. I slide the remote in my pocket and am able to control the sound from across the room. With high quality sound, ease of use, a low profile and a wide variety of compatible products I highly recommend this product!
*Compatible with any A2DP Bluetooth device including Apple iPad®, iPhone®, iPod touch®, MacBook® and many Android® , Blackberry®, smartphones , mobile phones, tablets, laptops and netbooks.
Stay in Charge
BUY IT:
You can purchase a SoundFreaq Sound Step online
*** COUPON ALERT ** 
Use discount code momblog to save 10% on the Sound Step Recharge and all the other products in the store.
"I wrote this review while participating in a blog tour by Mom Central Consulting on behalf of Soundfreaq and received a product sample to facilitate my review."