No Two Plus Size Figures are the Same

A century ago, a 1911 New York Herald ad offering full figured women fashionable clothes put the Lane Bryant brand on the map. Celebrating the 100th anniversary of its groundbreaking ad, Lane Bryant, the most recognizable brand in plus size fashion, is once again charting a new direction for the industry with the introduction today of Fashion Genius™, a breakthrough technology that gives modern full figured women what they crave most: easy access to a world of plus size fashions that caters to their unique body shapes and style preferences.

This fall, Lane Bryant and sister brands Sonsi, Catherines and Fashion Bug, are launching a breakthrough technology that will make shopping for clothes online a cakewalk for plus size women, because it solves their biggest dilemma: the dreaded FIT issue. The new online technology is truly revolutionary.  In just 3 minutes, with no measurements required, plus size women will have access to a world of plus size fashions that cater to their unique body shapes and style preferences. This has never been done before.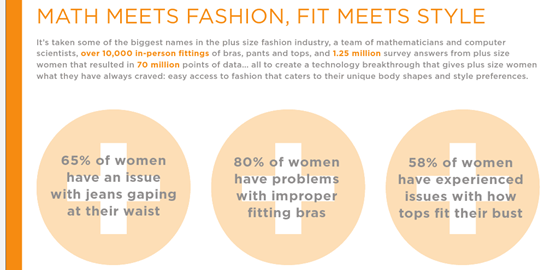 Math Meets Fashion, Fit Meets Style : It's taken the biggest names in the plus size fashion industry, a team of mathematicians and computer scientists to finally solve the fit issue for millions of plus size women.  Offering a signature style line of bras, tops and bottoms they help us find an ideal fit for our individual figure.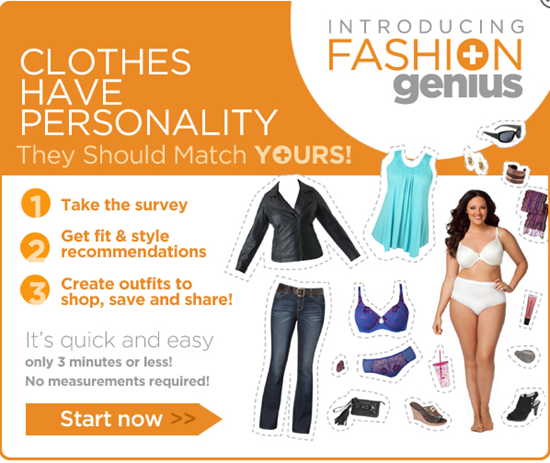 I have been stubborn about buying new clothes. With my recent weight loss, my biggest complaint was that I felt like I was falling out of the bottom of my bra. After taking a long look in the mirror, I also decided that maybe it was time to donate my tops tents and purchase a few that were flattering.
I started the survey and decided to go out of order and do the bra survey (as it's my chief complaint right now). After answering questions like which style would you never wear, which styles have you/would you wear, what complaints do you have (spillage etc), how do wires fit for you… I was surprised to have it show me this particular bra (as I had just purchased two of them earlier that night!).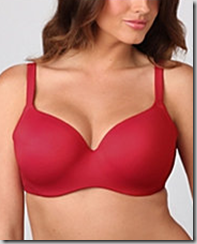 I continued through the other two surveys about tops and pants. I was asked to pick my shape, answer some questions like if I had gaps at the back of the waistline of my pants, what styles of shirt I prefer, and more. It seriously only took a few minutes for each questionnaire and I had a style profile with styling tips.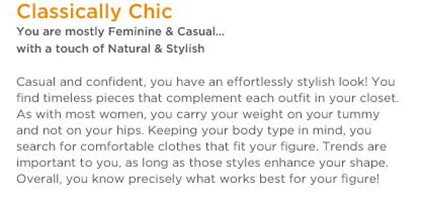 Under the outfits tab I was presented with a few choices. The subsections under outfits include recommended, member picks, stylist picks and show all.
I chose to pick my own pieces and after only a few minutes I had completed (what I think would be) a fabulous casual night out with hubby outfit!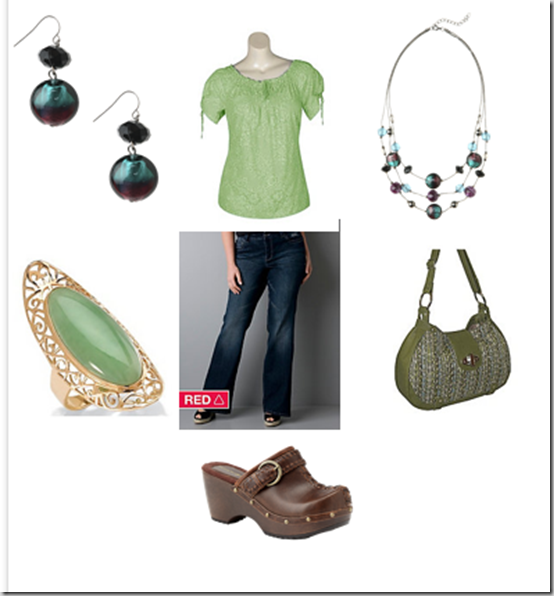 As a stay at home mom to four (two stay home all day with me), it's difficult to get the time to head to the store and try on multitudes of clothes that I "think" might look good on me only to find out they don't' compliment my figure. It only took a few minutes to fill out the survey and I was given a large choice of items that should compliment my figure and accentuate the positives. Even if I choose not to purchase my clothes online, I now have an idea of what to look for in the store and can try them on quickly (and hopefully happily) for the best outcome.
Try out the tool for yourself by clicking here.
Disclosure: This post was made possible by Mom Spark Media. I was compensated for my time investment and work on this campaign.