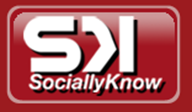 My kids have been on Facebook for what seems like forever. I haven't always been the most technically savvy person and thought that as long as I was their "friend" I could keep track of what was going on with them. Little did I know that with a simple click they could exclude my eyes from any post or photo they wanted. I hadn't even begun to think about private chats!
SociallyKnow is a simple program that helps parents keep tabs on things like bullying, sharing sexually explicit texts or photos, suicidal messages, physically or verbally abusive language, or anything questionable in nature.
SociallyKnow monitors your teen's social interactions in real time, sifting through the often-voluminous clutter to flag key words, phrases and photos that merit your attention. It's easy to get started by following these steps:
Enroll for a free 30-day trial or regular monthly subscription.
Register the Facebook account(s) you wish to monitor.
Build a "watch list" of "friends" you wish to monitor closely.
Track registered Facebook account(s) content via email alerts and SociallyKnow Dashboard.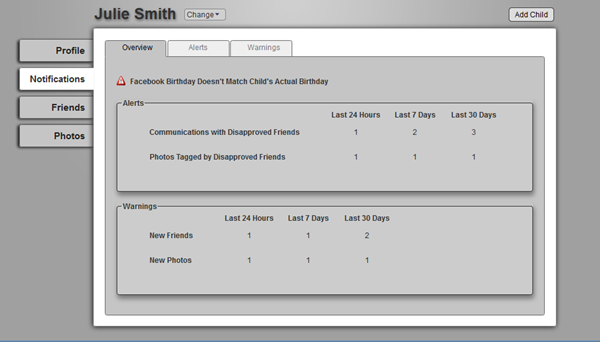 That's it. From now on, SociallyKnow will email or text you every time your child –
Receives sexually oriented, bullying, suicidal or other harmful messages
Is contacted online by a stranger
'Checks in' at a new location with their cell phone
Is tagged in a photo, or uploads new photos
Adds a new friend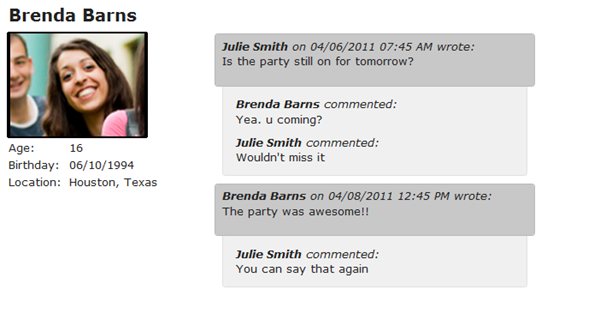 So you don't want to invade your child's privacy… but think about it.
71% of teen girls and 67% of teen boys have shared a sexual message or picture with a boyfriend/girlfriend.
32% of teenagers say they have been the target of cyber bullying.
34% of 8 to 18 year olds have at least one Facebook friend they've never met.
46% of the 8 to 18 year olds have provided personal information to someone online.
71% say they have received messages from someone they don't know.
40% say they will usually reply and chat with that stranger.
30% have considered meeting someone they've only talked to online…and 14% have actually met face-to-face.
4 out of 5 teenagers sleep with their cell phones under their pillow to catch late night texts and Facebook posts.
 Nearly half of teens say their parents or guardians know 'very little' or 'nothing' about their online activity.
My children know that I am not snooping on their day to day activity and I respect their privacy. They also know that if anything alarming or inappropriate comes up Mom will know. There is no way around it… if they wouldn't want me to see it, they don't post it. Plain and simple.
My kids are older (14 and 19), but I can totally imagine how using SociallyKnow could make me, as a parent, feel more secure when my pre-teen wanted to go online. Cyber world isn't as safe as it used to be! I'm hoping that when Emma and Ethan get to "online" social networking age products like SociallyKnow will be available.
Right now SociallyKnow is offering a FREE 30 Day Trial!
Connect with SociallyKnow:

This post brought to you by SociallyKnow.com