I just finished entering my photo in the Snack Bowl 2011 Ultimate Party contest. It was super easy and I could win a trip for 2 to the Hall of Fame in Canton, OH!
Upload a photo, a few photos or a video depicting why you should be in the party hall of fame! Simple! You can also vote 3 times a day with an automatic chance to with a $50 gift card to the Pro Football Hall of Fame online store among other prizes.
Want to start off on the right foot? You can vote for MY entry 😉 This is Emma… not much bigger than the football! You can search for my photo using the name Heather S. (search button is on the upper right hand side).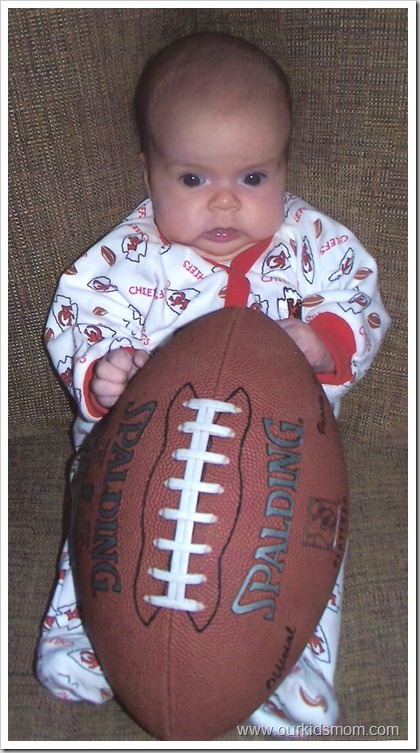 I know you have a great football related / party related photo to share right?
It only takes a few minutes to register and upload your photo … so GO! Enter and win! 
FOR THE FIRST TIME EVER, ONE LUCKY FAN WILL BE HONORED AT THE PRO FOOTBALL HALL OF FAME® FOR PARTY EXCELLENCE.
One Grand Prize Winner will Win:
Trip for 2 to the Hall of Fame® in Canton, OH.
Tickets to the Friday night "Enshrinee Dinner"
VIP tickets to the Friday night Hall of Famers post dinner reception.
Tickets to the PFHOF Enshrinement Ceremony on Saturday.
Tickets to a round table on Sunday with PFHOF Members.
Tickets to a Tailgate Party on Sunday before the PFHOF Game (provided such game occurs).
Tickets to the PFHOF Game (provided such game occurs).
A Plaque (to be designed and provided by MARS Advertising, Inc., Diamond's agent) will be placed at the PFHOF Snack Bar during the Enshrinement Weekend and related events.
A "VIP Moment" during which a PFHOF Member will present a trophy (to be designed and provided by MARS Advertising, Inc., Diamond's agent) to a winner determined by Diamond of the Promotion during one of the enshrinement events set forth above (to be determined by the PFHOF).
Plaque hung in the Hall of Fame snack bar
$5,000 cash USD
Instant Win Prizes
Enter daily for a chance to instantly win 1 of 1000 prizes.
Voting Criteria/Details:
The 10 contest entries that received the most votes will be evaluated and scored by a panel of judges based on the criteria listed in the Official Rules, including:
A): Entry that best demonstrates why the Contestant should be deemed the Party Hall of Famer based on his/her Pro Football Party Excellence as evident in the expressiveness and persuasiveness of Contest Essay; Best Entry Title; and overall appeal of all Entry Content – 60%;
(B) Originality and creativity of snacks and other foods served, decorations, etc. – 40%.
I will be compensated for this post by Collective Bias.  All opinions are my own.