I've learned that making New Years Resolutions just don't work for me. I begin the year with every good intention… but things happen, I get sidetracked or I plain old lose my willpower. This year I have started making small lifestyle changes instead of one huge resolution. My first change is to start thinking of myself… sometimes even before the family (*gasp*).
I start first thing in the morning.
If I can grab a quick shower and dress to my socks (I wear slip on shoes and they at the front door if needed) before the kids are up and demanding things from me I feel more motivated, I get more of my "to do" list accomplished and I am happier with myself at the end of the day.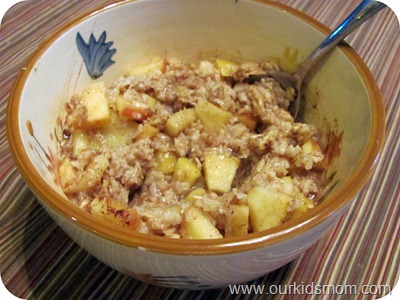 After my shower, I have started making breakfast for myself.
This is a big deal for me as I tend to grab what the kids need, a cup of coffee for myself and then plop into a chair to read my morning email. I have recently been making a bowl of Quaker Oatmeal with a few dashes of cinnamon, a cut up apple and a packet of Truvia mixed in. I have found that my body likes this combination better than the instant flavored variety and I feel good getting a serving of fruit in with my breakfast. Starting my day with a bowl of whole grains helps stop cravings, keeps me full longer, has high levels of fiber and oatmeal has the highest levels of protein of any whole grain (see, you can get protein from other sources than meat)!
After a long day… I head to bed at a decent hour.
Before children I used to sleep 10-12 hours (straight) a night. I remember it as a heavenly experience and look back fondly at it. Now with four children, sleep is at a premium. Although my youngest are in bed between 7:30 and 8:00, my husband and I tend to push our bedtime later and later so that we can enjoy the "silence". We have agreed to start heading up to bed between 9 and 10 (instead of 11 and 12) with the goal of lights out by 11:00. This gives me 8 possible hours of sleep before starting my day at 7:00am with a shower. I've noticed a difference in my patience level with the kids, my focus and my memory since starting to do this!
What small "wins" have you added to your life for a more successful day… and future? 
The benefits of a warm, filling bowl of oatmeal can keep you going all morning long.
Energy. Fiber. Heart Health.
Quaker Oatmeal. A super grain breakfast.

*****
Join me in a Twitter discussion on February 23rd!!
We will get together and discuss how morning small wins contribute to a successful future
Just by joining me in this discussion you will be automatically entered into the
"Small Wins, Big Rewards" Sweepstakes sponsored by Glam Media!
 
·         2/23 – Future Wins : What morning small wins will help contribute to a successful future?
·         3/8 – Healthy Rewards: What small steps in the morning do you take to keep healthy?
At the end of our discussion on February 23rd, one participant will be chosen at random to
win a $50 Amazon gift card.
In addition to our discussion on February 23rd, there will be one more discussion on March 8th.
Participants of any of these discussions will also be entered into the Grand Prize drawing of a $1,000 Amazon Gift Card! The more discussions you participate, the more chances you have to win.
Good luck and see you on February 23rd at 6pm CST
*****
Disclosure: Compensation was provided by Quaker via Glam Media.  The opinions expressed herein are those of the author and are not indicative of the opinions or positions of Quaker.