Silhouette CAMEO Electronic Cutting Tool | 30 Day Countdown Craft
Sample item received for review. All opinions are my own.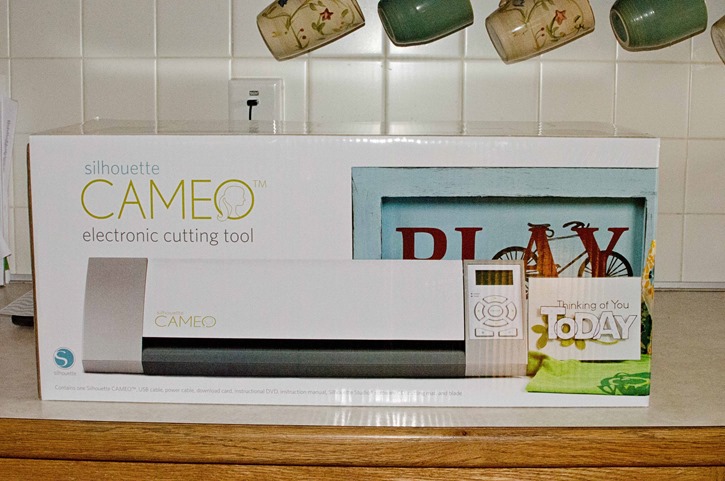 The Silhouette CAMEO® is an electronic cutting machine for personal use. Like a home printer, it plugs into your PC or Mac® with a simple USB cable. However, instead of printing it uses a small blade to cut paper, cardstock, vinyl, fabric and more up to 12″ wide and 10 feet long. The machine also has the ability to register and cut printed materials.
A machine like this opens up a whole new world in crafting and scrapbooking. No more buying die cut words or shapes, hello to customizing just about anything you can imagine!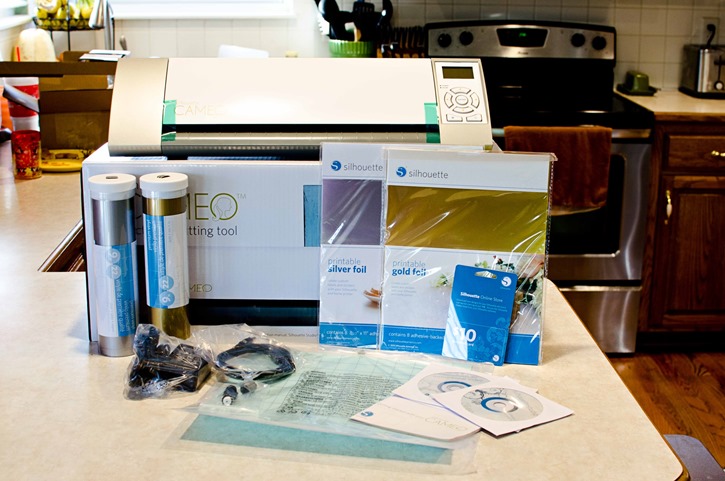 The Silhouette CAMEO comes with the following items in the box:
Silhouette CAMEO® electronic cutting machine

Silhouette Studio® software

51 exclusive cuttable designs

Power cable, USB cable

12″ cutting mat

Cutting blade

$10 gift card to the Silhouette Online Store

Basic Instruction Guide
I also received some printable foil and vinyl.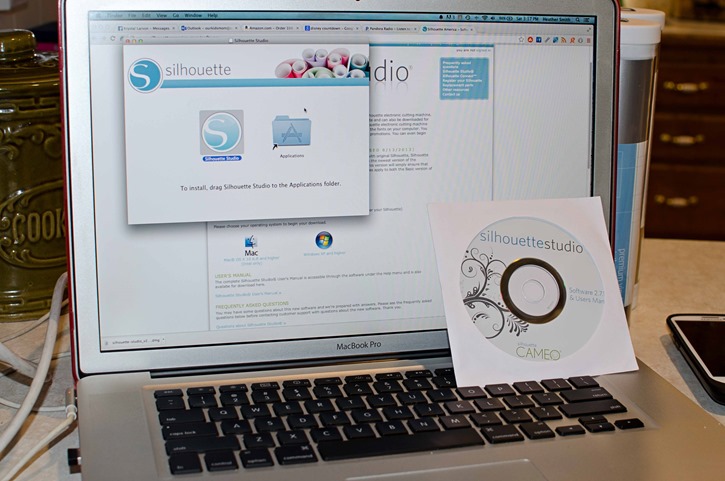 Setting up the Silhouette Studio was quick and easy. Just a standard software install.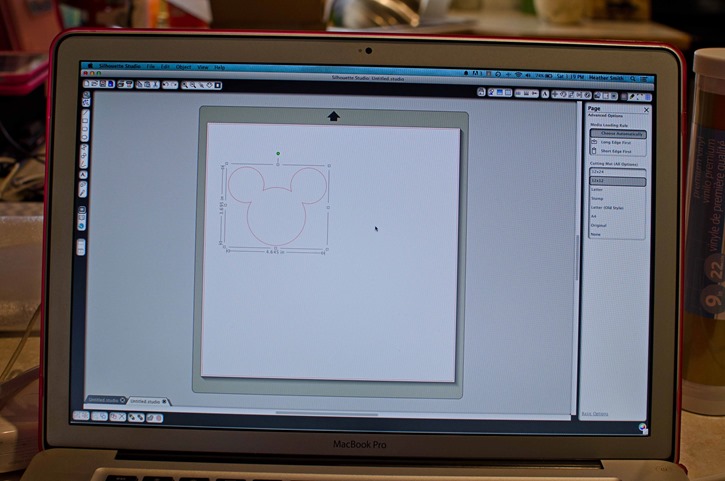 I didn't take any time to read the manual (bad I know) and jumped right in to creating. The main reason I wanted a CAMEO was because of the ability to create your own shapes. I have the other brand electronic cutter as well, but every time I wanted to do a project I had to purchase a new cartridge. Just using it for a month got very expensive. My very first shape on the CAMEO was a Mickey head. SUPER simple to make and I was well on my way to creating our countdown calendar for our trip.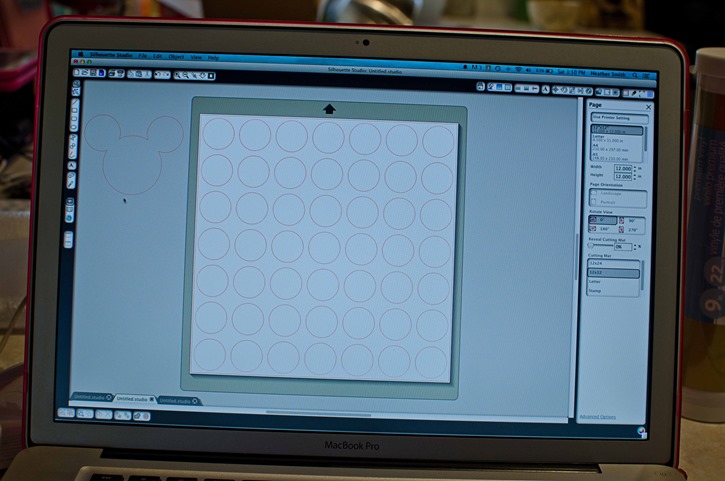 The software functions a lot like (but not exactly like) the Adobe software my daughter is using for her graphic design classes, so she was able to show me how to duplicate shapes and make the chore of creating 60 circles a breeze. We were making two 30 day countdowns, one for Ethan and one for Emma.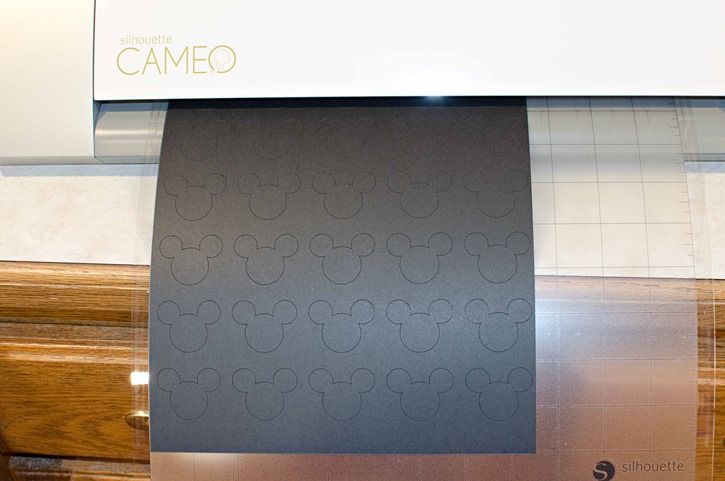 Because I didn't read the manual I printed three times unsuccessfully… meaning it looked like it was cut but not cut all the way through. A quick reference read and I had it set correctly and we were in business.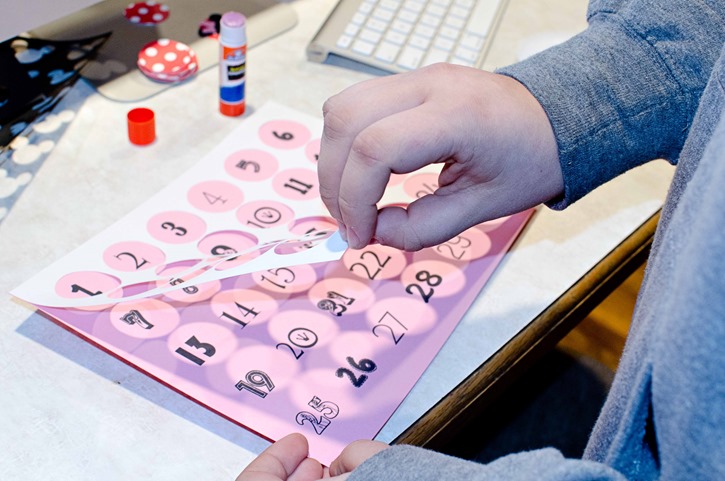 My older daughter created the numbers on her iMac in the Adobe software. I think you can probably figure this out in a word processing program as well, but I am not positive. She plotted out 30 circles to fit on an 8 1/2" x 11" piece of paper, filled them with numbers, removed the circles and printed. I used the empty circle template she created to print out the white outline above on the CAMEO.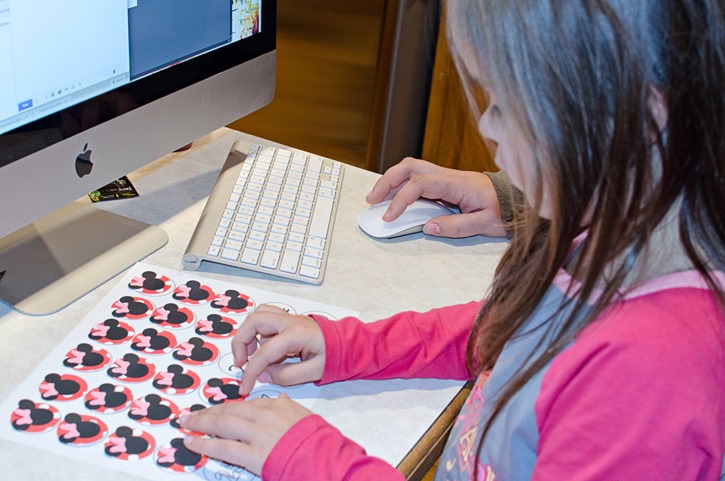 Here Emma was checking to make sure the Minnie Mouse circles I created fit over the circles on our initial draft printout (before we took the circles off the number page).
As you can see, I took a tiny dab of glue and put it on the back of the Mickey head and attached it to the circle I cut out of scrapbooking paper. I grabbed a bow shape off the internet, copied in the CAMEO and adjusted the size to fit the Mickey head I had ready and waiting, multiplied it so it would cut 30… then cut!
Because the CAMEO shows exact measurements of every shape you are creating and because you can stretch or shrink an object to an exact dimension creating our calendar was simple.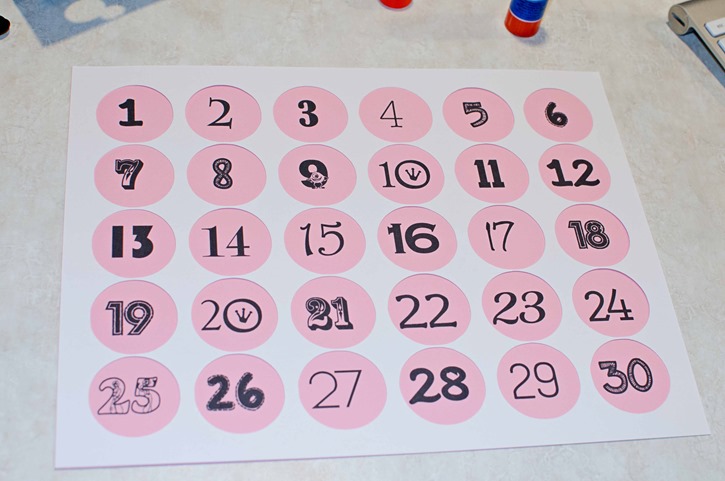 Here is the finished layout for Emma's countdown calendar. We put it through a laminator and then taped laminated Minnie circles over each number. We have been saving the circles as the kids remove them so that we can (hopefully) use them again some day!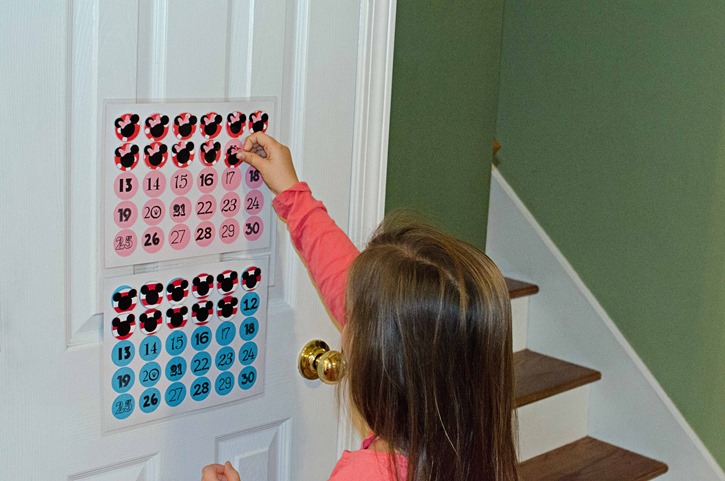 Here is Emma removing one of her numbers for us. The excitement has been building with each number they remove and you can feel the energy in the house. The calendar is helpful to me because when I glance at it I remember I don't have time to lounge around… I've got work to finish, or swap gifts to finish and bags to pack!
Speaking of swap gifts… I will be posting some of our creations after the New Year. We are going to try to use the vinyl to cut out car window decals!
The CAMEO is super versatile and fun to create giftable items.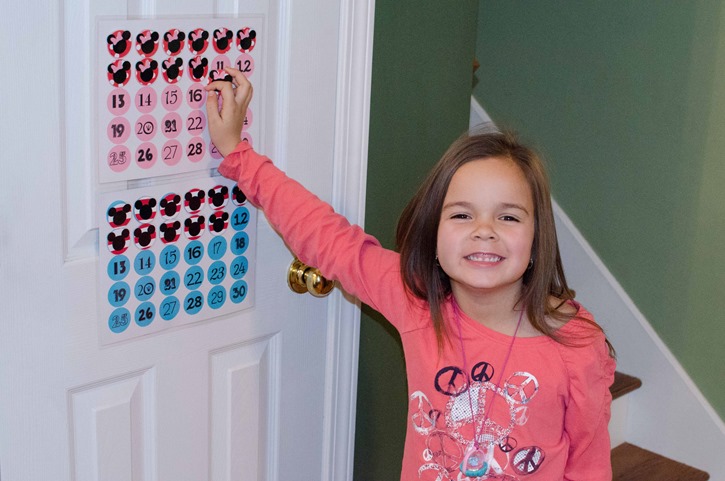 The kids agree… the CAMEO creation was a success!!!
Connect with Silhouette:
       Disclosure of Material Connection: I received one or more of the products or services mentioned above for free in the hope that I would mention it on my blog. I only recommend products or services I use personally and believe will be good for my readers. I am disclosing this in accordance with the Federal Trade Commission's 16 CFR, Part 255: "Guides Concerning the Use of Endorsements and Testimonials in Advertising." The opinions expressed in this post are entirely my own. Your experience with the product may differ from mine. The sponsor is responsible for prize fulfillment and will be shipping the winner(s) their prize(s). For more information read my disclosure policy.