Should My Child Have a Smartphone?
Smartphones offer an outlet for children when they're bored and looking for something fun to do. From social media sites like Twitter and Facebook, to video-sharing platforms like YouTube, to addicting games like Candy Crush and Cut the Rope, there are plenty of ways for kids to stay entertained online.
While smartphones tend to keep children quiet, it's not always a good idea to introduce them to these tech accessories at such a young age, click here to learn more. You should consider whether your child is mature enough for a phone and whether it will be beneficial to them or just another distraction. With that being said, let's take a look at some of the pros and cons associated with giving your child a smartphone.
Pro: You Can Keep an Eye on Your Child
Image via Flickr by RSandsShoots
Whether your kids are participating in after-school activities, staying over at a friend's house, or commuting to and from school on their own, it's important to know where your child is and have access to them if need be. Aside from simple calling, you should also take advantage of phones with video calling capabilities. The 7MP FaceTime HD camera available on the iPhone 8 Plus, for example, makes it easy to interact with your children with excellent clarity. You'll also get up to 21 hours of battery life and a charge of up to 50 percent in just 30 minutes, so you shouldn't have to worry about your child's phone dying during a simple check-up or emergency situation.
Con: Smartphones Are Distracting
We all know how obsessed kids are with technology, but that doesn't mean it's OK to let them get away with using their smartphones all day. Unfortunately, you've probably experienced times when your child avoided conversation because they were too busy playing a game or scrolling through their social media. It's also common for children to get distracted with a smartphone when they're supposed to be finishing their homework or doing chores.
Pro: A Smartphone Can Teach Responsibility
If your child is constantly nagging you for a smartphone, you can turn this opportunity into an act of responsibility. Assign different chores for your child and set aside an allowance for each completed task. This can act as their savings for a phone. After they've earned it, the discipline shouldn't stop there. If your child misbehaves, fails to clean their room, or forgets to do their homework, consider taking away their phone as punishment. After all, you paid for the device — so you have the right to control when they're allowed to use it.
Con: Smartphones Can Affect Your Child's Physical and Mental Health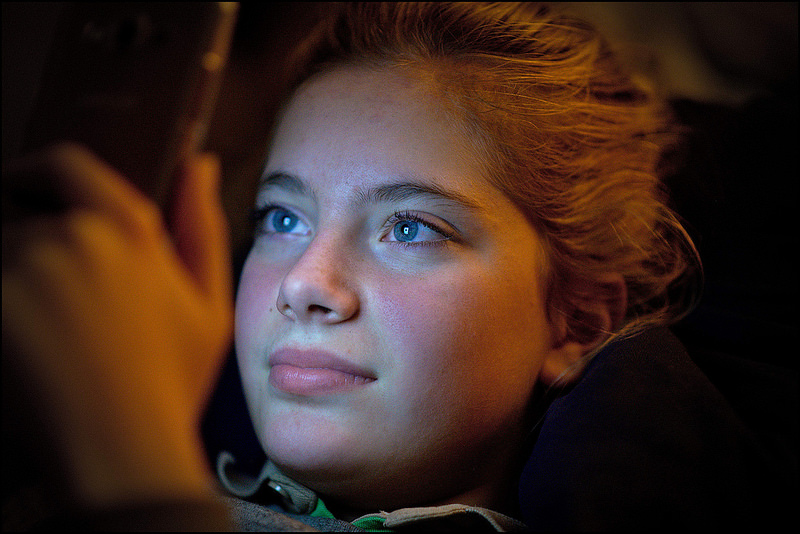 Image via Flickr by SAS Photographie
One way using a smartphone can affect physical health is the lack of proper exercise. It's important for kids to stay active to avoid obesity, but that can be hard to achieve when they'd rather spend hours lying on the couch instead of getting some fresh outdoor air. Another downside is that kids tend to use their smartphone when they should be sleeping, leaving them feeling fatigued in the morning.
Cyberbullying is also a rising epidemic in the world today, and any child can become a victim of online abuse. This form of bullying can lead to depression and isolation in children and teens, so it's important that you speak to them about how to deal with this issue before it gets out of hand.
Is It the Right Time to Introduce My Child to a Smartphone?
According to an article posted on PBS Parents, it's best to avoid giving your child a smartphone until they're between the ages of 11 and 13. However, as a parent, you know your child better than anyone else. If you feel they aren't at a mature level just yet, consider postponing the investment until they can prove to you that they're old enough to handle the responsibility.
As you can tell, there are plenty of reasons why having an electronic device can be both beneficial and problematic for children. After reading this guide, do you feel your child is ready for a smartphone?